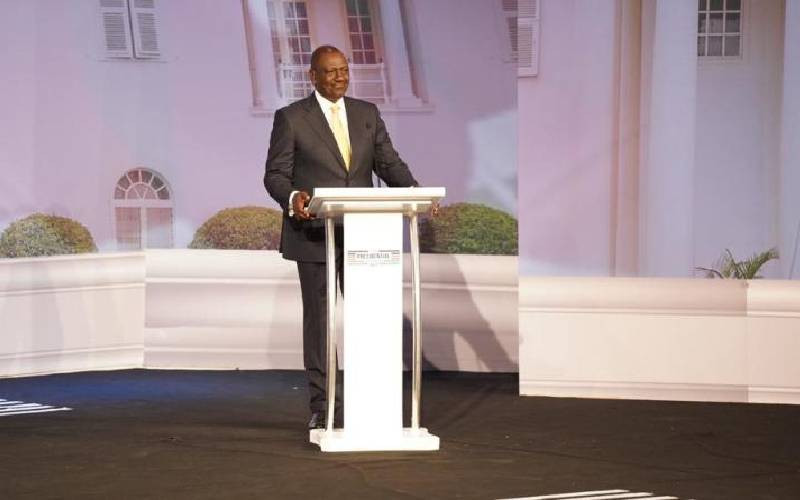 Deputy President William Ruto now says that police reservists in the troubled Kerio Valley were withdrawn to punish him and his supporters.
The UDA Presidential candidate was speaking during the presidential debate, where he said that during the Jubilee government's first-term, security in the valley which stretches to the counties of Baringo, Elgeyo Marakwet, Pokot and Samburu was under control as a result of the reservists.
"The situation was under control, but when we came into the handshake arrangement, a false narrative was rolled out that all these police reservists were actually a militia that [Ruto] would use at some point and they were all withdrawn," he alleged.
Ruto termed the move reckless because after the withdrawal, more people lost their lives in the hands of cattle rustlers.
"The withdrawal of the national police reserve was really an unfortunate act, but because it was intended to punish William Ruto never mind that many people lost their lives, is a real tragedy but that is the nature of our politics in Kenya," he added.
While explaining his claim, the DP said during Jubilee's first term, he mobilized leaders from the region and held security meetings at his office, a move he said bore fruits until the withdrawal of the reservist that he says was his brainchild.
He said that his government will do whatever it takes to address the issue of insecurity, even if it meant bringing in the military to support the police to maintain peace in the region saying it had crippled agriculture.
Ruto claimed that some of the clashes witnessed in some parts of the country were a result of communities competing for resources. "We had a plan, unfortunately, that plan was frustrated," he said.
The DP further claimed that the Arror and Kimwarer dams were canceled for political reasons. "The Kimwarer and Arror dams were cancelled intentionally to punish my supporters."
He said that the dam projects were signed off by President Uhuru Kenyatta alongside others but only the two dams failed.
According to Ruto, the contractor had gone to court in London demanding the payment of Sh12 billion from the project and that the Kenyan government had refused to make public its submissions.
The contractor was then denied the land where the dams were set to be constructed, calling it an undertaking by the government.
Asked about the corruption allegations that came as a result of the scandal he said "I do not believe money was lost, and even if money was lost, people should be taken to court."