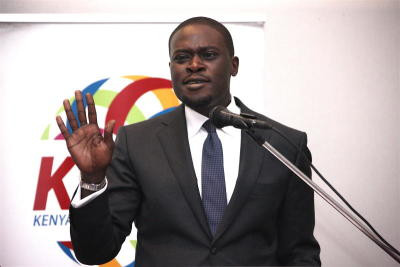 Johnson Sakaja has vowed to remain unshaken in his quest to pursue the Nairobi governorship bid in the August 9 polls.
This comes in the back of the Commission for University Education (CUE) revoking his degree qualifications from Team University, Uganda again.
Speaking on Spice FM on Friday, July 1, Sakaja dismissed Thursday's move by CUE as a political gimmick.
"I know what is happening and I understand the political game being played so well, but ultimately, we keep the eyes on the price. I know there are people who sit every single day to plan against me I am not afraid of them. I remain committed to the course," Sakaja said.
He pointed accusatory fingers at CUE, claiming that it had not "matured the state capture" by doing things against the law.
"I have nothing to hide on my degree qualifications. I will be on the ballot God willing and if the people of Nairobi so wish and vote for me, I will be their governor," he said.
CUE Chief Executive Officer Mwenda Ntarangwi in a letter to the Independent Electoral and Boundaries Commission (IEBC) yesterday said that the UDA governor aspirant had not submitted any proof into the authenticity of his degree, by the conclusion of investigations.
"The Commission hereby notifies you that recognition of the qualification of the purported Bachelor of Science in Management (External) degree from Team University, issued to one Sakaja Johnson Arthur, which was presented to your good office in compliance to the provisions of section 22(2) of the Elections Act and Regulation 47 of the Election (General) Regulations, 2012 is revoked," the letter read.
CUE said the academic papers presented to Chebukati as degree certificates were of Bachelor of Science in Management (external), yet Team University at the time, was not accredited by National Council for Higher Education (NCHE) to offer such a degree.
Sakaja has since moved to the High Court seeking to quash the decision by CUE to revoke the recognition of his academic credentials.