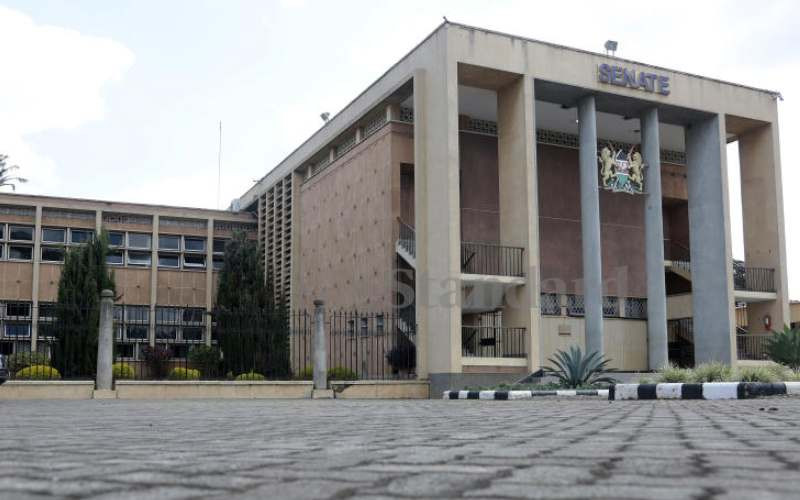 The Senate yesterday took a break indefinitely, wrapping up an eventful five-year term of a House whose primary role is to safeguard county governments. That is in addition to its legislative and oversight roles.
The House may be reconvened through a special sitting. In absence of such, the sitting will be the last of the 12th Parliament's Senate.
According to Majority Leader Samuel Poghisio, the Senate introduced 75 Bills, 17 of which were passed with 26 being considered and referred to the National Assembly.
Mr Poghisio said there are 22 pending Bills, seven in Second Reading, while 15 are at the Committee of the Whole House stage.
He had advice for their successors: "I urge the next Senate leadership to separate politics of the day from their constitutional and cardinal mandate of protecting devolution."
Mr Poghisio said the third Senate will be remembered for staying true to aspirations of Kenyans; "it upheld the Constitution and protected devolution".
Siaya Senator James Orengo said he hoped for a better working relationship between the Senate and National Assembly and an "end to the rivalry characterised in the 12th Parliament". In the course of their tenure, senators won critical court decisions against the National Assembly, quashing many Bills passed without their input.​
"I want to note that most laws rendered unconstitutional by the court have been Bills gone through the National Assembly without coming to the Senate. I believe the Senate has been a little bit more careful in trying to look into the kind of legislation that comes before us," said Mr Orengo.
Ten years since devolution was initiated, supremacy battles between Senate and the National Assembly persist. Senators have stood out for their firmness in demanding that counties get their rightful share of revenue allocation, their occasional sharp divisions notwithstanding
In the face of State-sponsored plans to reduce revenue allocations of some counties in 2020, senators, even those from counties that were to benefit from an upward adjustment, united to frustrate the plans.
This was the same spirit that saw them protest delays by Treasury in disbursing county revenue, and question governors over questionable expenditure of public resources.