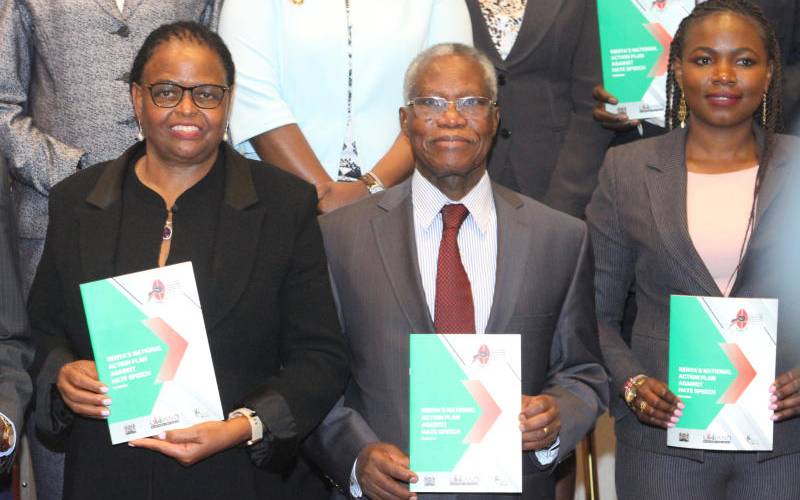 Chief Justice Martha Koome has announced plans to establish special courts to handle election-related offences. Justice Koome said the special courts will be in areas identified as hot spots for election-related crimes.
Speaking during the launch of the Kenya National Action Plan against Hate Speech by the National Cohesion and Integration Commission (NCIC), Justice Koome said she had also gazetted special magistrates to handle hate speech cases and other election offences.
The counties identified as hotpots during the elections are Nairobi, Kisumu, Kakamega, Meru, Mombasa, Eldoret, Nyeri and Nakuru.
She also announced extension of special jurisdictions to additional magistrates "after we mapped the areas and found the need to include some other courts that will be included in that list of special magistrates."
She said hate speech cases would have special file codes to enhance expeditious execution.
The commitment by the CJ comes in the backdrop of criticism against the NCIC over failure to successfully execute hate speech cases in courts.
According to Justice Koome, there were 22 hate speech cases in court under the NCIC Act by May, with nine being concluded, nine others pending in Magistrates courts, two being investigations and only one being a reference. "Our pledge is that the Judiciary will do what is required to operationalise the action plan and ensure immediate and expeditious resolutions of all the matters that will be brought before us," said the CJ.
The Kenya's National Action Plan against Hate Speech is expected to guide NCIC and other government bodies on tackling hate speech cases.
The CJ said the Judiciary would mainly rely on the constitutional provision on Freedom of Expression and the NCIC Act to guide in tackling hate speech cases in court.
"There is no universal definition of hate speech; but there are pointers to what it constitutes. Use of threatening, abusive or insulting behaviour, words or displaying hate in any written material, producing threatening and abusive programmes with intention to stir hatred will be treated as hate speech," she said, adding: "If the speech in question is discriminatory and divisive, then it'll be interpreted as hateful when we will be handling these matters."
The NCIC Act outlaws hate speech acts and prescribes a penalty of not less Sh1 million or imprisonment for up to three years.
Justice Koome said the 2007/2008 post-election violence was linked to hate speech and political incitement.
"We are not very happy to have people brought to court because we know the victims who end up being arrested and branded as perpetrators of hate speech are really not the principals. Supporters are the ones who end up suffering the effect of hate speech," said Justice Koome.
Ms Alice Nderitu, the Special Advisor to the UN Secretary General on Prevention of Genocide, termed the launch a milestone, noting that Kenya becomes the first country to come up with a plan to fight hate speech.
"Hate speech is a threat to advancing peace, security and promotion of international human rights and humanitarian growth. History has taught us that hate speech can be a precursor to commission of genocide. We must prevent this," she said.
NCIC chairperson Dr Samuel Kobia said the action plan set out 50 cohesion monitors across the 47 counties tasked to collect, analyse, cross reference and warn on hate speech and incitement in public forums.
Previously, the commission relied on media and police reports to prosecute cases on hate speech, weakening their evidence base.
"The early warning information will be supplemented by reports from community surveys by other organisations to help identify sentiments on how hate speech and incitement could trigger violence if we do not take precaution," said Dr Kobia.
He said the guidelines under the banner "Elections bila noma" embraced a multi-agency approach, harmonising the roles of agencies involved in investigations and prosecution of such hate speech.
However, Dr Kobia noted that the social media had remained a major challenge in the fight against hate speech because of use of pseudo accounts to incite.