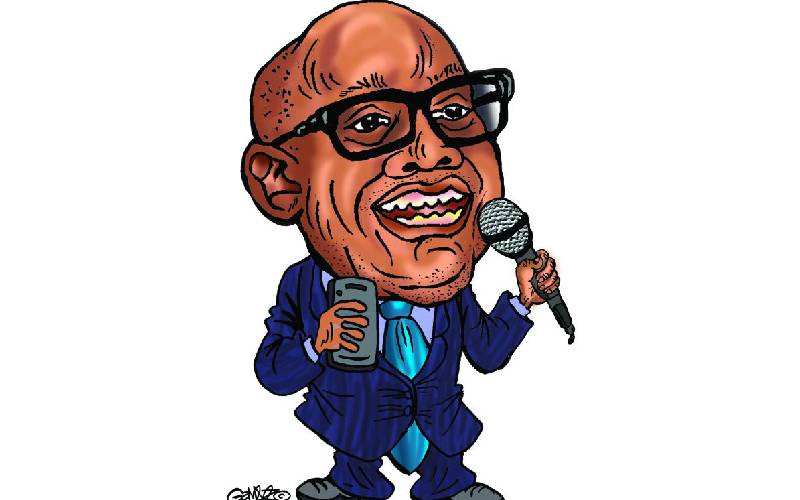 Long live Africanity, Jimi Wanjigi exclaims on his Twitter bio, where he also describes himself as Father. Husband. Businessman. Safina Presidential Candidate 2022.
It goes without saying that he is wrong on the description listed last, as only Wafula Chebukati validates presidential candidates.
Clad in the crispest of suits and wearing a smile broader than the gates of Bomas of Kenya, Jimi sauntered in to the Baraza Hall on Monday to collect the clearance certificate that would make him a presidential candidate.
He offered Chebukati a handshake that would make Alfred Mutua cringe.
He smiled as he introduced his running mate Willis Otieno to the IEBC boss and smiled again — testing the endurance of his cheeks, showing his perfectly white molars to the world — as Chebukati picked up the microphone.
Jimi had spent the week watching Chebukati process aspirants into candidates and had eagerly waited for his turn. Finally, his day had come.
And he kept smiling.
His cheeks would finally rest at Chebukati's first "but..."
The IEBC boss struggled to locate Jimi's degree certificate, a requirement for all presidential hopefuls. His spectacles did not help.
And Jimi's smile shrunk into a frown as he watched his dreams desert him.
For months, the Safina party leader had prophesied the third liberation, which he promised would 'fagia wote'.
By 'wote', the former presidential hopefuls who have benefited from our efforts in conserving the environment; those we have recycled for the past three decades.
Top on his agenda was making sure Ruto and Baba joined the president in retirement come August.
Fearless and hairless, the son of Maina described himself as the new-age freedom fighter who would lead the third struggle and his presidency as an idea whose time has come.
But as he found out, he could probably use a few strands of hair on his head if he plans to fight for whatever freedom.
Afros and dreadlocks
Many of those who brought us independence and the second liberation wore afros if not dreadlocks.
And as Chebukati informed him rather impassively, his suit and smile aren't the most appropriate attire for escorting people to Sugoi and Bondo.
The businessman should consider investing in a gown.
A last-gasp attempt to convince that a gown shouldn't count much was futile.
His running mate's clarification that Jimi would be wearing one later this year wouldn't cut it.
So Willis, who doubles up as his lawyer, resorted to snitching on Nyambane, another aspirant who was yet to pose for the camera in a graduation gown but had been cleared by the IEBC.
Nothing helped.
Concerned that his running mate wasn't doing enough, Jimi, the self-declared vaccine to the "Uhuruto, Kenya Kwanza and Azimio viruses", opted to play the revolutionary.
"There is a very clear mchujo that is being decided somewhere else," he would make reference to unknown forces trying to stop his presidential bid, even as he insisted he would be on the ballot.
Images on the internet
Jimi was much cooler when he was the 'unknown forces', back when he was virtually a mythical figure.
A few years ago, the public had knowledge of his existence but could not put a face to the name as there were no images of the man on the internet.
No one even knew the right spelling of his name (Jimi? Jimmi? Jimmy?).
He was that mysterious.
The few who would have dared mention his name did so in hushed tones and were conflicted about how they felt about knowing him.
Some were glad they did. Many more were afraid.
"Kenya's most feared oligarch," sections of the press would brand him.
Everything changed when Jimi decided it was time the public knew him.
And besides finding out who holds the record for the whitest teeth, Kenyans would know that tea is not the only strong thing that exists in people's houses — rooms can be strong, too.
That was in October 2017, when the police raided Jimi's house.
And for 72 hours after repelling the police assault, the businessman would walk out of the strong room in which he had locked himself.
The incident would expose Jimi to similar ones that followed.
Earlier this year, police raided his offices in Westlands and would arrest him after an 18-hour siege.
But that happened two years after the man accustomed to having doors opened for him would need to plead to have some doors opened.
Under police custody
"Open the door. Open the door. Open the door," a sullen Jimi pleaded with police officers in March 2018, during the aborted return to Kenya of lawyer Miguna Miguna, requesting that he be put under police custody.
In the years that followed, Jimi would shed the layers of the mystery that had defined him.
Politics exposed him to graver dangers than those of dodging cameras, forcing him to learn how to duck stones.
Had Jimi chosen to keep his previous profile, perhaps no one would dare "cut him" as he was speaking.
Perhaps he wouldn't have ever found out what it meant to "run for dear life" as he did when he tried to gatecrash Baba's Kasarani party earlier this year - in torn trousers.