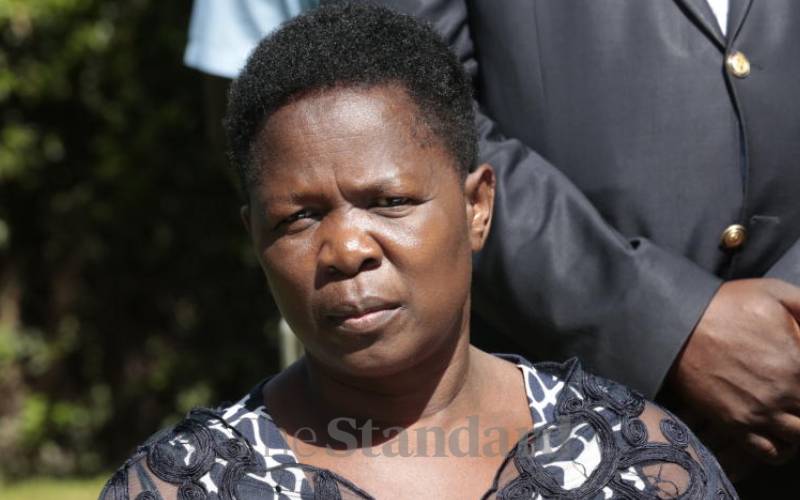 Migori Governor Okoth Obado's wife, Hellen, is supporting Azimio flagbearer Raila Odinga.
Hellen, who when being cleared by the Independent Electoral and Boundaries Commission (IEBC) introduced herself as Hellen Adhiambo Odie, said she only has one vote, which is for Raila.
Her husband has been campaigning for UDA presidential candidate William Ruto, and was recently appointed the Nyanza regional coordinator.
"Raila is vying for president, I am vying as a woman representative but he has my vote," Hellen said.
She has been publicly distancing herself from her husband's affairs and insists on being referred to as Hellen Adhiambo.
Hellen is vying for the position of woman representative as an independent.
"I will feed those who will support me with plenty of sweet potatoes and porridge," she said.
"I have been working hard to sell my agenda and win votes."
Obado on the other hand has been using every opportunity at public functions to antagonise Raila and ODM candidates.
Hellen is banking on her Kuku Ni pesa project to woo voters.
"Obado sought voters' mandate as a governor, but fas Hellen I am seeking your votes for the position of woman representative. I have come to you as an individual... as Hellen Adhiambo Odie," she said.
She shunned her husband's People's Democratic Party and opted to contest as an independent candidate.
Hellen will face off with nominated MP Denittah Ghati of ODM, businesswoman Fatuma Mohammed and former radio journalists Josephine Sirega (independent) and Lillian Akugo (Jubilee Party).
They have all been cleared by the electoral commission to run for the seat.