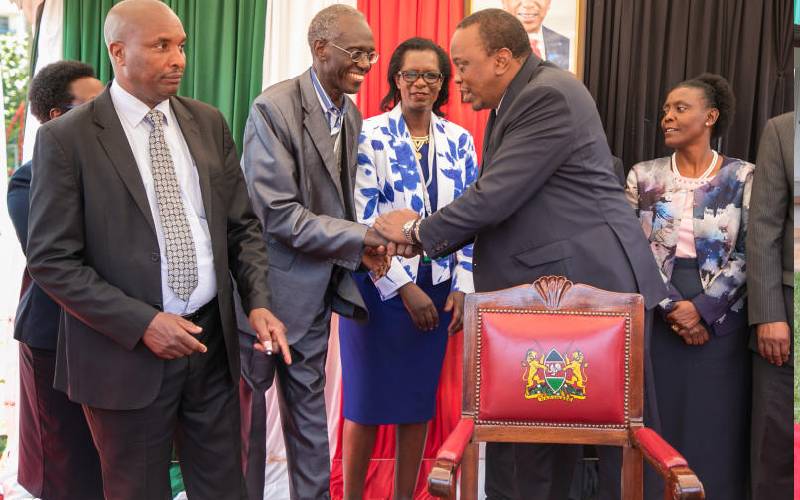 Something is fundamentally rotten in our national fabric. The sooner we face this reality, the earlier we shall salvage ourselves from the self-destruction mode we are in. Last week, I was awoken from the aerie of peace that I had consigned myself to stay away from the ongoing politics.
The object of my awakening was an estimated Sh637 million suspected to have been stolen from the county government of Machakos. More troubling, the name of the prime suspect is very familiar to me from the travails of my life from 26 years ago. He was a 'Beste' as we used to refer to one another as boys in my high school days, regardless of seniority. But he was also a classmate and slept in the same 'cube' in our domitory. If I recall well, on our final transition exam, only three other boys were ranked ahead of me and he was among them.
Just how did such a bright boy from yore get into this mess in the prime of his career? Yet, this cancer cuts deep in our political, economic, socio-cultural ways of life. It has become the rule rather than the exception in the Kenyan of the 21st century.
A time comes when a society must wake from their slumber. Times and seasons summon the finest to stand up for that which is true and right at such turning points in history. In the heart of my hearts, I strongly feel this is the hour. Those bestowed with the enormous responsibility of guarding our constitutional order must rise up to the occasion. Or else we have no business oiling their fuel guzzlers and guarding their mansions on taxpayers' tab.
Reeling from the excesses of one party rule and botched second liberation, Kenyans set high ethical standards in public service in August 2010 through a constitutional overhaul. In Chapter 6 they prescribed their ideal thresholds and in Chapter 15 defined autonomous entities as custodians of the set standards. The primary objectives of these constitutional bodies and independent offices were to protect the sovereignty of the people; secure observance by all state organs of democratic values and principles; and promote constitutionalism.
Under this order, the office bearers of these bodies are only subject to the Constitution and the law. They have a solemn obligation to be independent and not subject to direction or control by any person or authority. Parliament too shall allocate each of them adequate funds to carry out their mandate to the people. This is in accordence with Article 249 (1)(2)(3) of the supreme law of the land.
As per the approved Programme Based Budget Statement, the 10 constitutional commissions (and their affiliate commissions) and two independent offices have been financed to the tune of Sh342.6 billion for the fiscal year 2022/23. This translates to 30.9 per cent of the net recurrent budget for the year.
When we expand this to include other strategic entities critical in enforcing Chapter Six of the Constitution, the percentage grows by about five points. These agencies are Ethics and Anti-Corruption Commission, Office of the Director of Public Prosecution, Registrar of Political Parties, National Inteligence Service, Witness Protection Agency and Independent Policing Oversight Authority. Their combined budget for 2022/23 expands to about Sh400 billion, translating to about 36 per cent of the net recurrent budget of Sh1.113 trillion.
The budget is largely recurrent except in the instances where they need to build their own office buildings. That implies taxpayers are spending roughly about the same amount each year to sustain them. This is by no means a small investment for the already overburdened taxpayers. The questions we must ask now are: For the decade they have been with us, are they giving a fair return on investment? Are there noticeable impacts to reduce the harmful vices they were set to address in our society? If not, what is their continued relevance in our public life and the pain in our pockets?
In the past few days, the civil society issued red cards to senior officers that they declared as unfit to hold public office for gross misdemeanors, either past or ongoing within our courts of law. Outside this list of shame, thousands other violations of the Constitution, law and ethical values continue unabated across the entire public service. For example, a 10 per cent 'cut' has been normalised as a standard in government procurement almost across board. This gets padded up the feeding chain and could go to as high as 30-40 per cent.
This would explain why, for instance, government pays for a bottle of water retailing for 50 bob in the supermarket at a price higher than in a five-star hotel. As the campaign season stretches to the climax, politicians are dishing out handouts and sending cronies into harambees in complete contravention of the law. As at the time of writing this article, the National Prayer Breeakfast was ongoing at Safari Park Hotel with all top political leaders and elites in attendance. Yet, senior members of the clergy have publicly declared they would pray for dirty political donations to sanitise them.
In other instances, they have feigned their inability to separate what is from proceeds of graft from what is clean. After all, these big donors are also part of the sheep to whom they've been called to serve. It does not matter 86 per cent of the population is confessed Christians and 11 per cent Muslims as per the 2019 census data.
The agencies given the mandate to cure this cancer have flip-flopped when called upon to do their job and hold the suspected individuals to account. They have blamed the law itself, 'untouchable' political leaders and the people themselves for not acting. If we read Article 249 above and Chapter Six like 10 year olds, would we say so? The learned friends have not helped, taking us through all sorts of conundrums to justify this or that view because it advances their welfare under preferred political patronage.
Public service is a job founded on trust and negative vices cannot be judged purely on the letter of written laws. Ethical conduct stretches beyond laws to include established customs and traditions, cultural heritage/practices and norms of morality in society. After all, what is the purpose of law that advances individual greed at the expense of broader public good and interest of the society? Can rights also be selectively applied in the same society?
A good comparative is to look at how the private sector or households treat employees who violate their oath of office and obligations of duty. Do they retain their employees suspected of fraud/gross violations in service, enjoying the perks and priviledges of office until they exhaust all their rights of appeal in a court of law? Do they tell their victims to take action themselves?
How then does the same society purport to allow such sweeping liberties when it comes' to elective and appointive offices in the public service? Yet, these are jobs that demand above average moral values in their very nature? If these rules do not apply in the private sector and our households, then they must not apply in our politics and public service.
The right thing to do, and must be done, is to impose the full political and economic cost not just by the dictates of law, but also in accordance with the norms of decency of the 21st century socio-economic order.