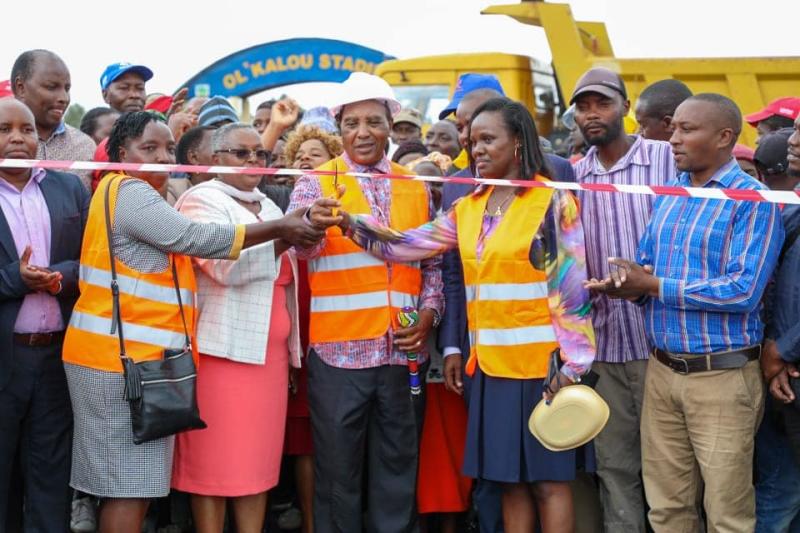 Residents of Ol Kalou in Nyandarua County are excited over the Sh128 million upgrade of the town that is the county headquarters.
The construction of over 20 kilometres of roads that are of bitumen standard, a new market, cabro-paved parking and driveways have completely changed the face of Ol Kalou.
The town has also undergone another facelift with the installation of new solar street lights, construction of storm water drainage and the paving of walkways.
The project, which is a joint programme of the World Bank under the Kenya Urban Support Programme for infrastructure development, and the county government has also seen the construction of a new fresh produce market.
Projects already completed and launched by Governor Francis Kimema cost over Sh62 million.
They are roads, pathways, and parking lots and paving blocks plant, modern cemetery and solid waste management, and beautification.
Mr Kimemia said that his administration was committed to carrying out infrastructural development in all the towns in the county.
Engineer and Mairo Inya towns are also being upgraded.
"This is part of my manifesto and we are glad to have partnered with the World Bank to develop our headquarters. This will be extended to other towns in our county as part of this partnership," he said.
The governor said that his government recognises that sustainable urban development and management are crucial to the quality of life of residents.
"The once muddy and impassable shop fronts have been redone with cabro blocks," he said.
"The re-planning of our town and improvement of social amenities has attracted new investments as seen in the changing skyline of Ol-Kalou."
The governor said that the move would see more investors coming, which will also boost revenue collection in the county.
"We want to create a good business environment for the investors and hence the move," said Kimemia.
"This will also see our revenue collection double once all these projects are completed."
He said leaders should not politicise such projects because it is the residents who benefit from them.
"I am doing this to help our people grow but some leaders are politicising them," he said.
"This is now the way to go because we want Nyandarua county to grow."