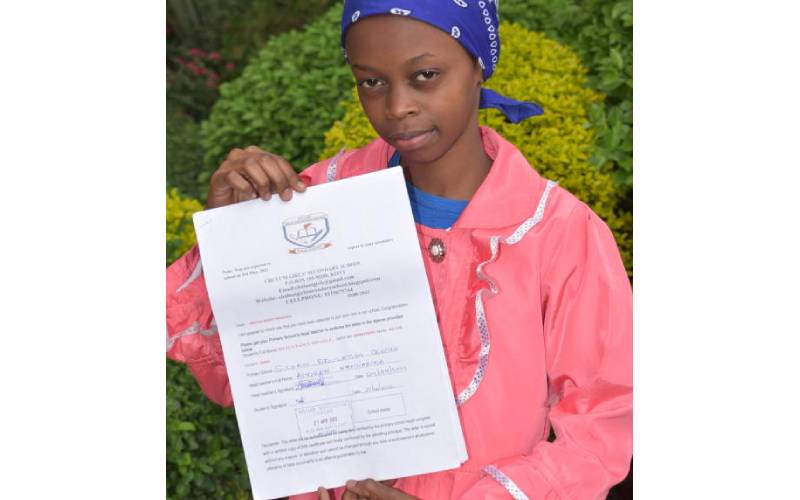 Nancy Mutua (pictured), 13, has ambitions to become a medical doctor someday. However, her parents cannot raise money needed to secure her secondary education.
According to Josphat Mutua, Nancy's father, who hails from Mukuru Kwa Njenga slum in Nairobi, his daughter scored 368 marks in the 2021 Kenya Certificate of Primary Education (KCPE) examination.
"She was ranked 17 out of 150 in her school; all I need is to send my daughter to school," he says.
Mr Mutua says he has only Sh7,000, which was given to him by his brother. He says his efforts to get a bursary or donations have all hit rock bottom.
"I have tried to get the CDF bursary here in Embakasi but I was not given. I was told the office had more than 300 cases so they could not help me. I was told to wait until next year. I have visited the school and tried to negotiate but I didn't succeed," Mr Mutua says.
He says he initially worked as a barman at a restaurant in Kilimani, but lost his job in 2020 during the Covid pandemic.
"All the money I had set aside, I used to pay school fees for my other child who had joined university, I then relocated to Kitui to undertake farming," he says, adding that poor rainfall has affected his crops.
Nancy, who was admitted to Chuluni Girls Secondary School in Kitui says she currently lives with her aunt as her father relocated to Kitui where he tends to the farm.
"I want to become a medical doctor, I need to help my parents in future," the optimistic teenager says.
Mr Mutua says he has managed to buy some necessities for her admission but now he can't afford to buy school uniform or pay the minimum Sh10,000 fee required on admission.
"The ministry tells parents to take a child to school even if they don't have fees, but when you go to school they want money," he says.