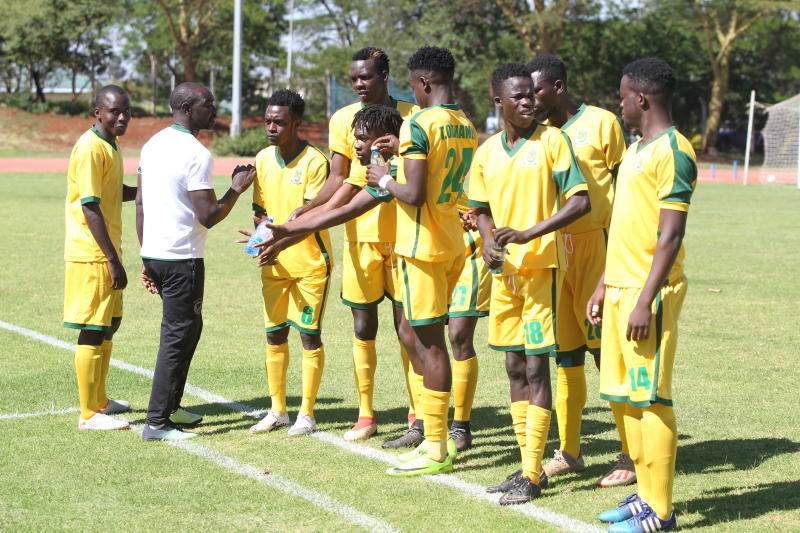 Mathare United have blamed the delayed disbursement of grants by the FKF Caretaker Committee for their 'suspension' and 'relegation' from the FKF Premier League.
The 2008 Premier League champions were relegated to the National Super League on Saturday by the newly appointed FKF Transition Committee after failing to honour three consecutive matches due to financial constraints.
But with Kenya still suspended by the world football governing body, Fifa, from all football activities owing to government interference, it remains to be seen if the move taken by the TC will hold.
Mathare, who have flirted with relegation for the better part of the season, started by dishing out a walkover against Bandari on April 24 then forfeited their match against Ulinzi Stars on May 1 before they failed to host Sofapaka on May 6.
And just a day after the Justice (Rtd) Aaron Ringera-led committee was gazetted by Sports Cabinet Secretary Amina Mohamed, head of secretariat Lindah Oguttu quickly invoked article 3.1.12 of Football Kenya Federation statutes to send the Slum Boys packing. The caretaker committee's six-month term expired on May 11.
"Any club in a league format that does not turn up for three fixtures in a season and their explanation, under rule 3.1.7, is not accepted in all the three incidences to the FKF National Leagues and Competitions Committee, shall be suspended for the rest of the season, shall be relegated to a lower league for the next season and may face further disciplinary action," read a letter dated May 13 from Oguttu to Mathare United chairman Bob Munro.
But in response to Oguttu via a letter yesterday, Munro accused the Caretaker of complicating their situation in the league when they replaced the disbanded FKF on November 11 2021 as they consistently delayed disbursing the promised Sh300,000 month grants.
He says, after receiving the December and January grants, their combined third grant of Sh900,000 came on May 10 four days after their scheduled match with Sofapaka and the day before Caretaker's mandate ended.
"In sum, if the FKF CC had paid its grants arrears four days earlier, those funds were sufficient to avoid forfeiting our third match plus also cover the costs of our five remaining matches," said Munro.
"Moreover, if the FKF CC had paid its overdue grant arrears before April 23, our club could have avoided forfeiting any matches and instead been able to cover all the costs of our then eight remaining matches."
He continued: "After featuring since 1999 in the Kenyan Premier League for 24 consecutive seasons, is it right and fair in fact and even in law for the FKF TC to suspend and relegate MUFC or any other clubs because its predecessor, the FKF CC in which you also served as the Head of Secretariat, repeatedly failed to pay its monthly grants to clubs in a responsible, reliable and timely manner?"
However, going by TC's decision, Mathare's relegation will definitely affect both the title race and relegation battle with all those teams that beat them losing points.