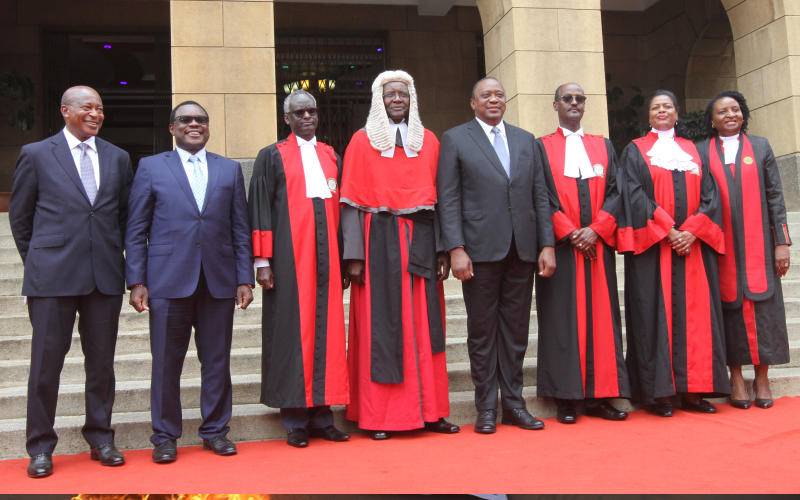 President Uhuru Kenyatta is in anguish due to forces beyond his control. He showed it during the 2022 Labour Day celebrations which COTU boss Francis Atwoli, a key Azimio la Umoja promoter, had turned into an Azimio event. Although Uhuru directed his wrath at Deputy President William Ruto, the Kenya Kwanza leader, his real problem was the shackling 2010 Constitution and the Judiciary.
He was cornered by the power ambitions of former Prime Minister Raila Odinga and Ruto, political 'rebellion' in the Mountain, and pressure due to national economic hardships. While pointing out that he was not responsible for the war in Ukraine or the outbreak of Covid-19 that has dislocated world economies, Uhuru sounded pained.
Having been in a jeremiad mood before, Uhuru's source of anguish was the 2010 Constitution and the Judiciary that constrained presidential ability to act. When it came to fighting corruption, Uhuru publicly expressed his frustration by asking "What do you want me to do?" in October 2016. He sounded helpless as he blamed the Judiciary for failure to act on corrupt cases.
He regained the positive mood in the 2017 election year which he, and Ruto, fought hard to win twice. Uhuru and Ruto had formed the dynamic UHURUTO political duo that seemed inseparable for at least five years. Despite big power hostility, they won three elections in 2013 and 2017 (main and repeat election). Although they won, they could not govern in their second term because Raila incapacitated them. Subsequently, with Raila's help, the glue that had held UhuRuto together melted so fast that they stopped looking alike politically.
Tactical Raila kept the Uhuru side of the split warm while making Ruto's side feel the political chill. As Ruto complained about being in the governance cold-room that Raila had supposedly built, Uhuru found comfort in Raila's restraint from generating chaos. Ruto failed to appreciate Uhuru's dilemma; accommodate Raila to have 'peace' or stick to 'law and order' and watch Kenya sink. He then collided with Uhuru in three ways.
First, he continued portraying himself as a victim of dynastic anti-people mischief, second, he expressed reservations to some UhuRaila initiatives like the BBI and third Ruto had constitutional protection that gave him immunity from firing. The UhuRuto split evolved into public frustration as Ruto failed to support Uhuru's new political ventures. This failure justified Uhuru's decision in 2019 to transfer the DP's functions to Minister of Interior Fred Matiang'i who became a virtual chief minister, which had two effects. First, besides practically freeing Ruto to tour the country 'inspecting' projects, new political concepts such as 'bedrooms', to refer to political zoning, and 'sipangwingwi' gained currency. Second, the move was innovative and set precedent in that presidents can do things, including creating constitutionally unspecified positions, as long as they are in perceived national interests and are not offensive to the spirit of the constitution.
Since the courts, using the Constitution, differed with Uhuru's desires, they frustrated him and appeared to be in tune with Chief Justice Willy Mutunga's judicial transformation agenda. When Uhuru thought he had found remedies to the 'defects' in the 2010 Constitution in the BBI proposals, what he called 'constitutional moment', the Judiciary had other thoughts. Mutunga had entrusted the Judicial Transformation Framework and Secretariat to Judge Joel Ngugi, a law professor who liked jurisprudential adventurism, to reduce judicial "intellectual laziness". Other university intellectuals joined the adventures.
Ngugi, aided by Duncan Ojwang's amici thinking, shot the BBI down using such unfamiliar constitutional concepts as unamendable or entrenched clauses. Other judicial rulings increased Uhuru's sense of frustration with the 2010 Constitution. Thus the executive-judicial contest over the control of the Constitution was the actual source of Uhuru's anguish.