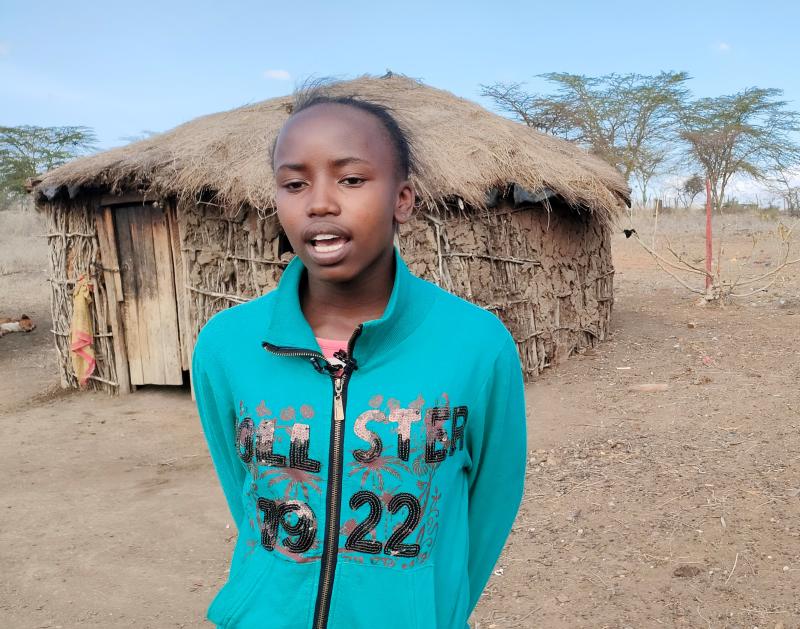 It is 6am in Kisargei village in Laikipia North sub-County, Laikipia County. Rapasi Lemaramba, 15, has just finished milking the family's five goats. He got slightly over a litre and is now waiting for his mother to make tea.
"We are getting only one litre from five goats because of drought," says his mother, Mrs Veronica Lemaramba, as she leaves with the milk.
About 10 minutes later, she reemerges carrying a flask. Sitting on a three-legged stool, Rapasi, the firstborn in a family of seven, hurriedly takes two cups of tea. The milk is barely visible. The milk made tea for six other siblings of Rapasi.
He leaves with several goats and sheep to look for water and pasture. We follow.
Rapasi may appear too responsible for his age, but this has been the norm since schools were closed. He treks more than 15km to a borehole at the Segera Mission. "Sometimes you get (water) and other times you don't. It is the only water point and thousands of other livestock depend on it. The water has reduced due to severe drought," he says as The Standard begins to interview him.
The boy, who hopes to be a doctor, says it has not been easy juggling classes and herding. He had to trek about 20km to and from Segera Primary School every day, but still scored 403 out of 500 marks in the last Kenya Certificate of Primary Education (KCPE) examinations. He has been selected to join Alliance High School, for which he lacks fees.
For the Lemaramba family, paying school fees for Rapasi and his two other siblings in school was never a problem, until two years ago, when they lost livestock to drought.
Mrs Lemaramba says initially they would sell goats or sheep and pay school fees, but the boy's future now hangs in the balance. "Rapasi was and is my family's hope," says Mrs Lemaramba.
While going to school, the long distance was not even Rapasi's worry: "My biggest threat was possible attacks by elephants and hippos."
The family says chances of meeting the wild animals have increased with the prolonged drought, what experts can confirm is most likely the case.
During a recent training for environment editors, Mr Kimitei Kenneth, an African Wildlife Foundation Landscape Ecologist in the Tsavo-Mkomazi Landscape, said wild animals roam more in search of water and food, and sometimes comfortable places to breed in times of drought. This, he said, increases chances of human/wildlife interaction, especially where they share resources such as water sources, and which sometimes leads to conflict.
It is a fear many other children live with at the Laikipia conservancy, even as they try to access education.
Mitchell Kinya, 15, who scored 391 marks in the last KCPE, lives 5km from Segera Primary School. She braved the morning cold to school, her biggest fear always being meeting elephants. At times, she says, her mother escorted her to school when elephants were spotted nearby.
Kinya is contemplating repeating Class Eight for lack of fees. They no longer have livestock to rely on, neither can they farm. "My mother now sells beads. In a week she makes about Sh200, sometimes nothing," she says, adding that getting food and water is the priority for many.
Mr Silas Mechami, the Segera Assistant Chief, says they have advised parents to get motorbikes to take children to school. "We have also talked to KWS to have regular patrols in morning and evening when children go to and leave school," he says.
They have also asked owners of ranches to increase voltage on wire fences to prevent elephants from crossing.
Mr Peter Mwangi, the Segera chief, says the community has adapted to living with animals and that most of the trees are cut and people can see elephants from a distant.
"Since elephants follow, people are advised to move against the wind direction. Any time you encounter an elephant face to face, just know you are moving in the wind's direction," said Mr Mwangi.
There is so much Kinya has witnessed during the prolonged drought that she wishes to be a chief justice when she grows up. "Thieves come to our village, kill people, steal livestock and property. Some parents don't value education and force their girls to undergo FGM and get married for wealth. Children need justice," she says.
Mr Martin Miriti, a teacher at Segera Primary School, says children walk long distances to school. "Some walk 20km to and from school every day, and there are dangerous wild animals on the way. Many miss classes because of fear of wild animals," he says.
Mr Miriti says the climate crisis has exacerbated effects of a widespread retrogressive culture that places little value on education, as girls are subjected to FGM then forced to marry for wealth, while boys graze livestock and join morans, steal cattle and guard homesteads.
The teachers try to mitigate the problem: "Besides teaching pupils, we also educate their parents and community members on importance of taking children to school. We're grateful that majority listen, and have been supportive."
Mr Serge Musasilwa, the Director of Segera Mission that manages the school, says: "Most pupils come from poor families."
He says they provide water in trucks during dry seasons to reduce incidences of girls missing school. "Initially, girls would miss classes as they accompanied their parents in search of water."
Mr Musasilwa says the last two years have been bad because of prolonged drought. "Families have lost livestock they depended on for school fees. Many children are likely to miss Form One," he says, adding that they struggle to feed the pupils. "Drought has affected livelihoods. Children come and ask for food because they have not eaten."
According to Ms Christine Makandi, a nurse in charge at Segera Dispensary, most of the ailments treated at the facility during drought have to do with dirty water. "Since there is no water now, people are taking any available," she says.
She says they distribute water purifiers but at times they lack money. They advise boiling of water.
After losing most of their livestock, Mrs Lemaramba says her husband, Mr Bokinas Lemaramba, left home with the few remaining in search of water and pasture. "We can't tell exactly where he is right now. It has been months."
"The people who are left in these Manyattas are women and children," says Mr Samuel Lekurule, a resident, adding that many went to Isiolo, Garissa, Naivasha and Nyeri.
Mr Mechami says women and children left alone are taken care of by Nyumba Kumi, and that their security is intact.
But this is not all that families have suffered since rains disappeared two years ago. Despite availability of arable land, they do not farm because hippos and elephants destroy crops.
Mr Mechami says wild animals at times go for vegetables planted along the Ewaso Nyiro River. "When they destroy crops or kill animals, we advise the community to claim compensation, though it is not effective."
Mr Lekurule says he filled a compensation claim over a year after elephant destroyed his crops and killed goats, but he is yet to get any money.
Collins Otieno, a young climate activist in Nairobi and an expert in climate change and development, summarises the Laikipia children's struggles as climate injustice.
"There is a clear indication that as a result of climate change, some of these children may drop out of school. Their nutrition is threatened, and this may lead to stunted growth and poor health. Climate change, therefore, denies the children their fundamental education and social rights," he says.
Mr Otieno also looks at the crisis as a killer of livelihoods, hence increasing poverty; and a driver of migration and possible conflict. "Where that man (Mr Lemaramba) went is not his land, and the reception there is unpredictable. He may have lost his livestock, and at worst, his own life. It is also courtesy of the climate change that families are split, and generally economic growth of certain areas delayed," he says.
Dr Bernard Onyango, a researcher at African Institute for Development Policy, says erratic weather patterns are resulting into a cycle of drought, undermining food production and security.
He says: "These people depend on their livestock for economic sustenance. When they die, they cannot provide for themselves or pay for education. Yet children need education to develop skills that will give them opportunities or employment. When a child drops out of school, it has long-term negative impact on them and the community on development."
And many are helpless. "From the point of loss and damage, observing the number of livestock decrease as a result of climate change and associated impacts, there is a clear indication that adaptation limit was reached. They cannot adapt anymore," says Mr Otieno.