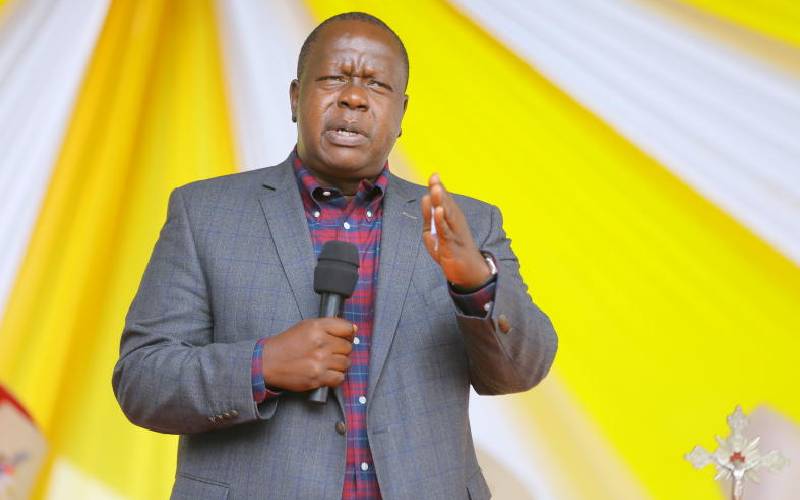 Interior Cabinet Secretary Fred Matiang'i appears to have beaten a tactical retreat from Gusii politics barely four months to the General Election.
Unlike some of his colleagues in the Cabinet, Dr Matiang'i has kept off Gusii politics and even called on leaders from the region to stop associating him with local politics.
CSs Eugene Wamalwa (Defence), Peter Munya (Agriculture) and Keriako Tobiko (Environment and Forestry) have been actively involved in politics.
Munya is leading the Azimio campaigns in Meru, Wamalwa has been receiving defectors to Democratic Action Party-Kenya (DAP-K), while Tobiko has been keen on solidifying the Jubilee and Azimio support base among the Maa community.
At a church function in Kisii town last month, Dr Matiang'i said some of the political aspirants were fuelling animosity.
He said he did not wish to take part in their activities even as campaigns for the next elections continue to gather momentum.
Political ambition
"Most of these aspirants in this region are either my relatives or friends. I don't want any of them going around claiming I have sent them to do one thing or the other. As a civil servant, I am not supporting any candidate seeking any seats in the coming elections," Dr Matiang'i said.
"I have not sent anyone to speak on my behalf or do anything in my name. Let us allow the people to choose their leaders. My only desire is to see our people live in peace. We don't want chaos."
Despite the support from local leaders, professionals and other groups, the CS has kept many people guessing since he has never declared his political ambition.
Since the retirement from active politics of former Cabinet Minister Simeon Nyachae, now deceased, Kisii has not had a political kingpin, raising questions of a possible heir.
There have been talks of elders either installing Kisii Governor James Ongwae or Dr Matiang'i as a possible replacement for Nyachae.
Dr Matiang'i shot to the limelight after he was appointed to head the Information, Communication and Technology ministry during President Uhuru Kenyatta's first term.
He was later moved to the Education docket where he earned nationwide admiration for bringing an end to rampant cheating in national examinations.
He later acquired the tag of 'Super CS' after President Kenyatta made him the chair of the National Development Implementation and Communication Committee in the Cabinet, which is charged with the monitoring and implementation of all development projects.
It is during the May 2021, Bonchari by-election in Kisii County that Dr Matiang'i was largely seen to have shown interest in the region's politics.
Despite being a technocrat, he was the Jubilee Party's face in the campaign and the entire Gusii region.
The mini-poll offered him an opportunity to consolidate his support in the region, bolster his efforts to be the Gusii community kingpin, catapult him to national politics and boost his ambition of vying for the presidency.
Although he has never officially declared interest in the presidency, some of his colleagues in the Cabinet vouched for him.
A number of local MPs have also been campaigning for Dr Matiang'i who is seen as President Kenyatta's point man in the region.
Prior to the Bonchari by-election, plans were afoot to install the Interior CS as the Gusii community spokesman. However, his perceived preferred candidate – Zebedeo Opore – lost to ODM's Pavel Oimeke.
Although the CS did not publicly campaign for Opore, he is said to have held meetings to strategise on Jubilee Party's win and left his allies in the region to market the ruling candidate as the best bet.
Development projects
In one of his development tours in September 2021, the CS insisted that some of the development projects being initiated in the region were due to the presence of some senior leaders at the negotiation table where the national cake is shared.
"We can't afford to join a team that has mastered an art of abuse. My advice to the legislators from the two counties is to ensure that they have agreed on the working formula. All we need is a working formula in order to deliver our development agenda to our people," he said.
Dr Matiang'i said he would not be intimidated by some leaders from outside the region, who he said have made it their daily schedule to abuse him.
In a previous TV talk show, had said leaders had failed the country. "In more ways than one, people have been given responsibility and decided to do something else," he said.
"The difference in terms of the success of one society and not the other is made by the collective consciousness of the society, people decide I am a part of the whole and I am not the whole. We collectively play our roles and do better."
According to Matiang'i, the future is with God. "My plan is to do what I am doing and do it well. The level of focus will determine how each of us succeeds."