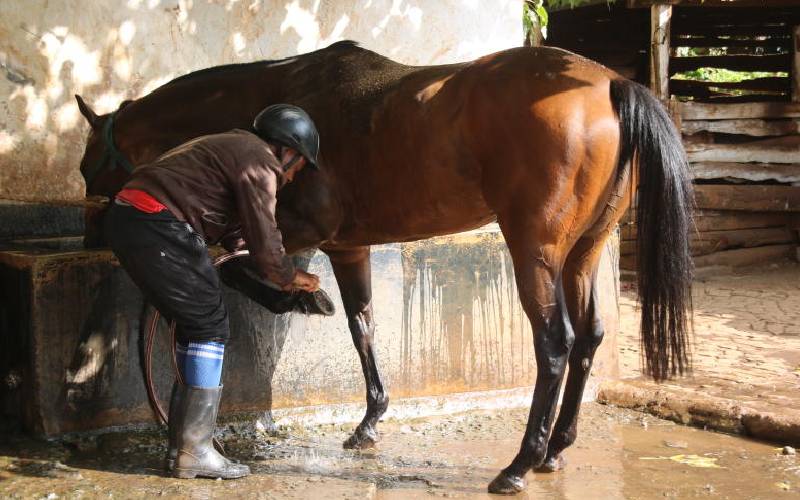 Horses are known as some of the most glamorous animals across the globe. And for good reason.
A quick look on the internet and the images thereon are nothing but exquisite.
Often referred to as exclusive to the very wealthy, horses and all that pertains to horses, have often been viewed as unreachable, unachievable, especially for citizens of a country grappling with insuperable economic problems.
Driving into Sercombe Racing Stables - owned by the Sercombes - at the Ngong Racecourse in Nairobi is a surreal experience.
The horses stand high in their white stables, a shock for someone who thought they are only as tall as cattle.
They are taller, much taller. They longingly stare at us and our filming paraphernalia, curious, but totally unperturbed.
They do not fear what they do not know, we learn from Dr Lesley Sercombe, an award-winning jockey.
Dr Sercombe emerges from the office right next to the stables, followed by two dogs.
"Oh, they're here, hi!' she exclaims as soon as she sees our crew.
She's much smaller than you'd think, but her height quickly compensates for her size.
We later learn that the recommended weight for a jockey (a person who rides in horse races, especially as a profession) falls between 53 and 56 kgs.
Mornings, she says, tend to be busy at the stables. Dr Sercombe has only a few minutes to spare before she heads out to the tracks.
The horses are gloriously heading out for a warm-up, the clopping of their horseshoes just as glamorous as their long manes.
Heavy feeders
As the 'athletes' of the team leave the stables, their comfortable lives begin to manifest. Inside the stables are a feeding trough at the corner, a watering point near the door and a bale of hay dangling from the ceiling.
According to Oliver Chaba, one of the helps at the stables, this bale of hay is an ever-present feature in the stables, and the horses are allowed to have as much as they can.
It is the floor that takes us by surprise though. Freshly compacted sawdust completely enshrouds the concrete.
This as we are told by Chaba, makes the stable as comfortable as possible.
The warm-up is quite short and in no time, Dr Sercombe and a number of jockeys return. Interestingly, the horses' hides are covered in sweat.
They head to a water point where they are cleaned before they can return to the stables. One after the other, the horses knowingly lift their legs, as a help scrubs their underbelly, their thighs and their hooves.
Soon after they are led into the stables, the horses begin to kick at the short steel gates barring them from the outside.
Dr Sercombe tells us that it's time to feed the horses. A mix of feeds specifically produced for racing horses at the Sercombe Racing Stables, comprising of bran, horse meal, crushed oats and a block of supplements and oils, is brought in buckets.
"Each horse is entitled to 12 to 14 kgs every day," says Sercombe. Soon after, a tray filled with syringes bearing what the doctor says is multivitamins is brought in. It is administered as soon as the horses are done feeding. This is done every Tuesday at the stables, to keep the horses immune from diseases," she says.
Besides being a veterinary surgeon and record-breaking champion jockey, Dr Sercombe is an expert at horse shopping.
She recently travelled to South Africa for a four-day trip to buy a horse for a client.
She spent that time shopping for the best horses and bidding on the best offers. In case you're wondering how much this affair would cost you, read on.
Cost of rearing horses
To buy the horse, you will need to cough up anywhere between Sh500,000 and Sh3 million. This will largely depend on the bloodline and the speed of the horse for racing horses.
You will also need to employ the services of a qualified veterinarian and jockey, who will look into issues like psychological stress, personality and any diseases that target a huge team of horses.
Additionally flying the horse from South Africa to Kenya stands will cost you about Sh300,000.
Should this be too much for you, a 10-day trip by road will cost you Sh100,000. Dr Sercombe clarifies that the cost may fluctuate owing to the prevailing increase in fuel costs.
Once the horse lands in the country, it will be taken to one of the stables, as per the owner's wishes and financial ability.
The stables will provide veterinary care, upkeep, training and cater for all nutritional needs of the horse.
At the Sercombe Stables, where they keep 24 horses, the monthly fee is Sh50,000 for each horse.
"I would describe our stables as a professional-run business with the interests and welfare of the horses before anything else. Our team is very dedicated to the horses," she adds.
We also learn that regardless of the breed, function or age of the horse the costs do not fluctuate.
This Dr Sercombe says, is why horse-owners should spend more on buying a good horse, as the monthly upkeep costs remain the same at the stables.
Return on investment
At this point, you might wonder whether there will be any returns from your investment, given that this is a capital-intensive venture.
Dr Sercombe warns that one should not expect a lot. However, she notes that should your horse win in any of the highly sponsored derbies in the country, the prizes often come as cash prizes.
This she says may range from Sh1 million to anything beyond that figure.
Ageing horses, usually from seven to 10 years of age, begin to withdraw from the rigorous training schedules and races.
Dr Sercombe says horses will usually refuse to train in the morning or they may train at a seemingly reluctant pace.
Once this becomes apparent, the horse will then be retired from active racing to take up other responsibilities such as breeding, show jumping or leisurely activities such as event appearances and photoshoots.
Advice for those interested in buying a horse?
"Make sure you have a good budget, trainer and it's always a good idea to get a horse with a friend or two," Dr Sercombe advises.
Buying a horse with a group of friends helps with the costs and the socialisation of the animal.
During races, for instance, horses that are owned by more people will usually have a larger crowd cheering as compared to those owned by a single person.