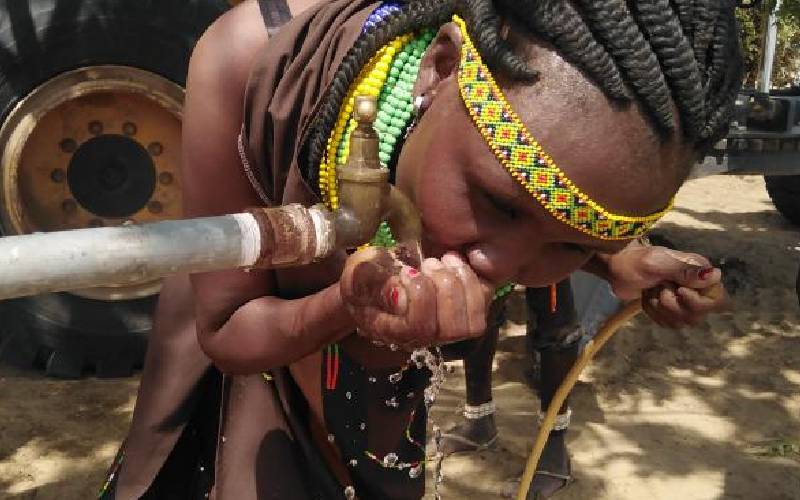 Residents of West Pokot County living along the Kenya-Uganda border have benefited from a multi-million-shilling water project.
Nasal Water Project serves more than 4,000 households, 12,000 livestock as well as Nasal Primary School and dispensary.
Lokitanyala Chief Stephen Lokitare said the project has improved access to water for over 19,000 residents of Alale Ward.
"We had many challenges because we had only one borehole. For now, people are healthy and cases of waterborne diseases like typhoid have reduced. There is water for livestock and domestic use," said Mr Lokitare.
He said the residents have also benefited from a maize mill established in the area.
"Initially, we had to walk long distances to get a posho mill. We also have a source of income as a group, and we plan on further improving our livelihoods going forward," said Mr Lokitare.
In 2019, the Kenya and Uganda governments signed a memorandum of understanding allowing various projects implemented by the United Nations Development Programme (UNDP).
Under the programme funded by the Swedish government through UNDP's Cross-Border Sustainable Peace and Development, the government seeks to end hostilities among the Pokot, Turkana and Karamoja communities.
The programme aims to improve the well-being of communities by averting conflicts and improving their socio-economic status.
The Swedish embassy team, during a visit to Nasal Water Project and alternative livelihoods programmes in Alale Ward, West Pokot County, said the projects have improved livelihoods in the remote area.
The team visited projects in Alale, Kodich and Kacheliba where the Nasal community and 25 groups drawn from North Pokot were beneficiaries of six posho mills, 52 beehives, 32 Galla goats, and four bulls and water pumps.
Speaking during the visit, Dan Juma, Governance and Inclusive Growth team leader at UNDP Kenya, said there is still a huge potential for sustainable development.
"Our work is to complement the government's work by looking at sustainable development in borderlands from a holistic approach to end insecurity and eliminate poverty and realise transcending foundations of peace," said Mr Juma.
Martha Mathenge, Programme Officer, Peace Building and Conflict Prevention Unit at UNDP, said the historic incidence of violent conflicts over access to natural resources such as pasture and water is exacerbated by the impact of climate change.
"We have worked closely with peace structures, committees, and ambassadors in both West Pokot, Turkana and Karamoja and this has enhanced lasting peaceful coexistence in this region. We are grateful to realise the partnership and impact," she said.
Ms Mathenge said the projects have brought together communities that are wary of resources. "We have supported residents to cushion communities from the effects of climate change and Covid-19," she said.
Emma Sandahi, representing the Swedish Embassy, said the government of Sweden is committed to working with counties, not only to accelerate sustainable development but also to find lasting peace on the borders of Kenya and Uganda.