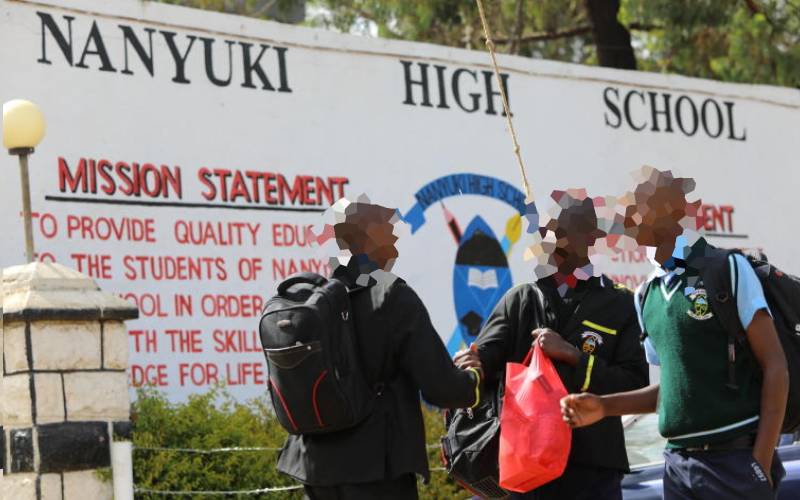 For the second year running, Nanyuki High School has received the highest number of applications by Kenya Certificate of Primary Education (KCPE) candidates.
Despite its low accommodation capacity, a majority of 2021 KCPE candidates expressed interest in joining the school. It attracted 156,003 applicants against its capacity to accommodate only 480.
This is a slight increase from the previous year when 154,524 applications were received against a capacity of 384 students.
While presiding over the selection and placement results yesterday, Education CS George Magoha identified schools that attracted more applicants against their capacities.
Just like in 2020, Nanyuki High School was followed by Kabianga High School which received 149,087 applications.
The third position was Pangani Girls (118,073), followed by Maseno School (110,811), Nakuru High School (107,915), and Alliance Girls' High School (104,3530).
Others are Kapsabet Boys (99,725), Butere Girls (98,410), Mang'u (93,648) and Moi Girl's Eldoret (92,666).
"During the selection, as was the case last year, it became clear that a number of candidates did not receive proper guidance and direction when choosing schools.
"This resulted in some schools attracting far many applicants against their capacities," Prof Magoha said.
According to the CS, the scenario can be avoided if candidates are well guided by parents and teachers during the selection process.
"Relevant ministry officials must also ensure proper training on the Form One selection process," he said.
Some 1,225,502 candidates sat the 2021 KCPE exams. The CS said the selection strictly applied the principles of merit, choice, and equity in placing candidates in each school category.
Close to 38,797 students will on May 3 join national schools while extra county will absorb 214,960, county (218,456), sub-county (726,311), refugees in camps (9,128) and special needs schools (2,045).
Prof Magoha said some schools had expanded capacity in support of 100 per cent transition. "I wish to recognise St Albert Ulanda Girls and Sironga Girls who are going to admit 864 and 816 candidates respectively."
Inadequate capacities were recorded in four counties of Nairobi, Kajiado, Narok and Mombasa. Nairobi had 68,829 candidates with an absorption capacity of 24,365 students but with a deficit of 44,464 spaces.
Kajiado had 23,915 candidates with a capacity of 16,464. In Narok, there was a capacity of 30,768 against 31,909 candidates while Mombasa had the capacity of 17,224 against the 21,2456 who sat KCPE exams. The CS said to address the deficit in the four counties, the ministry had to place candidates in other counties with sufficient space.
He added: "The four counties continue to pose a challenge during placement. I call upon leaders from those areas to address the capacity deficit."
Prof Magoha commended Kilifi and Kwale for addressing deficits.