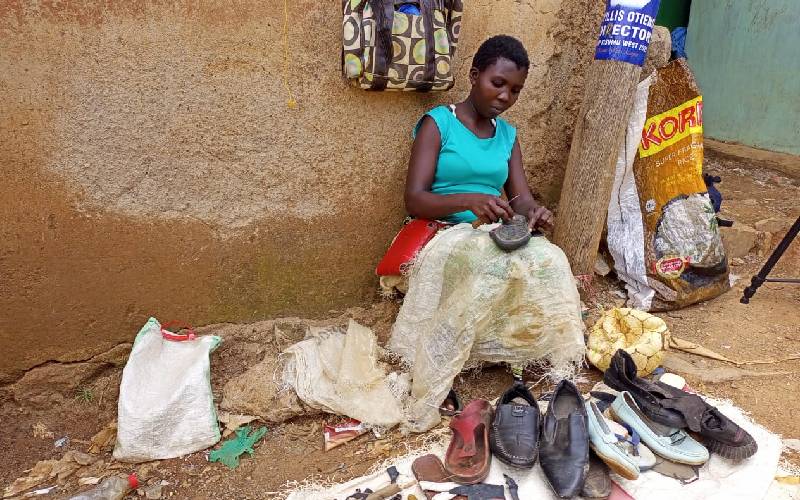 Unlike her peers in the university, she did not enjoy the pleasure that comes with being in the institution.
Instead, 30-year old Miriam Musyoki from Makueni spent 10 years of her university education hustling for school fees, rent and money to buy food.
Ms Musyoki has been working as a cobbler for the past decade after she first deferred her university studies due to a lack of fees and rent.
And even after working hard to save money for school fees and ultimately graduating from Maseno University in February, she is still working as a cobbler to make ends meet.
She says other jobs are flooded at the moment and it has not been easy getting something to do even after graduating.
Ms Musyoki got a B plain of 62 points at Kitundu Secondary in Makueni in 2010.
Having studied Bachelor of Arts in Education (History and Swahili), she has sent her application to most schools that are yet to get back.
She says most employers who call her for interviews have asked her to get certified by the Teachers Service Commission (TSC) first.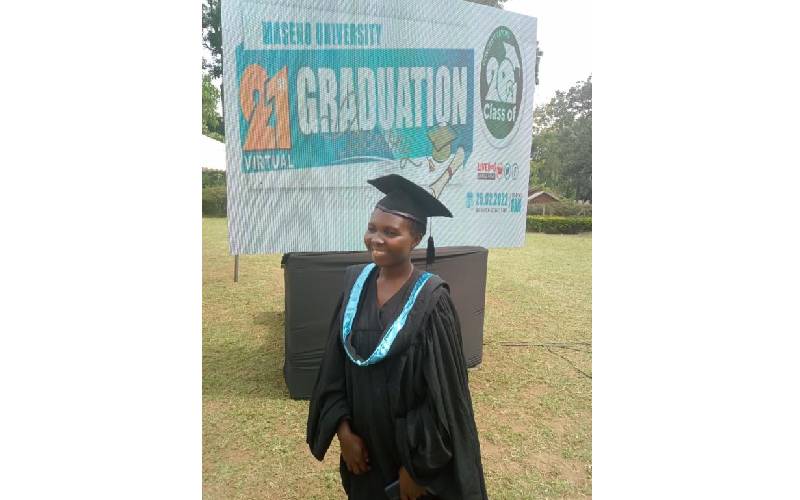 "Remember everyone runs to hotels, bars and restaurants so they are flooded. We have very few people interested in being cobblers and this is why I gained interest in it 10 years ago. Everyone wears shoes or sandals, so I have clients every day. I have a family to feed, so I have to work. Because of all these life tribulations, I got into family life in the process and now I have four children looking up to me. I am waiting for interview calls but I cannot just sit because we have to eat and pay rent," says Ms Musyoki.
Rented space
Ms Musyoki has set up a working space within the market in Maseno town where she repairs shoes. Having grown up in a family where her father was a cobbler, she learnt the trade from him.
Her clients are students, university workers and Maseno residents.
On a good day, she makes more than Sh1,000 but that depends on the school calendar while sometimes, she earns Sh500 from her business.
According to Musyoki, she started working as a cobbler in 2012 after she deferred studies at Maseno University.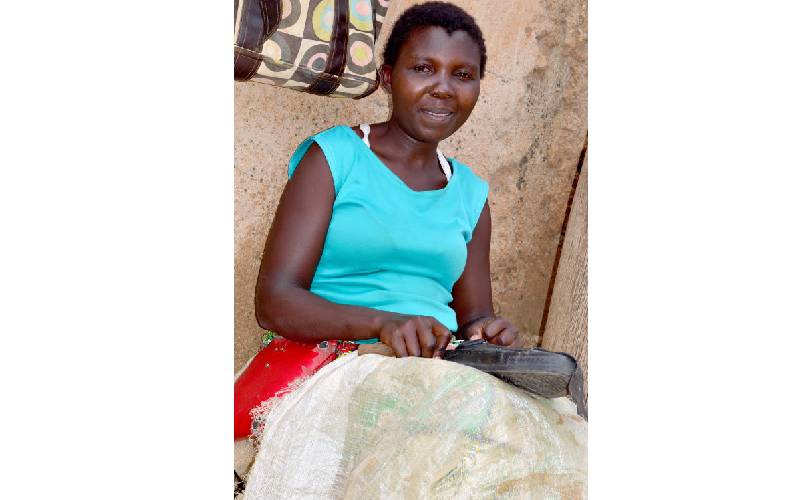 "I did my first semester in the first year well without a lot of difficulties. When I got to the second semester, the institution requested that I clear the balance for the first semester before settling in class for the second semester. At this point things became even more difficult, I had applied for a bursary from our home constituency CDF but it did not come either. My parents were not capable at all, they had sold the only land they had to ensure I went through secondary education," she narrates.
After deferring from the university, she returned back to Makueni but not a home. She opted to rent a small house within Makuyuni, a shopping centre.
She says the little savings for her hostel rent for the second semester came in handy to start up.
"I had to start something to raise money to go back to school. I could not return home because when my parents sold land to help me clear my secondary education which had created conflict in our extended family. My parents were also struggling taking care of my other six siblings and being the firstborn I opted to stay away to lessen their burden," she explains.
Musyoki adds: "I used part of the hostel rent to pay rent for the room I secured at the shopping centre that was a shop and the rest to buy a few commodities like milk, bread, eggs, and washing detergents that I sold there. Because the shop business was small and not giving much profit, I opted to also engage in repairing shoes and that is how I began."
She says Mukuyuni shopping centre had few cobblers and that meant more clients for her business.
Musyoki worked as a cobbler and shopkeeper at Mukuyuni for six months before the shop business collapsed and due to a lack of funds, she was not able to stock it.
In 2012, she decided to resume her studies at the university, this time with better plans that would help her finish her course.
Resumption of studies
She applied to resume in 2013 but according to the university calendar, they pushed her resumption dates to 2015.
"For those two years, I stayed back in Mukuyuni to continue the cobbler business to make some money to save as I waited. After those two years, I only managed to raise hostel rent and fare back to Maseno. I eventually resumed and started school again. I had applied for HELB which I would use to pay school fees and buy food," she notes.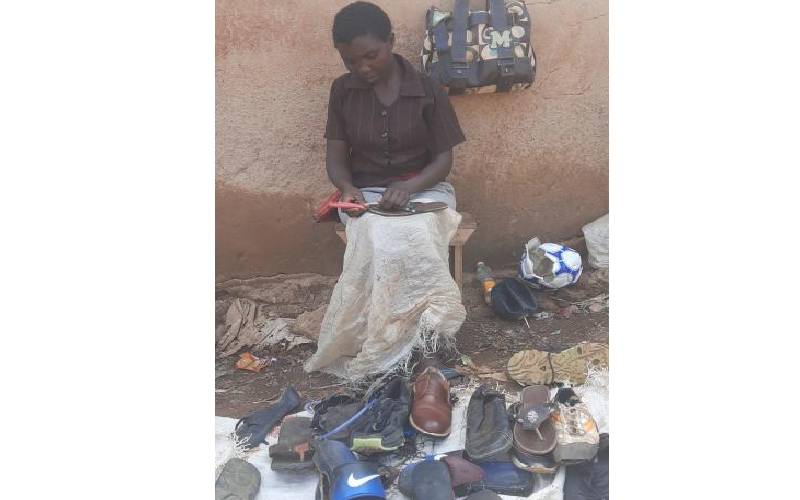 She narrates how she had to balance classwork and her business to ensure she raises enough money to pay rent every semester and school assignments.
Ms Musyoki says she had few friends at the university because of her situation although fellow students never looked down upon her.
"I had to wake up very early, finish my assignments in good time, plan and organize myself for the day and how to attend classes. Sometimes I would skip classes, especially the common courses and later borrow notes from classmates. I never had time to hang out with my classmates and friends because this would mean, I do not earn that day," she says.
Ms Musyoki was supposed to graduate last year in April but was unable because she had a fee balance of Sh35,000.
With the help of her church members in Maseno and a few lecturers, she managed to raise the total amount which she paid to the university administration and as a result was cleared to graduate in February this year.
"My lecturers were very understanding people. They helped me raise some money from their colleagues and the rest of the amount I raised with my church members. I am happy that I finally graduated. It has been a difficult journey but I managed finally," she adds.