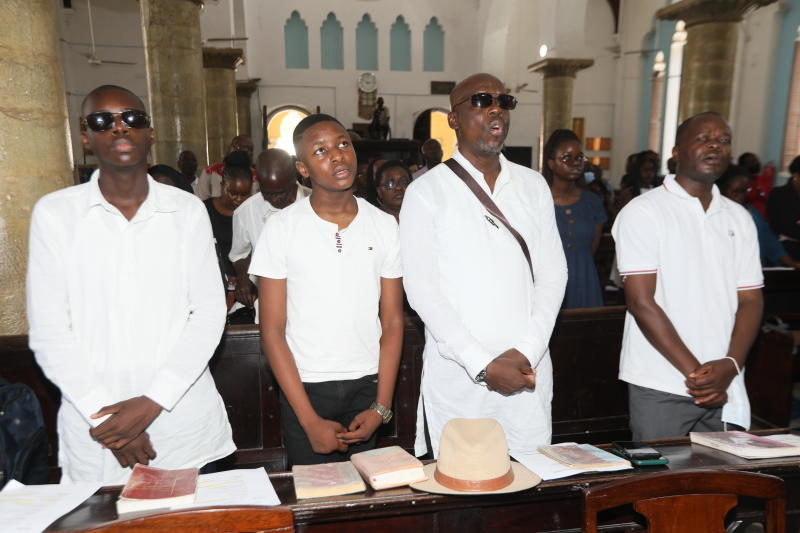 The lawyer who played a crucial role in the nabbing of two rapists who tied their victim to a railway line in Mombasa has been mourned by her peers as a fearless, ardent and determined defender of women's rights.
Jacqueline Achieng Kawere, a senior officer in the Federation of Women Lawyers (FIDA-Kenya) Mombasa office died last week after a long battle with cancer.
She died days after a Mombasa court sentenced to life imprisonment two men who gang-raped a woman and tied her on a railway track. In the February 3, 2017 incident, a train later ran over her, occasioning serious injuries but she lived to pursue justice
The late Kawere pushed for the arrest of the suspects, Steven Otieno and Stephen Mzee, who had swiftly moved on with their lives as though nothing had happened. Otieno was nabbed by members of the public on March 23, 2017, almost two months after the crime.
His accomplice Mzee, however, had a longer run. He was arrested a few days before Christmas of that year, again by empowered citizens thanks to people of goodwill like the late kawere who stayed on the matter.
"Jacqueline Kawere served the indigent woman of this country in her capacity as senior legal counsel in our FIDA-Kenya Mombasa office. She was a fearless human rights defender, was passionate about the rights of all women and girls and was keen to see that they access justice," FIDA Executive Director Anne Ireri said earlier today.
She spoke at Anglican Church of Kenya (ACK) Memorial Cathedral in Mombasa where a requiem mass was conducted for the departed lawyer. Family, friends and colleagues thronged the cathedral to bid farewell to a lady described as a woman of substance by many.
"She was no ordinary lawyer. She had a heightened sense of justice," Dr. Mercy Deche, an ex-Judicial Service Commission (JSC) Commissioner mourned her.
She said when the rape incident happened in 2017, Jacqueline asked her to accompany her to visit the victim who was being treated under protection as her attackers were still at large.
"Jacky played a part in ensuring that the perpetrators were brought to book. The case ended last month and the sub-humans were jailed for life. I am happy that Jacky lived to see that," Dr. Deche said.
Mombasa Law Society of Kenya (LSK) branch official Charles Opulu described the death as a big loss for children and families who relied on her legal advise and representation when they had no one to turn to.
Opulu said Jacqueline was an accomplished lawyer who fought against ills against women and children. She described her as brilliant, principled, courageous and kind person who contributed to the improvement of women's status.
Despite her ailing, Ms Jaqueline never showed any annoyance and did not stop serving her clients with dedication. She took many pro bono cases as a sign of serving the needy without asking for a penny, they said.
"In her capacity as senior legal counsel Jacqueline provided leadership in our Mombasa office. She also provided oversight in the implementation of our justice programs as well as mentored and supervised young advocates," Ms Ireri added.
Ms Jacqueline is survived with her husband Engineer Henry Kawere and son Jeremi who eulogised the mother as his inspiration to discipline and best education.
Her brother-in-law Jacob Kawere described her as a strong-hearted woman who could afford to smile and even offer legal services to his clients even as she was undergoing painful experience.