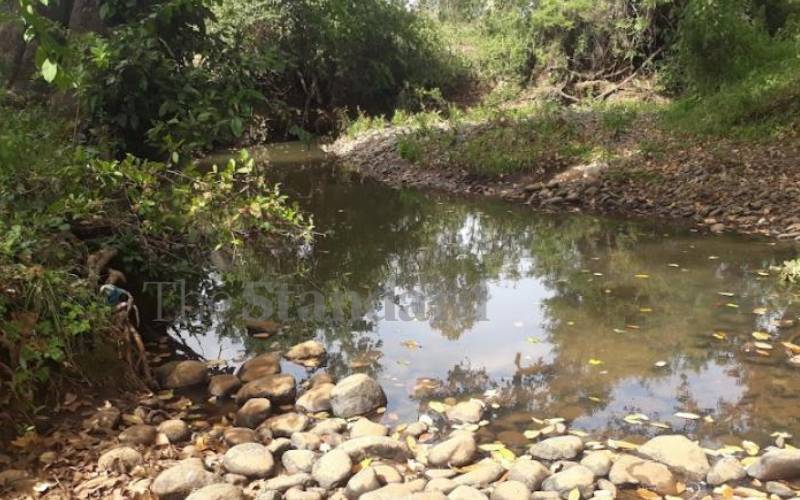 Smallholder farmers downstream of main rivers in Laikipia county have been in a war of nerves with large estate farmers upstream as the current drought persists.
Between the months of January and March, some residents were forced to get water from browsers at a shilling per litre as the main rivers dried up due to diversion upstream.
There are large flower farms on the slopes of Mt Kenya and smallholder farmers downstream that depend on rivers Sirimon, Timau, Nyariginu and Gakeu which drain into the Ewaso Nyiro North.
According to Mr Peter Mwangi, a resident of Kalalu, the government has failed to act on the illegal abstraction upstream.
"It has been a song as the people downstream are intimidated by the state actors and are forced to walk long distances in search of the commodity," said Mr Mwangi.
Mr Mwangi said the water use pattern in Laikipia was a ticking time bomb that needed to be addressed.
As the rivers drain into the Ewaso Nyiro, there are thousands of herders and conservancies who also depend on the scare resource.
It explains the regular human-wildlife conflicts and deadly clashes for water and pasture.
Mr Francis Muraguri Macharia accused the Water Resource Authority (WRA) of doing nothing as the rich largescale land-owners continue to abstruct water with impunity to the detriment of all other users.
The situation, he said, was getting worse as the livestock herders were presently grazing in the mountain in search of water for their animals. "During the 2015 drought we were in a similar situation but it was threatening to be worse this year until the authorities intervened," said Mr Muraguri. Mr Gitonga Kabugi, the former Laikipia deputy governor said there is a need for a change to ensure water flow was not disturbed.
Mr Kabugi, a water engineer, said the regulator should ensure the commodity was rationed in times of scarcity to enable those downstream to have access. "It is a pity that hundreds of people are suffering. The government needs to restore order in the management of the water sector while offering protection of the catchment areas to ensure that the rivers have a sufficient self rejuvenation system," said Mr Kabugi.
Last month, officials from the WRA backed by those from Water Users Associations destroyed dozens of illegal intakes.
WRA officials admitted that illegal abstractions had affected the flow of water in the rivers Ontilili, Simiron, Teleswan and Timau.
"Timau river is now flowing and more efforts will be dedicated to ensure all have equal rights to water," said Timau WRUA Chairman Julius Mbiti.