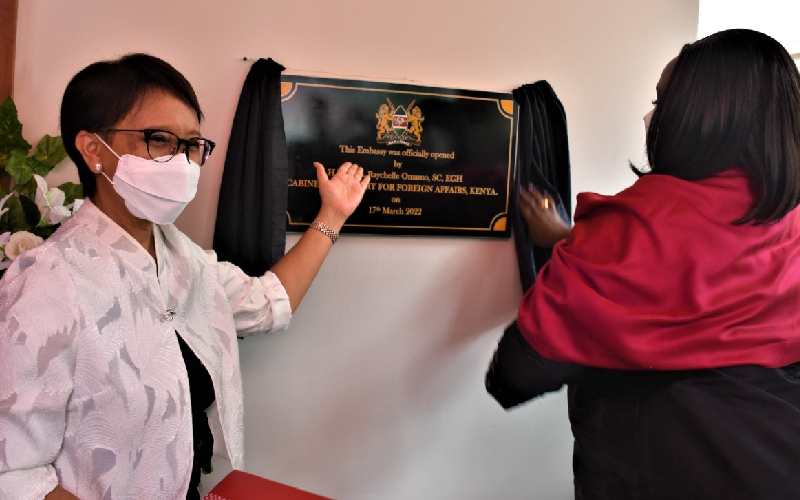 Kenya has officially opened its Embassy in Jakarta, Indonesia expected to bring consular services closer to all Kenyan residents in Indonesia.
The mission is also expected to promote business partnerships between people of the two countries as well as reinvigorate bilateral relations and collaborations between the two countries.
This come five months after Principal Secretary Kamau Macharia announced it had been commissioned. A new envoy is expected to be deployed before the end of the year.
Speaking after officially opening the Embassy, Foreign Affairs Cabinet Secretary Raychelle Omamo said the inauguration of the embassy marks a momentous occasion and an accomplishment in the diplomatic contacts established prior to Kenya's Independence.
Indonesia was first in opening its diplomatic mission in Nairobi in 1982.
Omamo is in the country for a three-day official visit at the invitation of her counterpart Mrs Retno Lestari Marsudi.
"It is, therefore, with deep appreciation that I commend the Government of Indonesia for the immense support and facilitation extended to us towards the establishment of this Mission," said Omamo.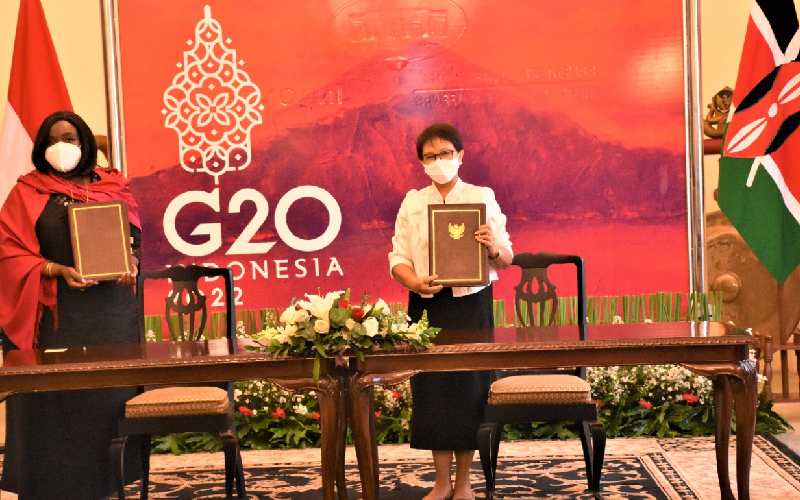 She said in the recent past, Kenya has commissioned the opening of six new resident diplomatic missions and consulates globally as it seeks to expand its global footprint, strengthen bilateral engagement and people-to-people interactions as imperative and promote mutually beneficial international cooperation.
So far Kenya has 57 embassies and high commissions abroad as well as 31 honorary consuls compared to 109 foreign embassies and high commissions it hosts in Nairobi.
In addition to this, there are 44 consulates and three other representations in Kenya.
Omamo said Kenya views Indonesia as the strong pillar in the South and will be a strong partner on development matters.
"We shall work to ensure that we have regular political consultations to strengthen the relations between Kenya and Indonesia to ensure we increase investment opportunities for the benefit of the people of the two countries," Omamo said.
The CS said she held extensive diplomatic consultations with her counterpart and other senior officials in the context of the Kenya-Indonesia Bilateral Consultative Meeting.
"The two Ministers hailed the cordial and long historical bilateral relations underpinned by common values and strong people- to- people links dating back many years since the establishment of diplomatic relations in 1982," read part of the dispatch.
While commending the 2008 Kenya/Indonesia Joint Commission for Cooperation which serves as a forum to expand and improve cooperation between various sectors, the two Ministers reviewed a wide range of issues pertaining to ongoing discussions to strengthen cooperation at bilateral and multilateral levels.
Both hope to consolidate the gains made and explore possible new areas of partnership in the areas of health, ICT, Environmental conservation and Forestry, promotion of Tourism, Higher Education and Capacity building, as well as Defence and Security.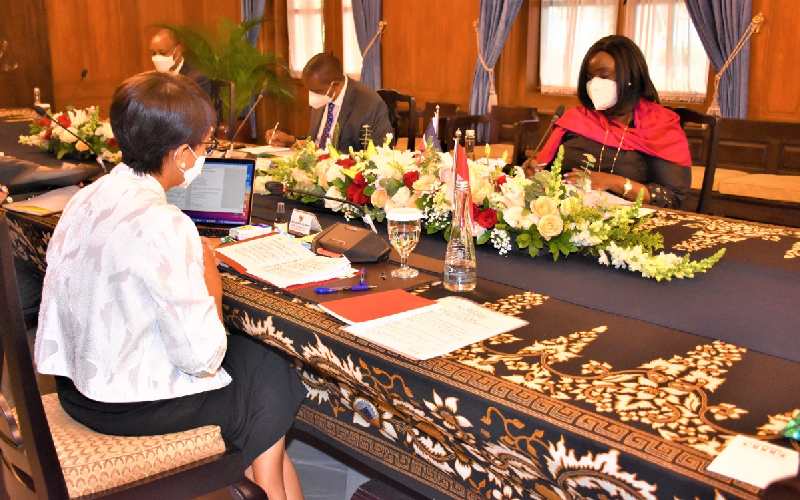 "The two sides acknowledged the steady rise in bilateral trade and acknowledged the huge potential to increase trade volumes and value through addressing both tariff and non-tariff trade bottlenecks so as to address the trade deficit that is in favour of Indonesia," the statement read.
Omamo signed five MoU among them an MoU on Cooperation in Diplomatic Capacity Building was signed. The MOU seeks to reinforce the partnership between the two countries by establishing the framework for sustainable cooperation in the training of the Indonesian and Kenyans diplomats, based on reciprocity and mutual benefit of both parties.
Another MoU on Regular Diplomatic Consultations was also signed. This provides guidelines for conducting regular diplomatic consultations between the two countries.
"A memorandum of Understanding between the University of Nairobi and Universitas Padjadjaram on academic research and collaboration has also been concluded for signing by the University VC Prof Stephen Kiama," it read. University Jakarta (UIN KAJARTA) for collaboration was also concluded.
As an emerging economic power, Indonesia is a high-potential partner in Kenya's national development agenda, particularly in trade and industrialization, security and police cooperation, finance, investments, universal healthcare, and urban development.
Mrs Marsudi said Indonesia views Kenya not only as a promising market but also as a gateway to the East African Region.
Kenya's main exports to Indonesia include tea, coffee and coffee substitutes, tobacco, vegetables, leather, and metallic salts.
With the establishment of a fully-fledged diplomatic mission, Kenya is keen to strengthen the relationship and increase the value of its exports to Indonesia by shifting its export base from agricultural and mineral-based raw materials to value-added manufactured products and is seeking public and private partnerships with Indonesia in technology transfer, capacity building, training and investment in the entire value chain.