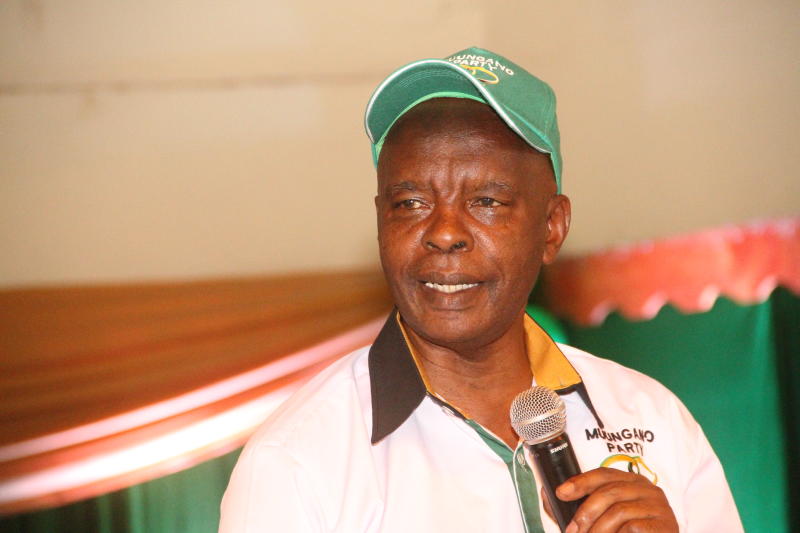 The two trustees of ODM leader Raila Odinga and Wiper leader Kalonzo Musyoka's 2017 political deal trashed the former's claims on its validity, saying it was predicated on survival of defunct National Super Alliance.
Makueni Governor Kivutha Kibwana and law Professor Makau Mutua who held, and still keep the original copies of the deal, told The Standard yesterday that it died with NASA.
The power-sharing agreement anticipated delivery of power through a NASA arrangement, and since NASA died, it died with it. They blamed Kalonzo for not doing much to save NASA and hence save the deal.
"I am a lawyer of many years standing. I know my obligations. Mr Musyoka was quite economical with the truth of what transpired. I am neither confirming nor denying the NASA document he displayed. The most important thing to note is that NASA is now defunct and that agreement died with it," Makau said.
Makau said the document he helped facilitate the pair sign was clear that only he could publicly share the contents. He said he had not released the document and wondered why Kalonzo would violate terms of a deal he wants implemented or used as a basis for new negotiations.
"The fact of the matter is that there were discussions to bring the two together. That was then. Right now there is consensus building pointing towards Mr Odinga. Everyone with eyes, including Mr Musyoka can see that," Makau added.
But Prof Kibwana was more pointed, and ruthless in his response. He was the Wiper chairman at the time of the deal, and possibly vouched for Musyoka's side in the deal.
Yesterday, he blamed Kalonzo for pressuring Raila into signing a separate deal with him outside the NASA arrangement. He agreed with Mutua NASA must be in existence for the agreement to hold.
"Articles 3 and 4 of the agreement could not have been implemented since Raila did not win the election and could not serve one term so as to pave way for Kalonzo or any other NASA principal. Neither could Raila in the third year of his presidency begin to socialise Kalonzo into top leadership. Hence the two most critical terms of the agreement were frustrated by turn of events," he explained.
These particular articles presupposed a clandestine transfer of power from an elected president to their deputy. Mutua defended the provisions describing them as "normal language in coalition negotiations." Again, he insisted this was not to confirm the document in circulation courtesy of Kalonzo's press conference.
According to the professors, Kalonzo should make haste to undertake fresh negotiations under Azimio since it has gathered national momentum. They said Azimio would like to win the election with the Wiper leader on board.
"To accuse us of dishonesty and skullduggery is not the way to begin negotiating. All in all, we understand this is the silly political season, and this can only be one of those moments," Mutua said.
He denied Kalonzo's assertion that he had frustrated resolution of dispute with relation to the 2017 deal. He claimed that as recent as Thursday he had arranged a meeting between the two, but Kalonzo cancelled it.
Kibwana on the other hand claimed Kalonzo is expanding OKA while at the same time drawing past deals into the table. He said this cannot be good faith.
"By saying that the NASA agreement must be the basis of negotiations in Azimio, makes parties which were never in NASA be at sea. How will they negotiate given prior engagements, they are not party to?" he wondered.
He also blamed Kalonzo's henchmen for attempting to isolate him with view to forcing a run-off.