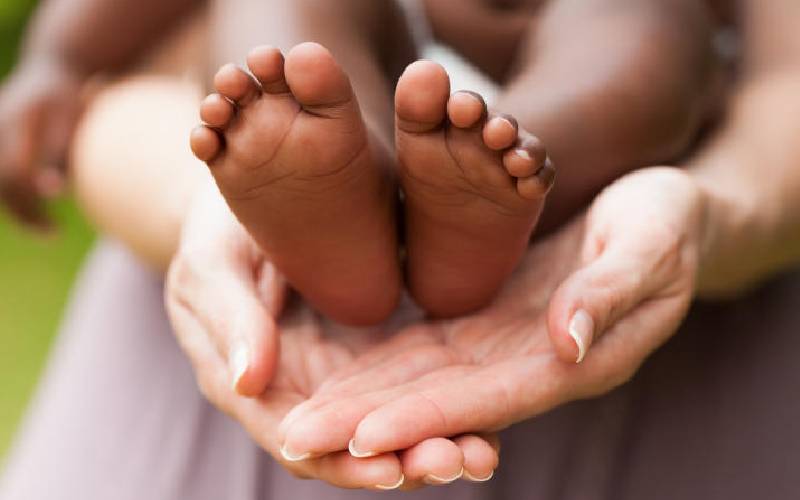 It has been nine years of pain, trauma and unfulfilled life's desire of a 54-year-old woman whose desire for a child threw her into an unforgiving and painful encounter with the law.
Lucy (not her real name - to protect her privacy), opted for what she thought was a recourse to get children, only to be thrown behind bars over alleged child theft.
Friday January 28 was the day her life turned around after the director of Mogra Children's Home in Muthaiga gave her a six-year-old girl after a successful journey to adoption.
For Lucy, it was not only about becoming a mother; but an end to her silent tears of pain and ridicule after her naive but illegal move landed her behind bars in 2015.
Earlier that year, Lucy had been referred to a clinic in Kangemi by some nurses and told she could give "something little" in exchange for a child.
Lucy gave an account of the intricate network of health workers who sell children stolen from unsuspecting mothers or enter into babies' sale deals with women ill-prepared to carry pregnancies to full term.
The medic she was introduced to in Kangemi did not help.
"He told me the infants available in his clinic had been infected with diseases... He sent me to another clinic in Kasarani (Nairobi) where I could get two babies. But I had to pay him Sh160,000 up-front," she narrated.
Lucy was willing to do anything, including depleting her savings, to have a child calling her "mother". But she was oblivious of the dangers lurking ahead.
"I love children, but I cannot get my own. I'm a Sunday School teacher and I have always wished to have my own children among those I teach," she said.
Before her husband died, he had allowed her to get children outside wedlock, but adultery was not an option for her.
"I had been given all manner of advice by other women... Some told me to try different men, but I could not do that; I am religious and I feared contracting diseases," she added.
At Kasarani, Lucy was given "twins" — a boy and girl. The doctors reported them to have been abandoned by their mother. She was also issued with birth documents.
"I kept asking if that could land me in trouble, but they all promised that everything would be alright. I did not expect it to backfire. What encouraged me to pursue that option was the confirmation by medics that there were other women who bought babies from the clinics and were never caught," she said
Her troubles began two days later after she was reported to police by her neighbours. She was arrested and charged with child theft.
"Police were torturing me in the cells, accusing me of stealing babies. I passed out at some point... I took them to where I got the babies," she said.
After staying in remand for two months, Lucy was released on bond in January 2015, and later acquitted of the charges in August 2016.
"While there are women who offer to give birth and sell their babies, I'm pained that doctors could be stealing babies from innocent women and selling them to desperate ones. Unscrupulous medics advise women seeking abortion to carry the pregnancy to term and after they deliver they are paid some money and babies taken," she added.
Stolen babies
To date, Lucy cannot tell if she had bought abandoned or stolen babies. However, during her case, no one claimed the twins. The court committed them to a children's home.
Despite the illegality in the manner she got the babies, Lucy said: "I was desperate to get a child and the fact that there are women who got babies through such means, I was willing to take the risk. The long process of adopting is discouraging... It takes years to get court approval," she said.
According to the director of Mogra Children Rescue Centre, Hannah Wairimu, the tedious and long process of adoption, coupled with exorbitant adoption legal charges, have been the stumbling block, and encourages underhand practices such as child theft.
"I urge government to give us lawyers to handle adoption cases to reduce the time women spend in courts to get adoption certificates. A quicker process will easily seal loopholes people use to steal children. Children's homes have so many children ready for adoption, but the processes are taking years in court," she said.
Her centre is among homes that offer custody for babies rescued from child theft cartels awaiting police investigations and court verdicts.
Adoption can take up to one year from the application stage at the adoption agencies to the point where the case is filed in court for legalisation.
"It is also important for government to educate people on adoption as a legal way to parenthood. It is unfortunate that people go to jail for stealing babies out of desperation or complete ignorance of adoption as a legal process," said Wairimu.
Even for adoptive parents who have proper guidance through the journey, the adoption process is still not a walk in the park. For instance, Wanjiru, a 49, opted for adoption as a last resort after unsuccessful attempts through assisted reproduction to get a child.
"It gets to a point in life when you realise some things are not going to happen and that has been my case. I have tried to get a child but I have had miscarriages. I have always wanted to be a mother, but the options available discouraged me, so I opted for adoption," said Wanjiru.
"I thought of having In Vitro Fertilisation and Intrauterine Insemination, but still I didn't feel safe despite it being a costly way out. The procedures are mainly in the private sector and somehow unregulated. There's also not much information given about it, including the sperm donor".
She waited for only seven months to adopt a child through the guidance of Mogra Rescue Centre, but the legal process to legalise the adoption is not yet complete.
"The process is a bit demoralising, especially if you don't have the information on how to go about it. I thought someone could just walk into a children's home and get to know the child they wanted to adopt. The paperwork is just too much," she said.
Wanjiru was among the women who showed up at the children's home to pick their adopted children. She termed it an exciting and a life-changing moment, marking an end to the thirst of being a mother.
The rescue centre has engaged a host of lawyers who volunteer to process adoption paperwork in court.
"The challenge is mainly in court. There are so many people who have undergone the process but they cannot make major life decisions regarding the adopted children because they don't have an Adoption Certificate. These cases can run up to six years in court and it comes with high costs," said the home's director.