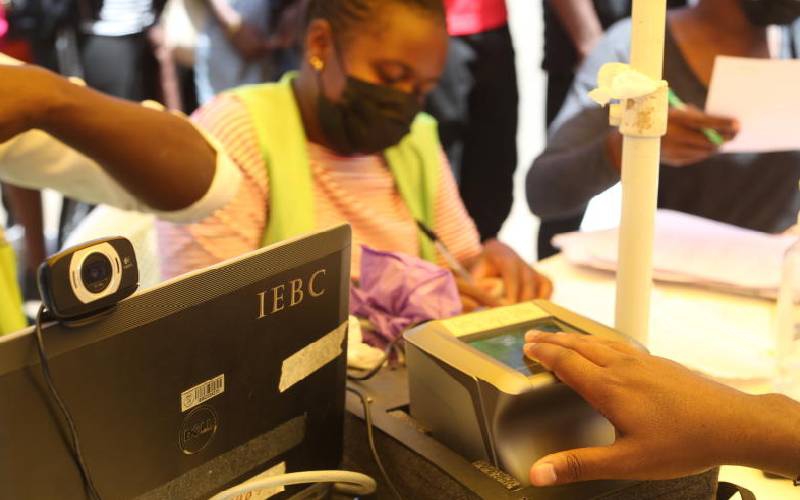 The Independent Electoral Boundaries Commission has failed to meet its target after registering 1,031, 645 million voters against 4.5 million voters targeted in the just-concluded Continuous Voter Registration (CVR) exercise.
In a statement seen by The Standard on Monday, only 396, 163 registered voters applied to transfer to registration centres of their choices, while 2,269 changed their particulars.
"By the close of business on February 6, the ECVR phase II had realized a total of 1,031, 645 new voters. Further a total of 396,163 registered voters applied to transfer registration centres of their choice," read the statement in parts.
For the voter registration among citizens living in the diaspora, IEBC enrolled 2,959 new voters, 2,964 requested for transfer, while 2036 applied to change their details.
The new numbers now take the total registered voters during the two phases to 2.5 million voters after the commission registered 1,519, 294 voters in the first phase against the targeted 6 million voters.
With over 3.5 million new voters yet to register, the commission directed its offices in the 290 constituencies to undertake Continuous Voter Registration.
To implement the new directive, the poll agency has deployed three BVR kits in each constituency and one kit in all the Huduma Centres countrywide to allow those who will have acquired ID cards after the closure of the exercise to register.
The enhanced continuous voter registration came to a close today with the IEBC set to miss its target of 2.9 million new registered voters.
The second phase of the registration exercise started on January 17 to February 6.
The commission also launched voter registration to allow Kenyans living in seven more countries to vote in the August 9 General Election.
Kenyans living in the United Kingdom, United States, South Sudan, Qatar, United Arab Emirates and Germany took part in the exercise.
In 2017, only Kenyans living in Burundi, Rwanda, Tanzania, Uganda and South Africa participated in electing their president.