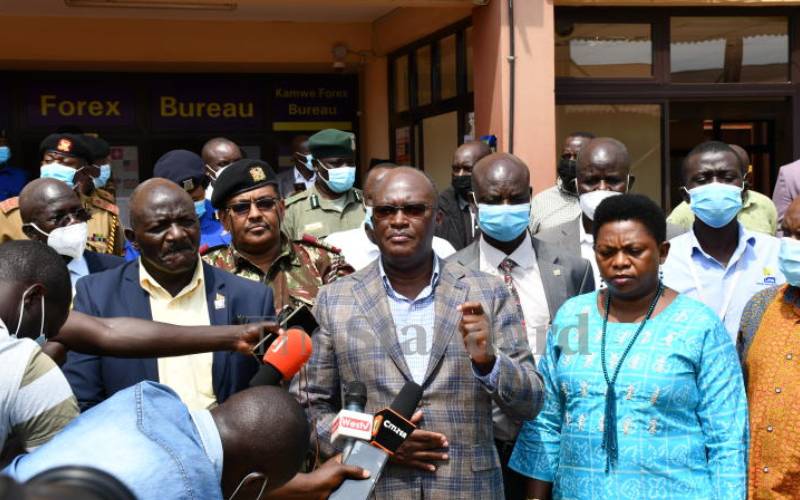 Kenya and Uganda governments have agreed to clear the backlog of trucks at the Malaba and Busia border points.
This was after Transport Cabinet Secretary James Macharia met with his Uganda counterparts Katumba Wamala (Works and Transport) and Harriet Ntambazi (Trade) at Malaba town to deliberate on the issue on Saturday.
For close to four weeks, truck drivers have been stranded at Busia and Malaba border points following the strict Covid-19 clearance protocols.
This forced them to park their lorries stretching miles along the Webuye–Malaba and Busia–Kisumu highways. Macharia regretted that the traffic snarl-up has affected the economy of Uganda and Kenya.
"The goods being held by almost 4,000 trucks have adversely affected trade in Uganda. We have been meeting as ministers at East Africa Community (EAC), Transport and Health levels virtually for two to three weeks but the meetings have not borne fruit."
During one of the virtual meetings held early this month, EAC and Regional Development Cabinet Secretary Adan Mohamed underscored the need to minimise administrative delays to enhance rapid clearance of the existing backlog at the Malaba and Busia border posts.
On Saturday, Wamala said they have decided to give priority to clearing the trucks backlog. "We will give it a priority in terms of movement of the trucks at the rate of 75 per cent against 25 per cent time allowed for trucks from Kenya to cross the border into Uganda," said the Minister.
He said scanning at the customs will not be done because there has been a problem with the scanners.
Ms Ntambazi urged traders in Uganda not to increase fuel prices since trucks transporting fuel will enter the country by Wednesday this week. "There is no need to hike fuel prices." The ministers agreed to allow truck drivers to cross into Uganda with Covid-19 certificates within 14 days without undergoing fresh tests.
CS Macharia also announced plans to expand Malaba–Webuye and Busia–Kisumu highways to ease congestion.
Teso North MP Oku Kaunya welcomed the announcement saying locals would wish to see the roads expanded and sideways built to avert road accidents.