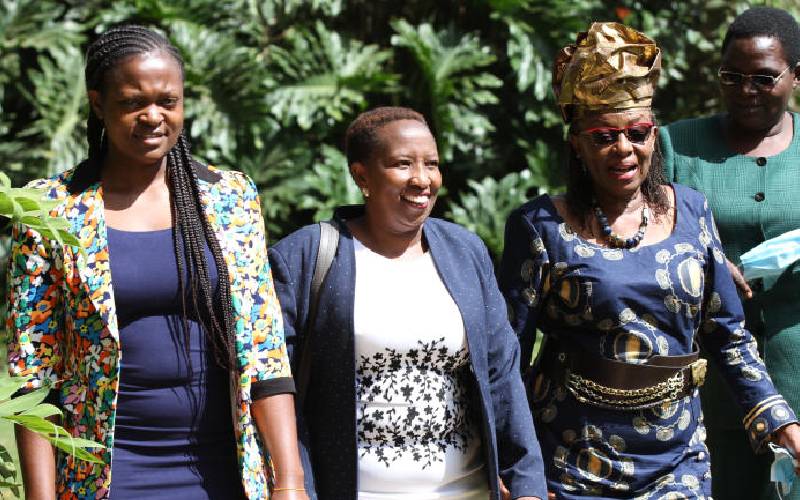 A section of women leaders has raised concern over rising political temperature and intolerance ahead of the August 9 General Election.
Under the African Women Leaders Network (AWLN)-Kenya chapter, the women warned that the political mood does not augur well for peace and national unity.
"We are appalled and concerned about the rising political temperature and increasing levels of intolerance especially ignited by our political leadership,'' said AWLN chairperson Jennifer Riria.
The lobby also condemned inflammatory utterances by politicians saying they were dangerous, reckless and aimed to whip up ethnic emotions.
"We remind our people that whenever political violence erupts, it's majorly women, children, the elderly and persons living with disability among other vulnerable categories of the society, who suffer the most. This recklessness must stop," said Riria.
It further condemned the recent scuffle in the National Assembly during debate on the Political Parties (Amendment) Bill, 2021.
The lobby said it is unfortunate that legislators who are supposed to uphold the highest standard of decorum, exchanged bitter words and blows during the debate as people watched.
"While this occurrence is not unique to Kenya, it is completely out of character for a House expected to engage in honorable and sober debate," said Riria, who is also Echo Network Africa group CEO.
Riria said political players must ensure that there is a level playing field for both men and women during the elections.
She said women should be accorded the same respect like men during campaigns irrespective of whether they were born in the respective areas or their marital status.
"The Constitution is clear about who should contest for elections. The best position is for the Independent Electoral and Boundaries Commission (IEBC) and political parties to be challenged, to be seen at the forefront to educate people and put in place measures in their parties to discourage such talk," she said.
Dr Juliet Kimemia who is eyeing Kiambu governorship regretted that women who vie for elective seats are despised.
"It is high time everybody is given a level playing field. Words that come from political opponents must be respectful. We are not begging because it's a constitutional right," she said.
AWLN co-chairperson and Maendeleo Ya Wanawake chairperson Rehab Muyu said they are committed to nurturing and protecting peace and stability. She also urged female politicians to avoid being drawn into violence.
Ms Muyu said AWLN has put together a team of eminent women to act as mediators and peace champions.
"We shall train these mediators in all 47 counties so that they can support national peace initiatives," she said.
In their 10-point call to action, AWLN called on National Cohesion and Integration Commission to up their game including on public sensitisation and holding leaders who contravene the law to account, irrespective of their status.