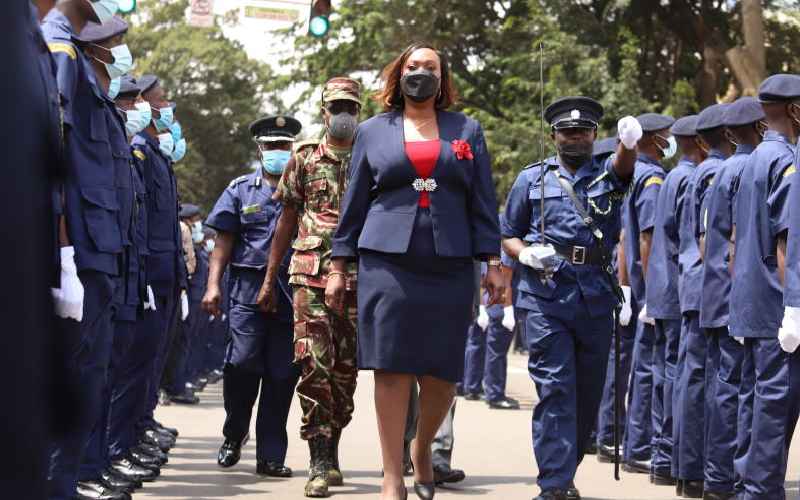 For Nairobi Governor Anne Kananu, looking at her predecessor Mike Sonko is like looking into a mirror.
Having been sold as the cure to the misgivings of the former Governor Sonko, Ms Kananu was expected to adopt a different style of running City Hall.
But close to two months since assuming the top seat in Nairobi county, she finds herself following in the footsteps of Sonko, politically.
From serving without a substantive deputy governor, taking issue with the Nairobi Metropolitan Service (NMS) over funding and fighting cartels at City Hall, Kananu now finds herself battling 'demons' that at one point overpowered Sonko.
The nomination of Paul Mutunga Mutungi as deputy governor in November kicked off a legal storm that Kananu never saw coming.
Mutungi was approved by the county assembly but before he was sworn in, the Ethics and Anti-Corruption Commission (EACC) came in because of his "questionable integrity."
It is now not clear if the county will have a deputy governor before the August 9 General Election.
The development is just one among many of the parallel occurrences during the tenure of Sonko and now his successor Kananu.
During Sonko's turbulent reign, Nairobi went for three years without a deputy governor following the resignation of Polycarp Igathe in 2018.
And Sonko suffered one setback after another whenever he tried to appoint a deputy.
Following a Supreme Court advisory opinion of 2018, Sonko nominated lawyer Miguna Miguna as his deputy and forwarded the name to the assembly for vetting.
But former Speaker Beatrice Elachi vetoed the name, arguing that the nominee was not a Jubilee Party member.
He would later in January 2020 nominate then chief officer Kananu to deputise him, but this ran into legal hurdles.
In February, Justice Mumbi Ngugi issued orders barring the county assembly from vetting the nominee following a petition by one Peter Agoro.
Agoro had argued that Sonko's nomination of Kananu was illegal since he had been barred from office over graft charges at the time.
Fast forward to 2021 and Kananu was finally installed as the governor after being cleared by the courts.
Then there is the push and pull between City Hall and NMS over the distribution of funds from the National Treasury.
City Hall and NMS are still entangled in a back and forth over funding of transferred functions which has in the recent past led to delayed payment of salaries of staff seconded to NMS.
But the head butting between the two authorities is not new.
It started during the reign of Sonko who had gone to the extent of refusing to release funds to the Lt Gen Mohamed Badi-led NMS.
He cited the lack of a law to allow for the funds transfer to NMS.
Sources at City Hall, however, indicate that the National Treasury, City Hall and NMS designed a framework to allow NMS receive funds directly from the Exchequer.
Assembly Majority Chief Whip Paul Kados agrees that in the last two months, Kananu has been walking a tight rope by fighting battles similar to those that at some point plagued Sonko's tenure.
He, however, blames a shadowy group of unnamed individuals of being behind the bid to frustrate the governor's administration.
"I have noticed that there is a group of people trying to take us back to the type of politics and situations that were there when Sonko was in office. We will however not allow it because they are just trying to derail matters so that the county can grind to a halt," said Kados.
"On the issue of the Deputy Governor nominee Mutungi, we are waiting for communication from Jubilee party so that we know what next if Mutungi will not be cleared by EACC."
Minority Chief Whip Peter Imwatok defended Kananu saying that with only two months in office, she has proven that she is willing to chart her own political path and confront issues the county faces unlike her predecessor.
"I commend Kananu because she nominated a deputy as soon as possible unlike Sonko who for years could not heed the calls from MCAs to get someone to deputise him.
"If you compare the two regimes, you will find that there is currently sanity at the county. Something that lacked during Sonko's time," Imwatok said, adding that he was waiting to sewe how the courts and EACC will react on the issue of Mutungi and how it will impact next year's elections.
Constitutional lawyer Bobby Mkangi is, however, concerned that should anything happen to Kananu, then the county would be headed for a by-election.
Prior to the planned by-election after Sonko's impeachment, Speaker Benson Mutura took over as the acting governor for 60 days.
"If a substantive deputy governor were in place, then IEBC would not make plans for a by-election should anything happen to the governor. This is because the DG would take over immediately. But as things stand currently, the city would be headed for a mini-poll," Mkangi said.