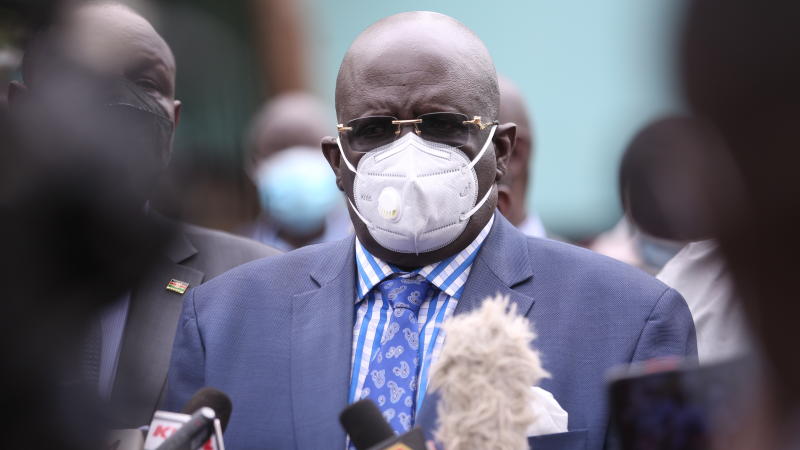 The fight on drugs and substance abuse in schools is facing serious headwinds as it emerged that the government may have left the burden to teachers.
Parents, most of whom have lost control of their children's discipline and find comfort to push them to schools are caught in between with school managers running the show.
And without proper direction and guidance on management of drugs and substance abuse among students, secondary school heads have adopted the herd mentality, implementing haphazard methods they deem appropriate.
The government is now on the spot for looking the other way as school heads violate provisions of a strategy document on drugs and substance abuse released last year.
It is now emerging that the mandatory drug tests being conducted in schools and supported by senior Ministry of Education officials' goes against a government document unveiled last year to detect and prevent drugs and substance abuse in schools.
The document titled 'national guidelines for alcohol and substance use prevention and management in basic education institutions' was released by Education Cabinet Secretary (CS) Prof George Magoha.
Interior CS Fred Matiang'i was represented by his Principal Secretary (PS) Dr Karanja Kibicho during the the launch at the Kenya Institute of Curriculum Development (KICD).
A host of officials from the National Authority for the Campaign against Alcohol and Drug Abuse (NACADA) and top education ministry officials were in attendance.
Released in July last year, the document spelt out seven key strategy points to curb and manage the vice in schools.
In the strategy, school managers are required to uphold confidentiality of learners found to be abusing drugs within the school set up to avoid stigma and discrimination among the children.
It also says that the form of punishment meted on the children found to be abusing drugs and substance must be corrective and not punitive.
And the method and form of any interventions implemented in schools must be age appropriate.
"The content and interventions implemented shall focus on information, personal and social skills relevant to the learners' development stage," reads guideline.
Also in the 34-page document is a requirement that all interventions must be based on scientific evidence and their implementation monitored and evaluated.
The document also requires that early intervention of abuse of the drugs be done and exclusivity and non-discrimination be observed.
NACADA distanced itself from the drug tests, saying there is no law in the country making drug testing mandatory for learners.
"We advise that even when conducted, drug testing should be part of a comprehensive intervention program and thus should not be used as a sole solution to the problem of alcohol and substance abuse in institutions of learning," said Victor Okioma, NACADA Chief Executive Officer (CEO).
Okioma urged school administrators to implement the National Guidelines for Alcohol and Substance Use Prevention and Management in Basic Education Institutions.
"They provide a comprehensive evidence-based approach in responding to issues related to alcohol and drug abuse," said Okioma
Interviews with school heads reveals that the contents of the strategy document are yet to be shared with schools' managers, raising questions on government's commitment to address the vice.
"We are yet to see the document. It was launched in Nairobi and that was the end of it. If we in towns have not received it, what of schools deep in villages and in far flung areas,"faulted a principal of one of the top secondary schools.
Secondary school heads said some of the drug tests have been managed casually and in sheer breach of the ministry strategy document and without due considerations of students' privacy.
"It is only lucky that most results have returned negative. But there has been huge dilemma on what would happen in cases where a student tests positive. Would they be sent away?" said a principal in one of the top schools.
Kenya Secondary School Heads Association (Kessha) national chairman Kahi Indimuli said some heads have blindly rolled out tests just because it was done in another school.
"This must be a matter discussed by entire school stakeholders and the reason for tests discussed. The tests may just be part of the process and not the only thing being done to manage the vice," said Indimuli.
According to the strategy document, the guidelines were to be used in basic education institutions and were to be applied within the school premises and at school events.
School heads now argue that they have been left on their own to craft local methods that may best suit their situations to manage the vice.
The mandatory tests have elicited mixed reactions from members of the public.
Counselling psychologists, lawyers and other stakeholders have faulted the mandatory testing saying its not a sure way of managing indiscipline among learners.
They termed the exercise as illegal, unconstitutional and an affront to students' rights.
Dr Lukoye Atwoli, a psychiatrist said the approach adopted by schools for mass testing will not help resolve the indiscipline problem.
Atwoli, who is also the Dean Medical College at the Aga Khan University said drug tests are only done with an objective.
"Mass testing will not help at all. Running a school in a manner to suggest kids have committed a crime and need to be proven guilty is not right," said Atwoli.
He said the best method is to make sure each school has access to a mental health professional.
"This is the person who will evaluate behaviour and advise. He or she will also be the one to advise which of the cases ought to do drug tests. Without this, its hurting students' life," said Atwoli.
He said indiscipline among students cannot solely be attributed to drug abuse.
"Teenage is a tumultuous time among humans, with questioning of rules and rebellion being the order of the day. None of this is necessarily driven by drug use," said Atwoli.
On the contrary, Atwoli said, these behaviours are driven by the hormonal changes that define the transition between childhood and early adulthood.
"(If) mismanaged, they produce social misfits who go through the rest of their lives with a certain skewed mind-set," he said.
Indimuli said critical stakeholders have not weighed in to assist in the management of the vice in schools.
"The fact is that most stakeholders are standing aloof and waiting for something to happen to blame teachers. They are not offering solution to collaboratively assist in managing the vice," said Indimuli.
Consequently, Indimuli said that 'everyone approaches discipline of students with caution because support is minimal from parents, security and other stakeholders.'
In the strategy document, a total of 13 players were listed as critical in prevention and management of alcohol and substance use in schools.
Listed in the strategy document are Teachers Service Commission (TSC), NACADA, ministries of education, Interior and health.
Also listed are County Governments, County Education Boards, School Boards of Management, teaching and non-teaching staff, parents or guardians, Community, Faith Based Organizations (FBOs), Civil Society Organizations (CSOs), school Community Based Organizations (CBOs) and development partners.
Indimuli said most schools not knowing how best to deal, borrow what other institutions are implementing.
"The tests began after Maranda high school did it. It is not a government directive and we do not have a circular directing them, to do so. But what is clear is that each school wants to do something," said Indimuli.
He however said that whatever methods are deployed, the Basic Education Act is supreme.
"It controls everything. Even if certain decisions are made, the Act provisions are still key."
"The conclusion is always that there is poor management of schools by heads, poor communication in schools and the teachers blamed," said Indimuli.