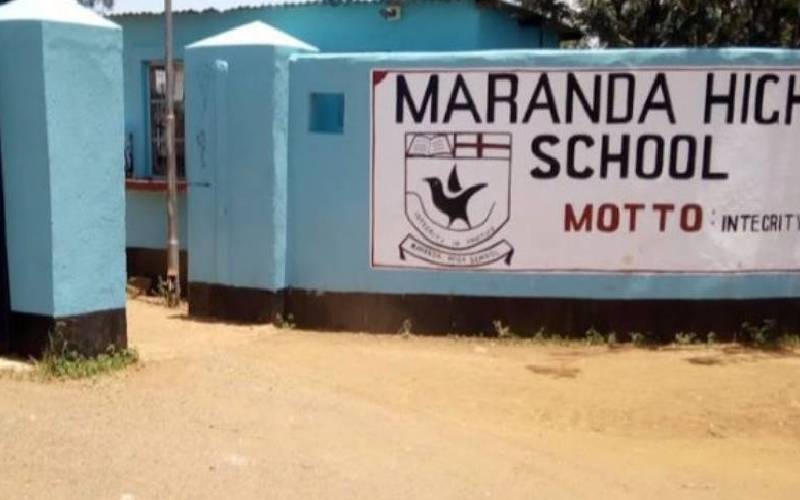 Nacada has said there is no law that allows mandatory drug testing for learners.
In a statement, the National Authority for the Campaign Against Alcohol and Drug Abuse chief executive officer Victor Okioma urged school heads to explore alternative ways to curb indiscipline.
His comment comes after Maranda High School students were ordered to undergo a drug and substance test before re-admission for Term Three studies on Tuesday, January 4.
Further, each student was also required to pay Sh5,125 for the repair of a razed dormitory. All fees, including the charge for reconstruction, must be cleared before re-admission.
A message sent to parents a week ago by the school's Chief Principal Edwin Namachanja said all students will have to take a drug and substance test while at home.
"This must be done at a public health facility or Nacada. The certificates of the same are to be presented on the re-opening day. Subsequently, there shall be random testing conducted by the school."
A source at the Government Chemist told The Standard that already some parents have had their children tested at Sh1,500. "They will be issued with certificates."
Okioma said Nacada continues to receive a torrent of requests from parents, learning institutions and the media in line with the above.
"The authority wishes to, from the onset, clarify that it does not conduct any drug testing."
The CEO said there is currently no law in the country making drug testing mandatory for learners.
"Drug testing should be part of a comprehensive intervention programme and should not be used as a sole solution to the problem of alcohol and substance abuse in schools," Okioma said.
Drug testing is recommended as part of incident management and should be within a licensed and accredited facility.
The window of detection varies amongst drugs, thus some may not show up during testing, Nacada said.
Okioma said it should not be used as a deterrent measure as a negative test does not necessarily mean that the student is not using drugs or alcohol.
Nacada urged school administrators to implement the National Guidelines for Alcohol and Substance Use Prevention and Management in Basic Education Institutions, 2021.
They provide a comprehensive evidence-based approach in responding to issues related to alcohol and drug abuse.