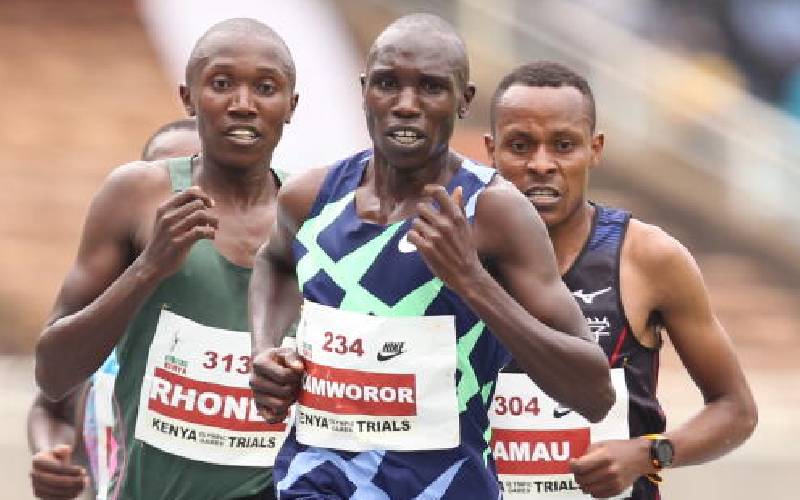 Given the rich menu of local athletics events, 2022 is a season that will keep most athletes busy.
From track and field, to road and cross country, athletes will have opportunities to display their talent and earn prize money in various local competitions.
The local menu this year appears richer than last year's. From January to December, it will be action after action, especially in regions that have produced countless athletics big names.
Trials for the World championships, Commonwealth Games and World Under-20 add to the long list of cutthroat battles for tickets to represent Kenya in global races.
At the regional and national fronts, athletics talents will have a chance to compete for titles. Such meetings are often fodder for surprises.
For athletics enthusiasts, the surprises, thrills and adrenaline on the track and roads will be something to look forward to.
Nationally, Kasarani Stadium will be the busiest venue and centre of focus. Apart from hosting three national trials (for World Championships, Commonwealth and the World Under-20), it will also be the venue for the Police, KDF and Prisons Athletics Championships.
Eldoret, the town which is christened the City of Champions, will also be another epicentre of athletics action.
This January, the newly set up Lobo Village in Eldoret will host the national cross country championships, on January 22.
National Police Service will hold its regional cross country championships at Jockey Club of Kenya while Kenya Defence Forces' championships will be at Moi Air Base.
Three-time world cross country champion Geoffrey Kamworor has been a dominant figure in the Police cross country championships.
Last year, the multiple World half Marathon champion won men's 10km in 29:22.3, edging out Josephat Kiprotich (29:52.6), Casios Masinde (30:23.0), who finished second and third respectively.
Two-time national cross-country champion Sheila Chelangat, also of Kenya Police, won the women's senior Police cross country title last year.
Kenya Prisons Service cross country, at the Kenya Prison Training College in Ruiru, will also be another local race to watch this year.
Apart from the national cross country championships, Eldoret will host to the 31st edition of Discovery cross country, a race that has acted as a launching pad for budding athletes.
Some of the athletes who started their careers at this race include former World Half marathon champions Kamworor, Wilson Kiprop and Bedan Karoki.
Next month, Lobo Village will host the World Cross Country Tour.
There will also be the Athletics Kenya (AK) track and field weekend meetings from February 5.
The national athletics championships on April 28-30 will be another centre of attention. The races will usher in the Diamond League series that starts on May 6 at the Khalifa International Stadium, in Doha.
But June marks the climax of local races before ushering in rigorous preparations for global events where the country's top guns will hunt for medals.
Kasarani will be lit between June 24-25 when the national trials for World Championships and Commonwealth Games will take place.
Commonwealth Games will be held in Birmingham on August 2-7, before paving way for the World Championships, on August 17–22.
Less than two weeks later, on July 8-9, World Under-20 national trials will take place at Kasarani.
Kenyans, who have topped the World Championships charts in 2015, will be trying to prove a point in Oregon from July 15-24.
The USA, with 352 medals, has won the highest number of World Championship gongs since the inaugural meeting in 1983, while Kenya, who has bagged 151 medals, is second globally.
Several road races have also been lined up. The fourth edition of the Eldoret City Marathon will be held on April 10. This is one of the richest marathon's in Africa, paying Sh3.5 million to each of the winners.
Eldoret City marathon awards top 20 athletes in the annual race. Standard Chartered Nairobi Marathon is expected to light up Nairobi later in the year.
Elisha Kiprop and Valentine Kipketer won in last year's edition.
Iten, one of the country's most preferred athletics destinations, will host the second edition of the Iten End Gender-Based Violence 10km, a road race staged to sensitise athletes on Gender Based Violence in December.
Former Karlovy Vary Half Marathon winner Wilfred Kimitei and Ludwina Jepngetich emerged tops in the inaugural race.