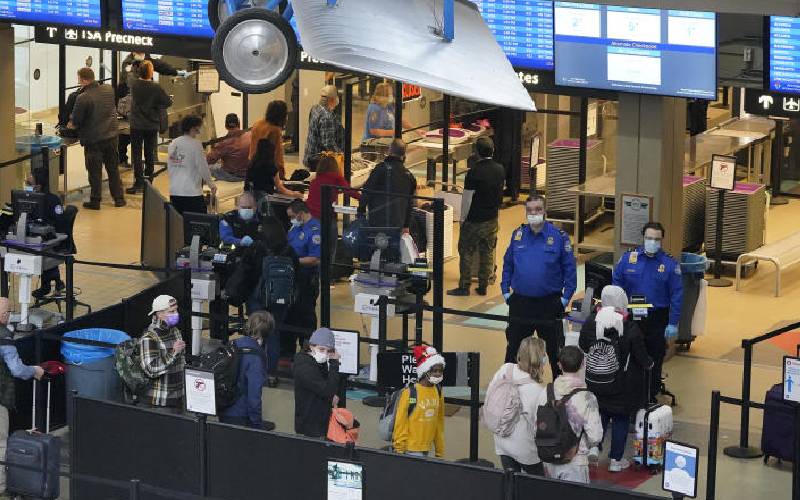 Whenever Dorothy Mwende wished to visit her sister in Dar Es Salaam, Tanzania, all she had to do was park a few T-shirts in a small bag and take the bus down. The only delay was at the Namanga border post during the inspection of her travel documents, an exercise that lasted no more than 10 minutes.
Not anymore. "Now I need a Covid-19 PCR (polymerase chain reaction) test a couple of days before travel. I might need another one before being allowed back into my country. The cost of compliance with health protocols is more than the cost of travel and stay within Tanzania," laments Mwende.
Such protocols have become more pronounced when international travel is involved. Before leaving the comforts of your home to that exotic holiday location, you will need more than a passport and an air ticket. It becomes more complicated if one is travelling with the whole family.
Today, almost every country has put in place elaborate health checks that have removed the fun out of travel. For instance, one must return a negative PCR test result that, in many cases, has to be done 96 hours before travel from one country to another. In many cases, a negative PCR test result is required even on transit regardless of one's final destination.
In addition, an international traveller has to produce a valid vaccination certificate.
According to a Covid-19 restrictions report released last November by the United Nations World Tourism Organization, 101 destinations, or 46 per cent of all destinations worldwide, have their borders either completely or partially closed.
In addition, the report says 112 destinations, or 52 per cent of all destinations worldwide, request the presentation of negative Covid-19 test results upon arrival to the destination, and "on a few occasions combined with quarantine measures." This figure represents an increase of 34 destinations in this category compared to June 1, 2021.
As this report shows, the new travel protocols differ from country to country and may change abruptly as infections soar. Currently, the Omicron variant threatens to put the entire world on yet another round of restrictions and lockdowns.
Woe unto you if the PCR tests are delayed and your travel plans that may have already taken months to prepare could collapse within hours. To get faster test results, you would be required to pay a premium, cash that you would rather use for personal gratification in your final destination.
As the senior expert on communications in Africa for the UNWTO, Kojo Bentum-Williams has to travel extensively within the continent and beyond. The pandemic has added another layer of challenges that he has to surmount beside the "usual African hassles."
"I have done more than 80 PCR tests. And each is close to $100," he says. "For the average traveller, it is an expensive affair and makes many destinations uncompetitive. It has the potential of stopping many people from travelling. Let us not forget that these travellers are facing unprecedented economic disruptions at home"
Yet, what frustrates him further is the lack of uninformed guidelines even within the same country.
"The protocols have become hectic from a traveller's perspective. First you have the ever-changing rules and poorly informed officers, both at airline check-in counters and immigration officials. It gets very confusing especially for a person travelling for leisure," he says.
Mike Macharia, the chief executive of Kenya Association of Hotel Keepers and Caterers says the new health protocols will soon make leisure travel less glamorous especially if one needs several days to isolate after testing positive for the virus.
"Leisure travel is meant to leave a sweet taste in a person. But now you have other cost implications apart from visa fees and tickets. Many countries require a person who tests positive for Covid to quarantine at his cost. If you are going for five days' holiday and then you test positive, it means you need ten days to quarantine. This makes no sense when all expenses are coming out of your pocket," says Macharia.
Yet, arming yourself with a negative PCR test and vaccination certificate is no guarantee for a smooth holiday in Kenya or abroad. Travellers have to contend with the possibility that lockdowns or other travel restrictions can be put in place abruptly when they are far away from home.
Tour operators in Kenya have lost millions as tourists left for their home countries in the middle of a safari for fear of being locked in the country. Others have cancelled previously confirmed bookings and requested full refunds.
"We have experienced this scenario a number of times since the pandemic started. A number of tourists had to cut off their Safari and fly back home. You can imagine buying foodstuffs to feed the guests for weeks only for them to cancel. There is little the industry can do other than allow for such interruptions beyond our control," says Jeremiah Chege, the marketing manager at Gamewatchers Safaris and Porini Camps.
At times, foreign guests have asked tour operators to fly in a doctor from Nairobi to tourism hotspots such as Masai Mara so that they can get tested and save time that would be required to wait for the results in Nairobi. Such costs, Chege says, are borne by the tour operator and only end up making the destination expensive.
Players in the tourism industry now feel that more should be done from a scientific point of view in order to break the cycle of infection peaks, curfews and lockdowns.
According to Macharia, the fact that Covid-19 has a recovery rate of 80 per cent and a death rate of three per cent means it is possible to get a cure.
"We must push the world of science to produce a cure. We cannot continue operating on the whims of the pandemic, 'start flying, stop flying, start eating, stop eating' kind of scenario. With Omicron, we are still where we were two years ago. Shall we be locking down the world every time a new strain is identified?"