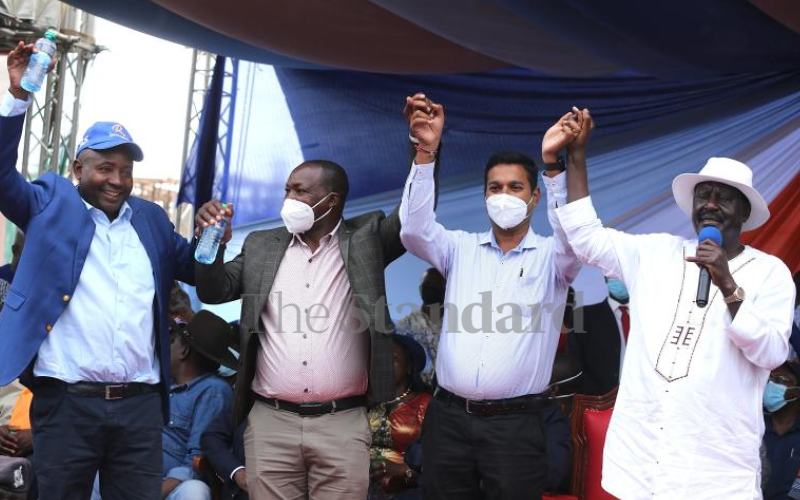 The much-touted meeting meant to unite the Luhya nation climaxed with the coronation of Opposition leader Raila Odinga as the preferred presidential candidate for Western.
Many leaders spoke in favour of Raila and when his turn came, he thanked the people of Western for welcoming him.
He reminded them that at Kasarani on December 10, he made his intentions clear, that he will run for the presidency and spearhead an economic revolution that will guarantee youth jobs.
He also took a swipe at vocal leaders whom he said have no idea where this country came from and where it is headed.
It was a bad day for ANC leader Musalia Mudavadi as his rivals "raided" the bedrock of his support and made away with some of his lieutenants who declared they had now joined ODM and the Azimio La Umoja Movement.
While Cotu Secretary General Francis Atwoli was leading an onslaught against Mudavadi's ANC at Bukhungu stadium, Kakamega Senator Cleophas Malala was leading a third front at Mumias where he hosted Deputy President William Ruto.
Interestingly, Mudavadi was at the Coast while his Ford Kenya counterpart Moses Wetangula was in Kitale meeting with aspirants eyeing various seats on his party's ticket
The Bukhungu meeting convened by Atwoli was outstanding as most of the regional kingpins gave it a wide berth. It was a follow up to the meeting held on December 31, 2016, at the same venue.
Earlier, there had been fear after Malala warned the conveners to keep off Bukhungu. However, the meeting went on as planned as the police kept vigil at the venue and around town.
For many years, Luhya leaders have been trying to rally the community behind a single presidential candidate from the region.
The Luhya community is the second-largest ethnic group after the Kikuyu and its leaders believe the Luhya deserve a prominent place in national politics.
When Mudavadi was made the Luhya spokesman in December 2016, authority was conferred upon him to negotiate with other candidates in the 2017 General Election.
Then, as in 2007 and 2013, the community overwhelmingly voted for Raila. In 2013, Mudavadi unsuccessfully contested the presidency. In 2017, he supported Raila.
He now believes time has come for Raila to reciprocate by supporting his candidacy this year.
Yesterday, speakers praised Raila for his selfless struggle in making Kenya a better place.
"Those present here will form the next government under President Raila Odinga. Those who are missing will form the opposition," said Saboti MP Caleb Amisi.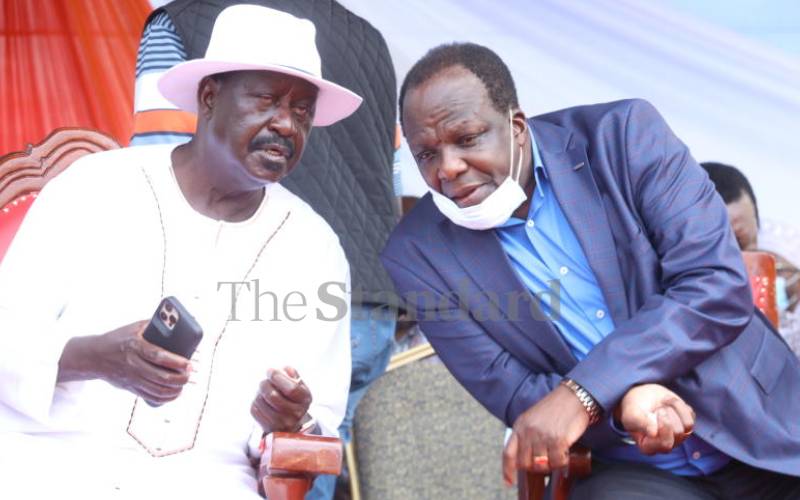 While castigating Senator Malala for threatening to disrupt the meeting, Amisi declared: "The Mulembe nation will walk with Raila to State House. Malala should stop playing with Baba because he is not his age mate. We need a revolution; rejuvenation, and the only person with power and the energy to change this country is Raila Odinga".
"Mudavadi asked us to go with Baba in 2016 and we are still doing so though he has gone astray," Budalangi MP Raphael Wanjala said.
Makadara MP George Aladwa reminded the meeting that there were 1.2 million Luhyas living in Nairobi and that 800,000 of them are registered voters who have vowed to cast their votes for Raila. "Our vote as Luhyas in Nairobi will go to Raila," he said.
Without mentioning names, Tongaren MP Eseli Simiyu took a swipe at Moses Wetangula and Musalia Mudavadi.
Eseli and Wetangula were involved in a protracted struggle for the control of Ford-K before the former broke off and formed the Democratic Action Party of Kenya.
"Bungoma is behind you. Do not be bothered by people who bear no scars, whether political or economic in the struggle to liberate this country. You brought the second liberation and we shall quash all those standing in your way" Eseli said.
ANC deputy party leader and Lugari MP Ayub Savula renounced OKA and joined Azimio la Umoja. ANC nominated MP, Geoffrey Osotsi ditched his party for ODM as did MCAs from smaller parties, including ANC and Ford-K.
"The Luhya rallied behind you in 2007, 2013 and 2017. You won the elections but there were obstacles in your way. This time round, there are no obstacles and Raila will occupy State House on August 9, 2022," Osotsi said.
All leaders who stood to speak castigated Malala, saying he had no respect for elders. Others said there were only two horses in the 2022 presidential race and other alliances had the choice of backing either of the horses, specifically Raila.
Cabinet Administrative Secretary Beatrice Elachi was categorical that Raila was the safest pair of hands to give the presidency.
"We are safe in Baba's hands. He is not in competition with anybody to buy land or do small business." Elachi said.
MP Bernard Shinali threw a challenge at the Luhya community by asking: "Money or the wheelbarrow?"
Deputy President William Ruto campaigns on the bottom-up economic model and his UDA party symbol is a wheelbarrow.
Raila has pledged to give unemployed youth a Sh6,000 monthly stipend if elected president.
Present at the meeting were leaders from across the country and business moguls from Central Kenya led by media owner SK Macharia.
"I have always been with Baba even when others left. I am telling the country today that Baba is going to be the fifth president. I don't make mistakes," Macharia said.