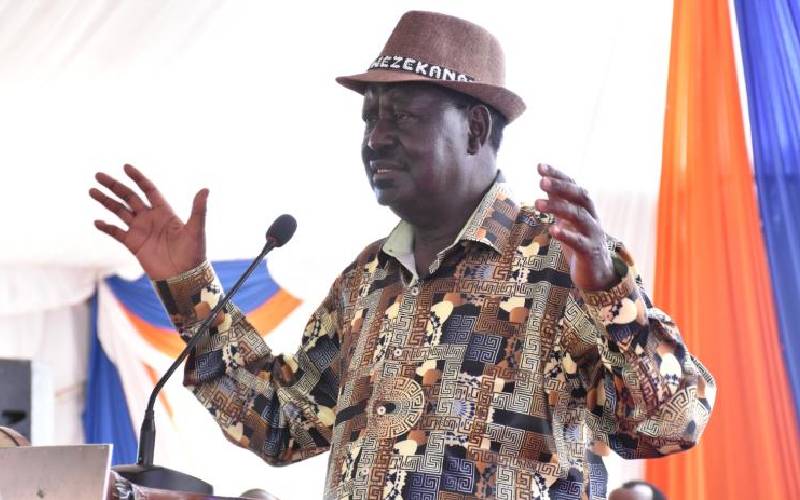 Raila Odinga has responded to claims that he is clinging on to President Uhuru Kenyatta to endorse him in the 2022 presidential contest and said he cannot be anyone's project.
Raila said he does not want any endorsement and that all he would ask for is President Kenyatta's vote.
"He doesn't have to endorse me, and I'm not a project, I don't want to be seen as one. I want to run as Raila Odinga the way I have run before, but if the president gives me his vote, I will be grateful," Raila told Citizen TV.
Raila dismissed claims by United Democratic Alliance (UDA) led by Deputy President William Ruto that he was hiding behind President Kenyatta because he was scared of facing his competitors.
DP Ruto had claimed that those competing with him were getting scared and had resorted to pursuing President Kenyatta's nod.
He said he was ready to confront his competitors despite support from any corner.
"Those competing with me have gone to hide behind the president because they don't want to face me.
"The contest requires three things, it requires someone with an agenda, we already have put plans, you also need a track record, we have been leaders before," Ruto had said.
But yesterday, Raila said he does not require the president's endorsement, adding that he will accept results if beaten in a fair contest.
"I am a sportsman. I used to be a soccer player, so I know that you can win or lose in a match and when lose you concede," said Raila.
On why he will contest the presidency for the fifth time, Raila said Kenya now needs an engineer to re-engineer the country and catch up with its contemporaries that have now developed at faster pace.
He said the former presidents have been an anthropologist, a teacher, an economist as well as a political economist and now an engineer is needed to take Kenya forward.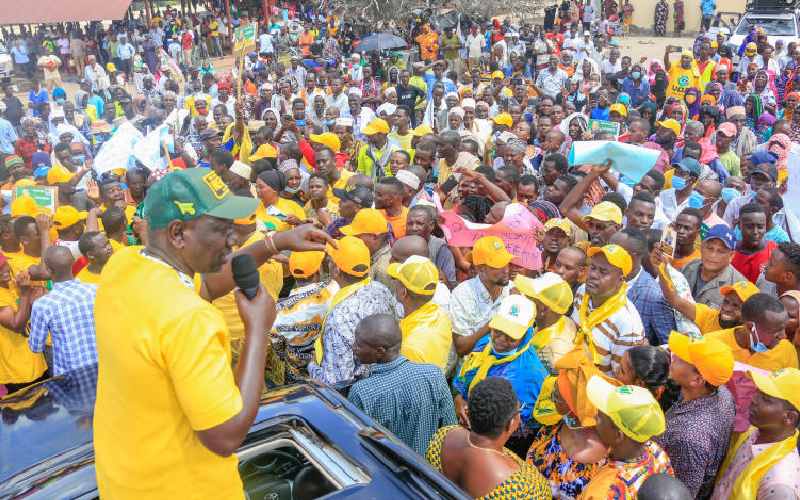 "Our first president was an anthropologist, he gave us the Kenyanisation of the Kenyan economy, the second, a teacher who laid a lot of emphasis on education, former President Mwai Kibaki, an economist, got the Vision 2030 and an economic upturn," said Raila.
He lauded President Kenyatta for the infrastructural development that he has done and noted that the country now needed an engineer. "Uhuru is a a political economist, and he has moved the country to the point of take-off. If you look at the infrastructural development that he has done, it is big, it has moved the country to the point of take-off," Raila said.
The ODM leader said that he will formalise the informal sector and up-scale two of the Big Four areas of affordable housing scheme and roll out universal healthcare for all.
Raila also said his family has been supportive during his political career and his wife Ida Odinga, children, brothers, sisters and mothers and have been his strength.
"I am very grateful for my family," said Raila.
Wading into the running mate position, the ODM leader said that he will unveil one at an opportune time as it is too early to do so.
"There are more than seven months to go to the next polls, my team still have time to debate, agree and a pick a running mate, that time will come," said Raila.
He said if elected president, he will get the best team to move the country forward.
"If elected, I am going to create team work. I will identify talents in different fields and make good use of them so that our country can go into higher level of growth," Raila assured.