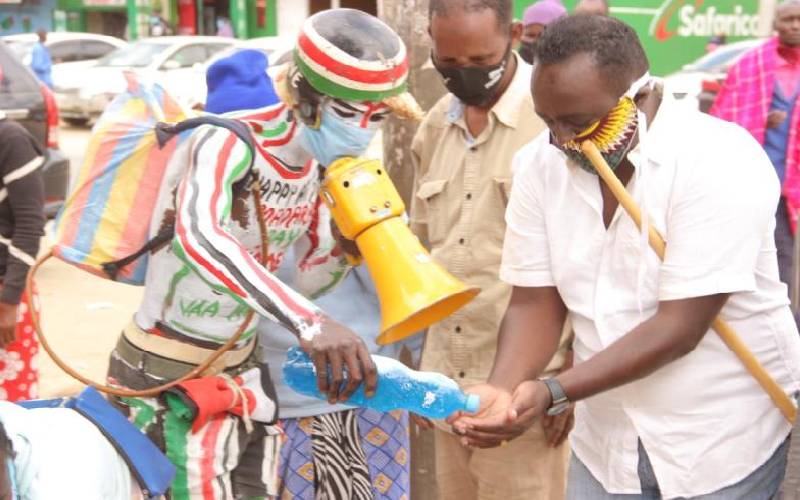 Rift Valley
President recognises Alvin Otila, a body paint artist, for his unique way of spreading messages about coronavirus among slum dwellers
Alvin Otila has always lived a simple life. He was unknown beyond his Majengo slum house in Narok town. Now, he is in the national limelight, sharing the honour of fighting the coronavirus pandemic with doctors and other high-ranking individuals. The father of one, popularly known as the 'Walking Billboard of Narok", was among 68 Kenyans honoured during this year's Madaraka Day celebrations on June 1 at State House, Nairobi. Mr Otila, 30, is a body paint artist who has been spreading messages about the deadly Covid-19 pandemic through his paintings.
SEE ALSO: No KCPE, no KCSE this year
His resilience in sensitising slum dwellers about the killer virus was recognised by President Uhuru Kenyatta. For the last three months, Otila has been a common figure in his community and also within the town, as he paints himself in the Kenyan-flag colours with the anti-corona messages asking residents to keep social distance, sanitise and wash hands. "When the country announced the first case of coronavirus infection three months ago, I panicked and worried over my neighbours. I thought I could do something about it," said Otila. He said he was pleasantly surprised when the State gave him the Uzalendo Award for his fight against coronavirus.
Virus ravages
SEE ALSO: Covid-19: Kenya records the highest new cases
Otila, an orphan who dropped out of school after completing his Standard Eight, said the thought of the virus ravaging slum dwellers - people who cannot afford even a face mask - drove him to start the initiative that includes painting himself with Covid-19 messages. Some of the messages on his body are: "Sanitise!", "Wash your Hands", "Stay at Home", and "Keep Social Distance". The messages are written on his chest, back, arm and the forehead. When The Standard met him a few hours after being honoured, Otila was still spreading the Ministry of Health Covid-19 safety messages. "My neighbours and friends have been ignoring me. Now see what God can do!" he shouted as he displayed the messages on his chest. He added: "The enemy of our souls wants to make you feel like your gift is useless and that there is no way your gift can make a difference...."