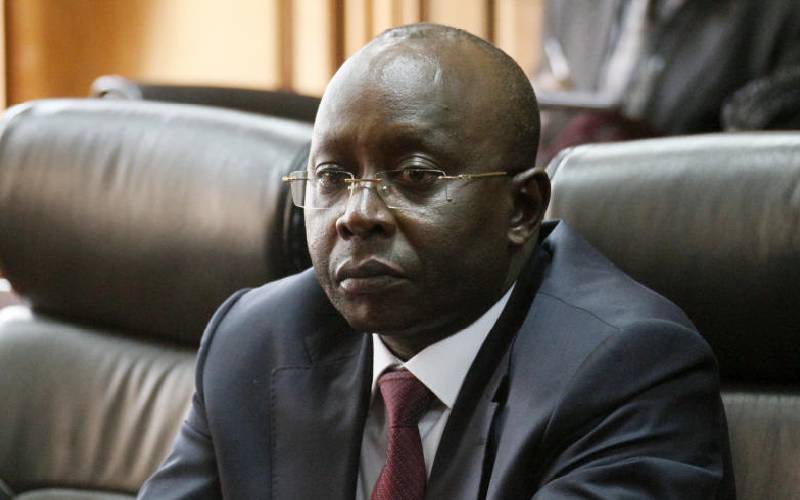 Trans Nzoia Senator Micheal Mbito has dismissed local leaders who had criticised him for attending the State House Jubilee Parliamentary Group meeting three weeks ago. Dr Mbito (
pictured
) says there is no way he could have ignored summonses of his party leader, President Uhuru Kenyatta. The meeting removed leaders allied to Deputy President William Ruto from Senate leadership positions.
SEE ALSO: Academic calendar out today
Mbito spoke after details began to emerge of how the DP unsuccessfully attempted to reach senators to dissuade them from attending the State House meeting. Another PG featuring National Assembly members will be held at State House today. Endebess MP Robert Pukose accused some leaders of going "off script" by attending the meeting. "The DP tried to call Trans Nzoia's Dr Micheal Mbito but he refused to pick his call. He was relying on him among other senators to deal a blow to the plans," Dr Pukose claimed in a local radio talk show. Mbito now claims the traitor tag is misplaced as he still supports the DP as part of the Jubilee package that includes President Kenyatta. He said it was too early to engage in divisive party politics. "President Uhuru Kenyatta is the party leader of Jubilee and the DP is his deputy. Branding me a traitor for honouring the wishes of my party leader is uncalled for and most unfortunate," he said.
SEE ALSO: With restrictions lifted, Kenyans must step up personal measures
Kapseret MP Oscar Sudi has also in the recent past vowed that the DP machinery will crush all those who supported the State House meeting. But Cheng'any MP Joshua Kuttuny has told off the leaders, terming them desperate. He said they failed to advise Ruto on how to effectively achieve his dream of succeeding Kenyatta.