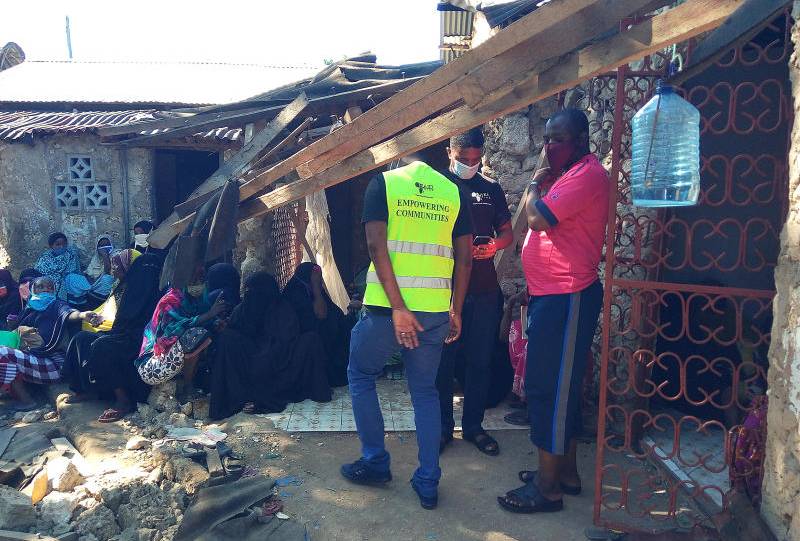 A man and his two children were shot dead when police raided a house in Kibundani, near Ukunda, Kwale County yesterday.
Police claim 41-year-old Mohamed Rahma Mapenzi, alias Spanya, was a wanted terrorist who used his children as human shield after lobbing a hand grenade at them when the officers stormed his house.
During yesterday's dawn raid, Mapenzi's three-year-old son Rahma Idd, and six-year-old daughter Swalia Mapenzi were also shot dead.
His wife Mwanahalima Mwachili, who was eight months pregnant, was also shot in the abdomen and leg and is now admitted to Msambweni Referral Hospital, and is said to be in critical condition.
She lost the unborn baby after a six-hour operation to save her life.
"She is still unconscious, but we hope she will regain soon," said a medic who requested to remain anonymous.
Mapenzi's four children; Mohammed Rahma, 22, Halfan Mapenzi, six, Alhajj Mapenzi, three, and Issa Mapenzi, 12, were also injured in the raid.
Halfan is nursing gunshot wounds after being shot in the head and hands while Rahma was shot in the hand.
Night operation
Independent accounts indicated that the police operation started at 10pm and ended at around 2am.
Rahma, Mapenzi's firstborn, said masked plainclothes officers forced their way into the house shortly after 10pm after blowing up the metal grill door, dragged out his father and shot his dead after beating him up.
Rahma claims police later shot the three children at cross range.
"My father was yelling for help as the officers beat him. After that we heard gunshots and he went silent," said Rahma.
He claims the officers returned to the house and tied him up using a sisal rope, before shooting the two children.
Another family member, Habib Salim, said at least five vehicles drove into Mapenzi's homestead at around 10pm and after which an explosion and gunshots were heard.
"They (police) left at 2am. We could not come out of the house fearing that we would be shot," said Salim.
"When we woke up in the morning at around 5am we went to our brother's house only to find blood spilled all over. That was when it dawned on us that they had killed him and the children," he said.
Mapenzi's cousin Said Abdallah Chitswa said police first stormed his house and beat him and his wife, demanding that they surrender a gun. The father of six was admitted unconscious at Msambweni Hospital under police guard.
"I regained conscious later and found myself here at the hospital. I am in pain on my head, ribs and legs," said Chitswa.
Before The Standard could finish interviewing him, police officers in plain clothes entered and whisked him away in a white Toyota Land Cruiser.
Msambweni police boss Nehemia Bittok regretted the loss of life but claimed the suspect used the children as human shield after tossing a grenade at police officers who had gone to his house to arrest him.
The officer claimed Mapenzi was a recruiter for the Al Shabaab terror group and had been on the police's most wanted list for a long time.
Mission to arrest
"Anti-terrorism police officers were on a mission to arrest him, but he defied police orders and instead hurled a grenade at the officers, prompting then to open fire that led to three fatalities," said Bittok.
Haki Africa, a Mombasa-based human rights group, described the killings as heartbreaking and said it had reported the matter to Independent Police Oversight Authority for investigation.
Haki Africa director Hussein Khalid said it was heartbreaking to see the lives of the children ended so brutally.
"It's heartbreaking to see the young bodies lying on the cold slab in the mortuary with bullet wounds. It is sad that they had to pay with their lives for the alleged sins of their father," said Khalid.
He appealed to the Interior CS Fred Matiang'i to intervene and take action against the officers involved in the killings, saying they should have arrested Mapenzi if they suspected he was involved in terrorism.