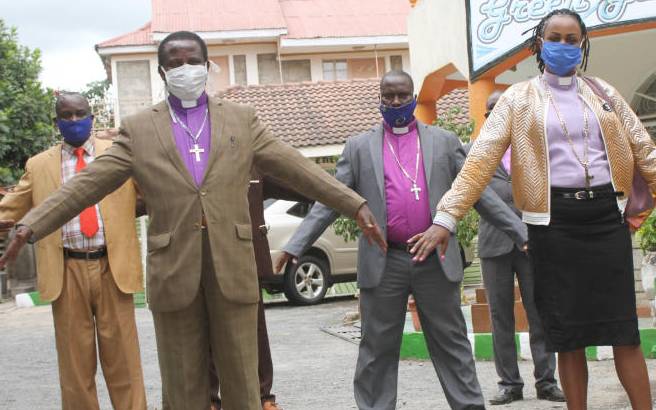 A section of church leaders and the clergy from the Pentecost Alliance of Kenya (PAK) are calling upon the government to allow a return of church prayer services that were abolished following the Covid-19 outbreak. The leaders are urging the government to allow prayer services be conducted in turns with about twenty-five members instead of the fifteen people as directed by the ministry of health. Led by their National Chairman Jona Kariuki, the leaders who held a press conference in Athi River on Sunday urged President Uhuru Kenyatta and his government to remember how important joint prayers are to the nation. Kariuki said given an opportunity, worshipers can organise themselves and have at least three to four prayer services every Sunday or Saturday.
SEE ALSO: Covid-19: President Uhuru in delicate balancing act
"The President should remember that the same faithful prayed for him and his deputy William Ruto during their trials at The Hague when they were facing criminal cases, after the post-election violence in 2013,'' said Kariuki. The chairman said the country is at war with the Covid-19 which the government cannot win alone by medical means. "If the government allows us for prayers, clergy should be able to make sure that the ministry of health regulations are followed properly including washing hands, sanitising and also fumigating the church before and after the prayer services'' said the Chairman. Meanwhile, a section of Athi-River based clergy in Machakos County has decried harsh economic times during the coronavirus pandemic following the closure of churches. The clergy, under the Evangelical Alliance Churches (Eak), said pastors in the slum areas should be considered among the vulnerable groups.
SEE ALSO: Exposed badly by Covid-19, health system needs fixing
Led by the Eak National Chairman Nicholas Muli, they said pastors in churches within the informal settlement are suffering and going hungry.
He added that church leaders survive on little church donations and offerings which is currently not forthcoming. "Most pastors depend on their congregation for survival. Some of them are starving and can hardly afford a meal for their respective families, "said Bishop Muli. Some pastors say they are sleeping hungry since people in the informal settlements cannot even afford to send offerings on digital platforms as they are adversely affected by Covid-19. Most congregants who work in the industries have been laid off. The clergymen were speaking at Athi-River during a food donation by the area MP Patrick Makau. The foodstuff was shared among local pastors.