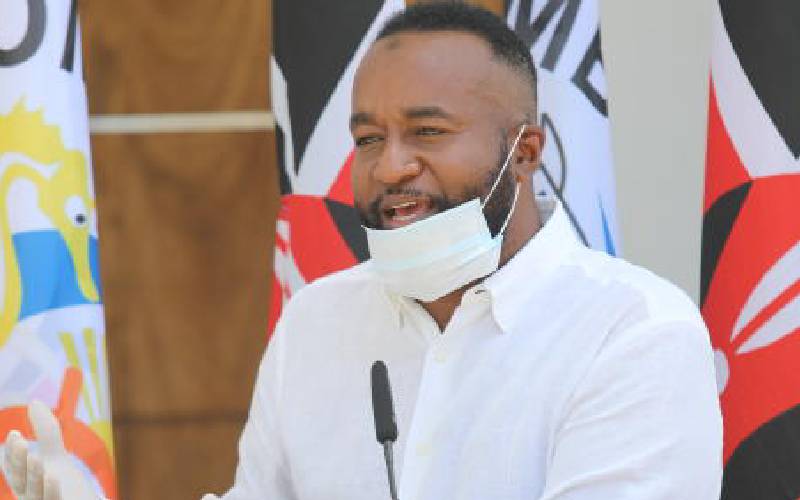 The fate of Mombasa Governor Hasan Joho (
pictured
) hangs in the balance after the High Court threw out his application seeking not to be sentenced after he was found guilty of contempt of court. Justice Sila Munyao found Joho guilty of disobeying court orders which had stopped him and his juniors from interfering with the property of Mombasa Tycoon Ashok Doshi. They had demolished a perimeter wall belonging to the tycoon in Changamwe last year.
SEE ALSO: Rugby stars contest rape charge, out on cash bail
Joho had filed an application seeking to have Justice Munyao suspend an order issued in February sentencing him to six months in jail for contempt of court. But Munyao dismissed Joho's application and set his sentencing on May 27, 2020. Through a video link, the judge said records prove that Joho was aware of the injunctive court orders barring the demolition of the property. "I am thus not persuaded by the arguments raised in this application that Mr Joho was not served with the application dated May 17, 2019 or was not aware of it, and that he did not participate in it. In essence, I find no merit in this application. The same is hereby dismissed with costs. Mention to give directions on sentencing set on May 27, 2020," said Justice Munyao. Munyao had suspended Joho's sentencing last month to allow him make submissions on the application.
SEE ALSO: Sorry for your mental illness, but Sh50m property is gone
He had found the governor guilty of disobeying Lady Justice Ann Omollo's orders dated March 6, 2019 stopping Mombasa County government from interfering with the said suit through a consent written by him and county government lawyers. In his ruling, Munyao said the acts of disobedience are attributed to the governor himself since he is the Chief Executive Officer of the county government.