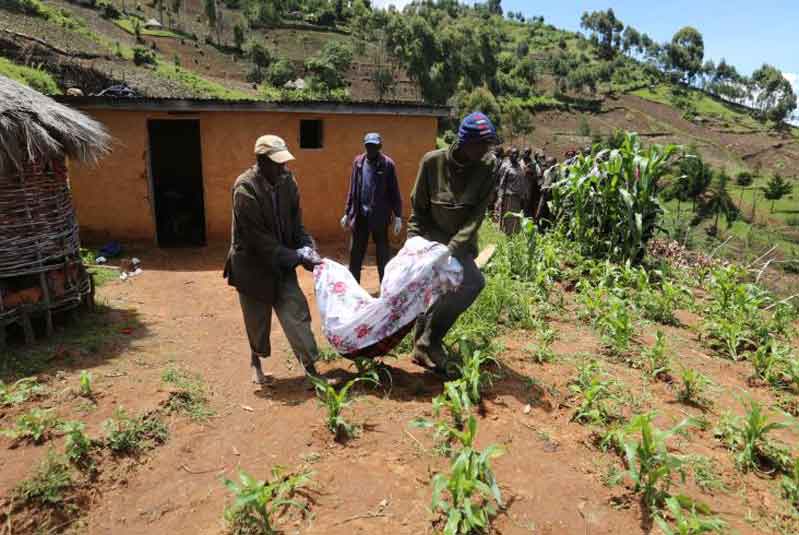 Rift Valley
Fury as villagers kill and bury heartless father who murdered his two sons and buried them in his house in Marakwet
It was high drama in a village in Marakwet as angry locals killed and buried a man suspected to have killed his two children. Vincent Kimaiyo Chebii, 34, was lynched by an angry mob in Kabararwa village after it was discovered that he killed his two sons Kiptoo Kimairyo,8, and Kiplagat Kimaiyo,6, and buried them in his house. He was lynched at about 8am and buried at 1pm, without clothes and a casket. It is suspected Mr Chebii may have killed the sons in January and buried them in a shallow grave in his two-roomed mud-walled house.
SEE ALSO: White woman who accused Black man in New York's Central Park charged
Until yesterday morning, when Mr Chebii confided in one of his uncles that he had killed his sons who had not been seen in public since January, the whereabouts of the two boys was unknown. According to villagers, Chebii brought the two boys home from his estranged wife. The couple split years ago and the wife left to live with her parents in Nyirar Village about 10 kilometres away, according to local authorities. Chebii was hurriedly buried minutes after the decomposing bodies of his two sons were reburied after exhumation by police. Kipkaner location Chief Joseph Kiptanui said the lynched man has been blocking people from entering his home since January when he brought in the boys.
SEE ALSO: Villagers trap and kill suspected thieves
Mr Kiptanui said: "We came to the scene and confirmed that the children had been buried in the house. We called the police who visited the scene. The children were buried in one shallow grave inside the house". He continued: "The slain children seemed to have been cut with a sharp object to fit into the shallow and narrow grave. The bodies were decomposed to the extent that you could see bones." The chief said the motive of the killing of the two boys was still unknown, noting that the suspect was lynched before he could explain why he committed the gruesome act. He said the slain led a secluded life, often keeping neighbours away from his compound. Elders said he was hurriedly done without a coffin and speeches in adherence to Marakwet culture which discourages decent send-offs for persons who have committed heinous crimes.
SEE ALSO: If the family is under attack, the State is under attack warns Uhuru
His elder brother Samuel Chebii said they didn't know the whereabouts of the two boys since January after the father became hostile, preventing neighbours from coming close to his home. "The boys were last seen late January. The children later went missing. Early this morning, he went to inform one of his uncles that he killed the boys and buried them in his house," a shocked Samuel said. His uncle Evans Kiprotich said his nephew appeared disturbed in recent days. Kiprotich said Chebii came to his house at 2am and owned up. "He became troublesome late last year and early this year he went to bring the children home after he got information that they were suffering. He had brought one child last year, but he killed the two boys he brought in January. He often walked with arrows and a panga, and we got concerned," Kiprotich said. He said Mr Chebii took him to house where he had buried the boys and he informed villagers who lynched him. He added that the children, who are in grade one and two did not go to school, raising questions about their whereabouts. "He came to my home and said he would confirm to me about the whereabouts of his missing sons after I persistently pestered him for weeks. He often walked [armed] with a panga," Kiprotich said. Edwin Kisang, a neighbour, said his hostile neighbour had been lying to villagers that he had moved his two boys to a relative's home in Endo in Kerio Valley. Kisang said his neighbour never interacted with anyone, causing fear among neighbours. "He would lie to us that his children were in Endo in the Kerio Valley. Last year, he brought home a son called Kipkemoi and early this year he brought two more children. We were shocked to discover he had killed and buried his children," he said. The hasty burial was not attended by the man's wife and the other two children with whom she lives.