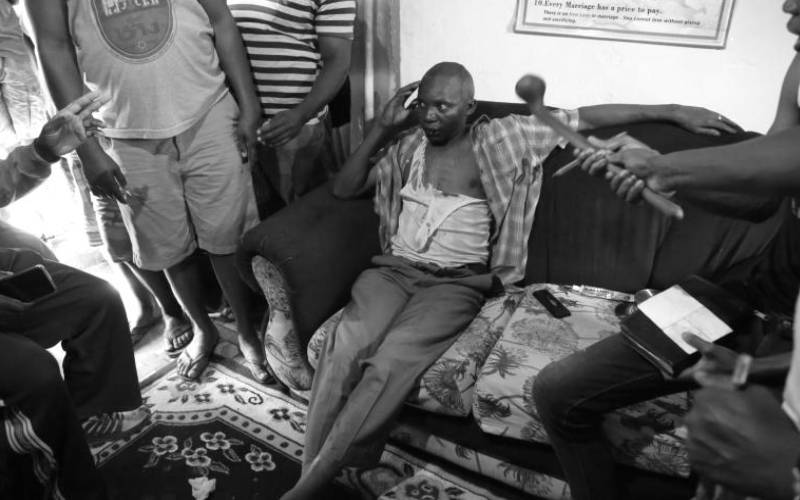 Nyanza
Yesterday, both policemen recorded statements.
Two police officers and a pastor have been accused of being the masterminds of a gang that has been terrorising Kisumu residents. The two officers, one based in Maseno Police Station, and another at Railways Police Station, were named by the pastor who is currently in custody. Yesterday, both policemen recorded statements. County Police Commander Ranson Lolmodol said the two officers were allowed back to work after recording their statements.
SEE ALSO: Tongoi grabs chance to rule top league with both hands
"We have started investigations and any action can only be taken against the officers in line with the outcome of the probe," said Mr Lolmodol. The pastor (pictured) who was confronted by the public on Saturday confessed to having been involved in crime together with the officers. Irate residents had raided his home in Migosi Estate after some victims identified him as being part of the criminal gang. To avoid being lynched, the pastor begged to be allowed to explain himself. He then narrated how, together with the police officers, he has been carjacking people and committing robberies in Kisumu. Residents said the pastor, while accompanied by the officers on Friday evening, was seen around Migosi Estate asking residents to go home as the coronavirus curfew approached.
SEE ALSO: Kisumu oil jetty a boost for regional business
The pastor said it is the police who introduced him to a life of crime. "Any time I am arrested, the officers bail me out," he said. Neighbours of a church headed by the pastor in Migosi painted a picture of a secretive man. "I know the man of God. I came to this house two years ago and he is the one who takes care of the church," said a resident. Inside the church built with iron-sheets, a table with a torn Bible placed on in it welcomes you. A few plastic seats are also heaped on one corner. "People here are not members of that church. Most of its members come from far. We do not know them," said another resident.