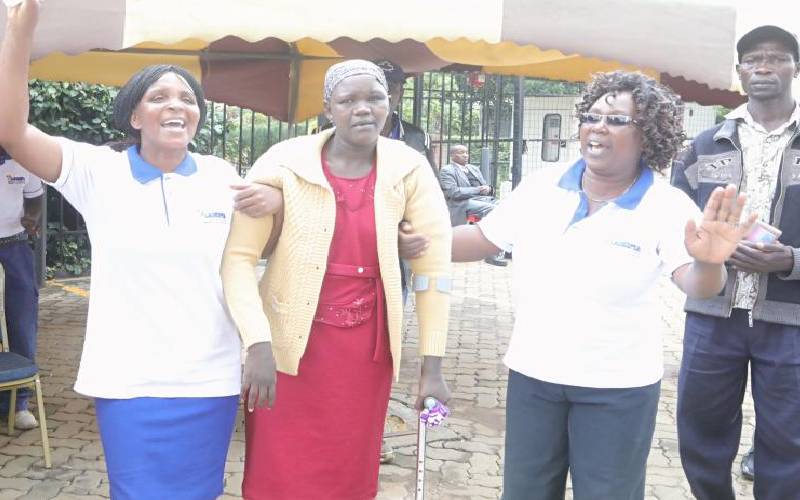 Rift Valley
She said the last thing she remembered was getting out of the house after hearing a commotion in the cow shed.
Last Friday was a day of joy and celebration at an Eldoret hospital after a woman who was being treated for a gunshot wound to the head was discharged. The patient, 42-year-old Anne Kamama, was shot at her Laikipia West home two days before Christmas Day in 2018, and has been hospitalised for the last 15 months. Kamama walked and talked with difficulty, but her family, friends and a small group of well-wishers who gathered at Tophill Hospital were filled with gratitude that she was well enough to return home. Gregory Kimutai, a doctor, said surgeons had to remove part of Kamama's brain that was damaged by the bullet. He added that they had not operated on another damaged section of the brain, and that the patient had an 85 per cent chance of being able to walk normally.
SEE ALSO: 300 stray dogs killed after protests
"The area of the brain affected by the impact of the bullet is now closed, but it may need further surgeries for her to regain her full functions. Our resident neurosurgeon will be able to do the surgery," said Dr Kimutai. He said Kamama had undergone three surgeries and had even been admitted to the intensive care unit. "She has now regained 80 per cent of her speech abilities." The woman's near-death experience happened a few minutes past midnight on December 23, when suspected cattle rustlers raided her Milimani village home.
Commotion in shed
She said the last thing she remembered was getting out of the house after hearing a commotion in the cow shed.
SEE ALSO: How varsity used Sh58m to defend Sh38 million claim
The bullet entered through the left side of her head, just above the ear, and exited, shattering nearly 30 per cent of her skull and causing brain damage. Her children and neighbours thought she was dead as she lay on the ground with blood flowing from her wound.
Neurologists
She was taken to a hospital in Nyahururu and later to the Nakuru Level Five Hospital, where doctors referred her to to Tophill, which has doctors that specialise in neurology. During her lengthy treatment and hospital stay, her bill shot up to Sh3.5 million by the time she was ready to be discharged last December. The management waived Sh2 million, leaving Kamama's family to pay Sh1.5 million.
SEE ALSO: Unsung heroines of health work amid Covid-19 pandemic
Her relatives could not raise the amount and after The Standard published her story, well-wishers mobilised and raised Sh1 million. Peter Muthee, Kamama's husband, said he thought his wife had been killed in the shooting incident that saw the family lose its only cow. Mr Muthee, a security guard at Milimani Day Secondary School in Laikipia, said the incident had drained the family financially. "I was the one cooking for the children and washing their clothes. We held a fundraiser and only raised Sh200,000, which was not enough to secure her discharge from the hospital," he said. Josphat Munene, a resident of Githika ward in Laikipia, said well-wishers approached the county government for assistance but none was forthcoming.
SEE ALSO: Standoff as county faults PSC bid to save sacked doctors
Hospital bill
As a result, he said, they launched a door-to-door campaign to raise money to clear the hospital bill, adding that every small contribution was a few shillings less owed to the hospital. "We knocked on many doors seeking help for Kamama. Laikipia residents who have been impoverished by incessant bandit attacks contributed the little they had. We thank them for the good gesture," said Mr Munene. Margaret Muthee, Kamama's daughter, said she was glad her mother was going home after the long hospital stay. Ms Muthee, 22, said the Eldoret-based hospital had become her mother's new home.
SEE ALSO: University of Eldoret salary account frozen in pay row
"I was with her at Tophill until December when I left to take care of my younger siblings. I thank the well-wishers for helping us get my mother out of hospital. "I am also grateful that my mum is leaving the hospital alive. My siblings have been longing to see her. They have been asking why mum has not returned home."