Education
A teacher with hearing impairment has started an initiative to raise awareness on Covid-19 for the deaf on social media platforms.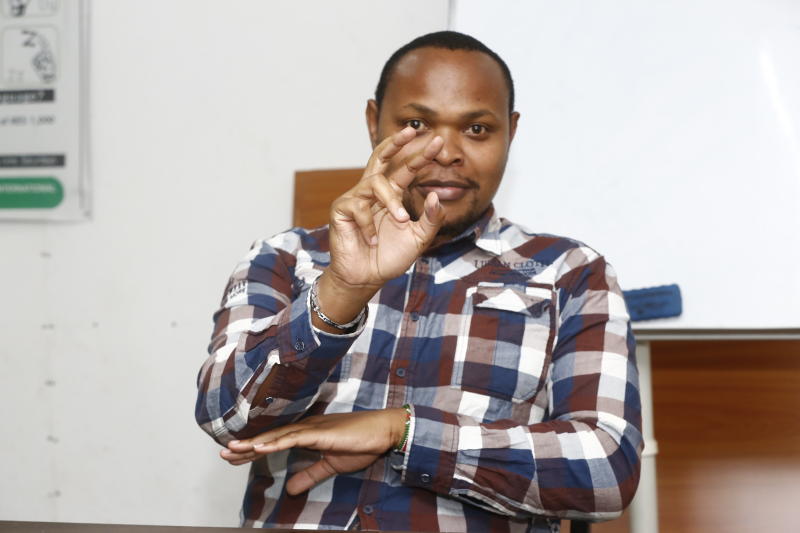 A teacher with hearing impairment has started an initiative to raise awareness on Covid-19 for the deaf on social media platforms. Martin Njoroge (pictured), a teacher for the deaf at Horizon Sign Language Centre in Nakuru started the initiative after realising people with hearing impairment had largely been left out in the ongoing coronavirus awareness campaigns. Njoroge is now creating videos which he shares on social media platforms targeting the deaf.
SEE ALSO: Kenya's Covid-19 cases sniff 2000 mark as 74 more test positive
"There is low awareness about the disease among those with hearing impairment. A lot of myths are being peddled about the virus and when you can't hear it for yourself, you can imagine how bad it can be," said Njoroge. After creating the videos, Njoroge posts them on social media platforms such as Whatsapp and Facebook where his students can easily access them. "Most of us use visuals to communicate so the short videos are serving the purpose, my target is 200,000 deaf people in and out of Nakuru," he said. Once in a while, he is also doing live streams where he updates the deaf community on new developments on the virus as well as other precautionary measures. "When schools are closed, most deaf people have challenges interacting with the public because of the language barrier and most of them are in the dark and that is why I took a personal initiative to teach them what is necessary," he added.
SEE ALSO: Hell for man forced to spend night alone with his wife's corpse
In his lessons, he explains what the virus is, how it is contracted and precautions that can be put in place to curb further spread. "Many still cannot comprehend what is happening and in many social groups, there is a lot of misinformation and being a teacher, I have a wider reach where we can learn just like the rest and protect ourselves," he added. Njoroge co-founded the centre together with two other people after realising the challenges the deaf go through especially during such a time when the world is facing a health challenge that calls for concerted efforts from almost every individual on the planet. They have branches in Nakuru, Nairobi and Mombasa. "In the centres, we train both the people with hearing impairments as well as those interested in learning sign language, we have trained civil servants who offer crucial services to the public," he said.
SEE ALSO: Safaricom closes TRM shop after staff catches Covid-19
Globally, an estimated one billion people – roughly 15 per cent of the world's population – live with some form of disability, according to WHO, which is leading the fight to halt further spread of the novel coronavirus disease. So far, out of the 28 cases, one has recovered. The confirmed cases are aged between 20 and 67 and are currently isolated at various facilities. To determine if someone has recovered from the coronavirus, at least two different samples taken 24 hours apart must test negative. Kenya is among other countries in East Africa to confirm a recovery case after Tanzania reported its first recovery a few days ago. Africa has 183 recovered cases from 15 countries including Kenya. Some 43 countries have confirmed positive cases with a total of 2,412. Fourteen countries have confirmed coronavirus deaths. About a third of the cases are in South Africa.