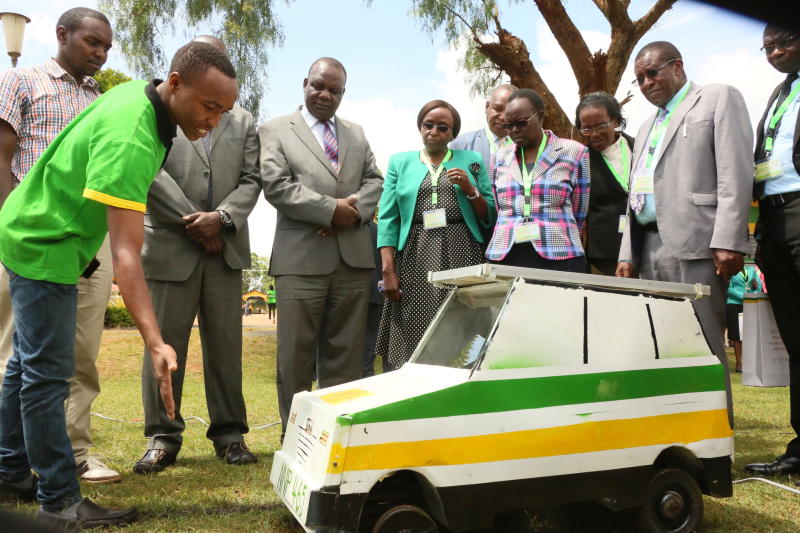 Several innovations are among the ideas unveiled at the first international conference on research, science and technology at the Nyeri National Polytechnic. They include a powerhouse that converts solar energy to electricity to run appliances, a solar driven animal feed chopper, a multi-purpose animal feed machine and a multi-purpose carrier bag seeking to serve as an alternative to the banned plastic. The conference seeks to inculcate a research culture in Technical and Vocational Education and Training (TVET) institutions. The pioneer conference sought to promote research and innovation to offer local solutions through incorporation of the Competency Based Education and Training (CBET) curriculum strategies in training. Nyeri National Polytechnic Principal Anne Mwangi said through research, the institutions would widen the scope of inventions. She said the innovations will help find solutions to emerging issues in the Big Four Agenda.
SEE ALSO: Schools may not resume in September as was hoped
Smart solutions
"The outcome of the conference will form further strategies in sustaining growth through science, research, technology and innovation," Ms Mwangi said. Some innovations showcased at the conference included a solar powered driven smart car which can be controlled via phone. Researchers also presented a smart dustbin that uses sensors to signal levels of garbage in the bin, and sending a text message to those responsible when the bin is full. Mrs Mwangi said the polytechnic will offer 13 Competency Based Education Training courses in a curriculum scheduled to begin in September 2020, which is a joint project by Kenya and the Canadian government. She said training institutions to encourage the students and trainers to apply for research grants to find solutions that would benefit the country. "We are applying for research grants that will enable us conduct research on the quality of milk dispensed by small vendors," Mrs Mwangi said. State Department of Vocational Technical Training Secretary of Administration Albert Kobia said these institutions are key in job creation as they help individuals gain skills that enable them be self-sufficient. Mr Kobia represented Technical and Vocational Education and Training Principal Secretary Julius Jwan as the chief guest. "The potential is limitless, these institutions are enablers. We need to cultivate this important virtue of research to promote TVETs," he said.