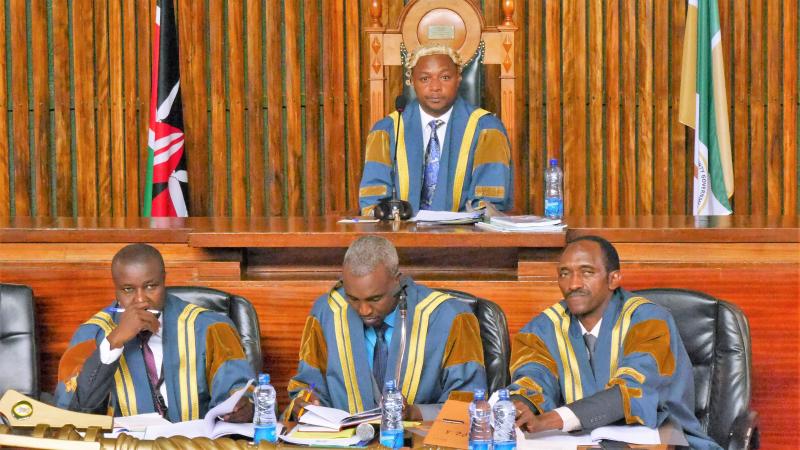 Traders have protested over the recent move by Embu County to increase the rates of business licences and permits.
The business community, especially bar owners and butchers, decried the new rates terming them "unreasonable and exorbitant".
When the announcement was made last week, bar owners while opposing the new rates said they would stick to the old ones.
Following the discontent by the traders, Members of County Assembly are planning to bring a Motion in the assembly to have the rates reviewed.
Ruguru Ngandori MCA Muturi Mwombo, who made a case for reviewing the levies to relieve the traders of the burden of the rising cost of doing business, warned that the high rates would kill entrepreneurship.
Speaking during a plenary sitting, Muturi said the worst hit were markets upgraded from rural trading centres graded as class 'C' to urban centres under class 'B'.
Embu county government had issued an ultimatum to all traders within the county to pay the levies before March 1, 2020.
Evurore MCA Duncan Mbui said that after Ishiara town was upgraded to class 'B' the cost of business permits had tripled.
"Butchers who were initially paying Sh3,000 for an annual business permit will now cough up to Sh12,000. While upgrading of towns is a positive move, the resultant taxation is prohibitive for traders," he said.
Minority Leader Masters Mwaniki told the assembly that the revenue officers were using an unapproved schedule of charges that was earlier proposed by the county executive rather than the enacted Finance Act that was assented to by Governor Martin Wambora upon revision by ward reps.
He added that revenue collection officers transferred from Embu town to rural areas were overcharging traders using the parameters of their previous workstations.
Mwaniki who chairs the trade committee said the matter had been raised with him and he was also concerned over the same.
Runyenjes Central MCA Steve Simba, who presided over the sitting, directed the County Assembly Finance Committee to immediately convene a sitting to address the matter.
"Even though the issue of high levies is serious, this issue will have to be officially raised on the floor of the assembly in line with parliamentary procedures before it is debated," he said.