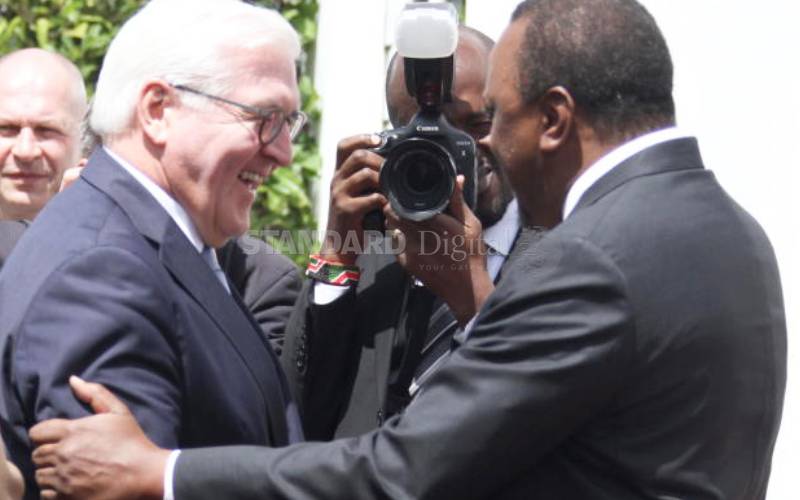 German president Frank Walter Steinmeier has commended Kenya for her efforts in the fight against corruption. Speaking at a joint Press conference with President Uhuru Kenyatta at State House in Nairobi, Mr Steinmeier said renewed efforts to tackle the vice would change the perception of German investors who had raised concerns over the country's graft record. "When I was coming here, one of the questions German entrepreneurs were concerned about is corruption in the country. However, I was pleased to learn that the fight against corruption is one of the priorities of the Kenyan leadership," he said. Steinmeier is in the country for a three-day State visit focusing mainly on agriculture and investment in technical education.
SEE ALSO: Uhuru condoles Mandela family
The tour, however, offers Kenya an opportunity to woo German investment into the country at a time the country is facing competition for direct foreign investment from some of its neighbours such as Ethiopia and Rwanda. Corruption has been cited as a key impediment to investment in Kenya. During his tour, the German president, who is accompanied by representatives of the German business, education and sports sectors, will meet Kenyan entrepreneurs as Kenya seeks to strengthen its bilateral relationship with the strongest member of the European Union. Uhuru welcomed the partnership between Kenya and Germany in various areas of investment, and expressed optimism that the trip would rekindle greater interest in Kenya as a regional economic giant.
German companies
SEE ALSO: ODM bags plum committees posts after Jubilee concedes
"Kenya is keen to strengthen its partnership with Germany…we are happy with the interest that German companies have shown in the country and we are keen to see a strengthening of partnerships in manufacturing, agriculture and technology startups," said Uhuru. The two nations also announced a partnership in the transfer of technical skills and education. Uhuru said already three centres of excellence had been established under the Kenya-TVET initiative. "The programme co-financed by the two countries is in two phases. Phase One will be co-financed at a cost of Sh2.8 billion (€26.43 million), while Phase Two will be co-financed to establish four other TVET centres at a cost of Sh1.4 billion (€13 million)," the president said.
Technical institutions
SEE ALSO: Proposed law offers reprieve to governors forced out of office on corruption charges
His counterpart announced a plan by Germany to help Kenya establish an applied science university and greater support for technical institutions in the country. "German universities can help Kenya set up an applied sciences university," said the German leader, who also thanked Kenya for its role in restoring peace in neighbouring Somalia. The visit follows a similar trip to Germany by Uhuru in 2016, during which he lobbied for partnerships in key areas of trade and investment, tourism, education, culture and security. The president, however, regretted that the balance of trade between the two countries favoured Germany.