Rift Valley
Baringo Senator Gideon Moi said his father rested peacefully at 5.20am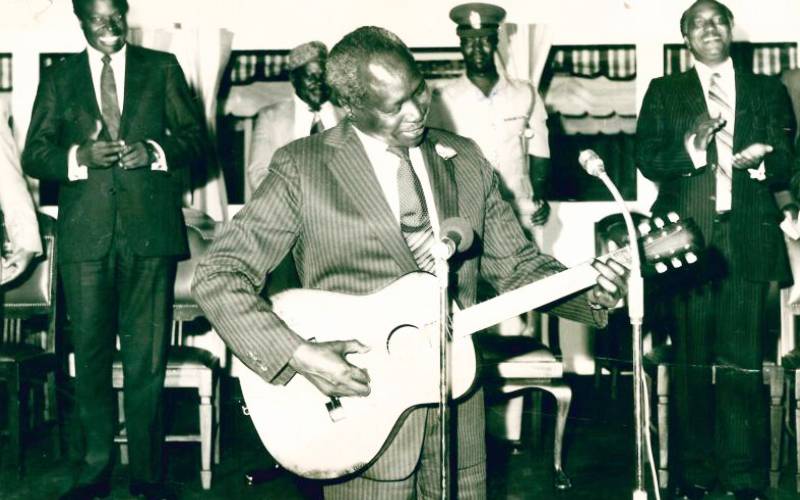 Former President Daniel Arap Moi (pictured) passed on yesterday morning, plunging the nation into mourning and bringing the curtains down on one of the most influential figures in Kenya's history. President Uhuru Kenyatta broke the news of the death of the country's second president and directed the nation to observe a period of national mourning until he is accorded State funeral "with all appropriate civilian and full military honours." Baringo Senator Gideon Moi said his father rested peacefully at 5.20am at the Nairobi Hospital. He was 96.
SEE ALSO: New hospital order to beat corona fears
At a brief press conference at the hospital, where he was accompanied by security commanders, Gideon expressed his family's gratitude to Kenyans for the prayers they've been making for the former president. "I was by his side, and as a family we have accepted. Mine is just to give my heartfelt gratitude to all Kenyans and non-Kenyans for the prayers and thoughts that they have been giving to Mzee and to our family. Thank you all," he said. His body was moved to Lee Funeral Home where leaders trooped in to pay tribute to the man who ruled the country the longest, 24 years. The burial is scheduled for February 12 at Kabarak.
State honours
A State Funeral with full military honours is planned on February 11 at Nyayo National Stadium. Before that his body will lie in State at Parliament Buildings on Friday, Saturday and Sunday.
SEE ALSO: Eyes on Gideon following revamped Kanu-Jubilee deal
Uhuru was on his way to the US when he issued the presidential proclamation addressed "to the people of the Republic of Kenya, the sons and daughters of Africa, and the world at large." "That in testimony of the respect in which the memory of the Late Daniel Toroitich arap Moi is held, the nation will observe a period of national mourning from today until the day of his funeral," the President said. Uhuru added that as an expression of public sorrow, the Flag of the Republic of Kenya shall be flown at half-mast at State House, State Lodges, all Public Buildings and Public Grounds, all Military Bases, Posts and Stations, on all Naval Vessels of the Republic of Kenya, and however elsewhere throughout the Republic of Kenya; from dawn on February, 4th 2020 until sunset on the day of the burial. He said the national flag shall be flown at half-mast for the same length of time at all High Commissions, Embassies, Consulates, Diplomatic Offices and other facilities of the Republic of Kenya abroad.
Peace maker
"Our Nation and our Continent were immensely blessed by the dedication and service of the Late Mzee Moi; who spent almost his entire adult life serving Kenya and Africa in a number of capacities. The Late Mzee Moi served us as an educator, a teacher, a legislator, Member of Parliament, a cabinet minister, the vice-president and finally as the President of the Republic of Kenya," the President said.
SEE ALSO: ODM: Handshake still intact
He added: "As we mourn the passing of an African Icon, our heartfelt condolences go out to his children, relatives and close friends. We will never forget that even as he served Kenya, Africa and the World; the late Mzee Moi remained a deeply committed family man, a loving husband, father, grandfather and earnest friend to so many. While they undoubtedly grieve his passing, I wish to assure them that Mzee Moi lives on in the hearts of the millions of Kenyans who benefited from his servant-leadership, and in the peaceful, harmonious and united Kenya that was built in large part by the works of his hands." Deputy President William Ruto announced that the State had taken charge of the burial plans, adding that the President had directed Head of Public Service Joseph Kinyua to take charge of the State funeral arrangements. "Because of the enormity of what has befall us as a country, the Head of Public Service has taken charge to provide leadership on the process that President has directed that will lead to State funeral for our late president," said Ruto. The DP, who spoke on the steps of his Harambee Annex Offices said finer details will be made public in due course. "Against the expectations of many, Mzee Moi led the reforms that enabled Kenya enjoy vigorous de facto and de jure multiparty democracy as well as civil and political freedom...He submitted himself to presidential term limits, graciously entering a dignified retirement. God has been kind to him as he enjoyed many peaceful years outside the presidency," Ruto said.
SEE ALSO: 'Initially I was so scared of working in isolation unit'
Earlier, Interior Cabinet Secretary Fred Matiang'i, his defence counterpart Monicah Juma, Chief of Defence Forces Gen Samson Mwathethe, Inspector General of Police Hilary Mutyambai and Interior Principal Secretary Karanja Kibicho had met at State House and thereafter went to Nairobi Hospital. Ruto said he was "deeply saddened by the passing of Mzee Moi into eternal light and rest" adding that "his life and work touched everyone of us in lasting, impactful ways." "Because of his love for the people of Kenya and his unflagging patriotism he sacrificed his personal comfort and happiness to secure stability and unity at all times. As a teacher- evangelist who improbably and reluctantly entered political leadership and excelled in it, Mzee had no time to prepare or learn outside the job. His genuine concern, selflessness, loyalty and sincerity however, enabled him to acquire staying power and attract the support of millions of patriots," Ruto said. ODM leader Raila Odinga said alongside his wife, Ida, he "gives thanks for his long life of service to this nation."
"President Moi has had a chequered career and leaves behind a rich history, from representing the Rift Valley in the Legislative Council to MP for Baringo Central, Vice President and President," said Raila who is in the US. Raila recalled he first met President Moi in 1958 when his father Jaramogi Oginga Odinga invited the first African elected members of the Legislative Council to their home in Bondo.
SEE ALSO: Nairobi Hospital to charge Sh10,000 for Covid-19 tests
"From that initial encounter, our paths and careers were later to cross in various capacities and roles," recalled Raila whose NDP in later days of pluralism entered into a co-operation with Moi's Kanu after the 1997 presidential election which Moi won. Chief Justice David Maraga praised Moi as an outstanding politician who devoted his entire life to serving his country, which he loved and cared for dearly.
Honour his legacy
"On behalf of the entire Judiciary, my family and on my own behalf, I wish to express our heartfelt condolences to his son Senator Gideon Moi and the rest of the family, and indeed to all the people of Kenya, as they come to terms with this great loss," said Maraga. Media giants, Standard Group Plc and Nation Media Group condoled with the family, relatives and friends of the former president. "We stand with Kenyans as we honour his legacy and mourn his loss. The former President led Kenya in peace and stability, and will be remembered as an African statesman who deepened East African relations and led e?orts to bring peace and reconciliation on the African continent," read a statement by Mr Robin Sewell, Chairman, Board of Directors. "His defining legacy was the introduction of multiparty politics in 1991 and leading the country through the transition in 2002 when he handed over power to the third retired President Mwai Kibaki," read a statement by the chairman Mr Wilfred Kiboro.