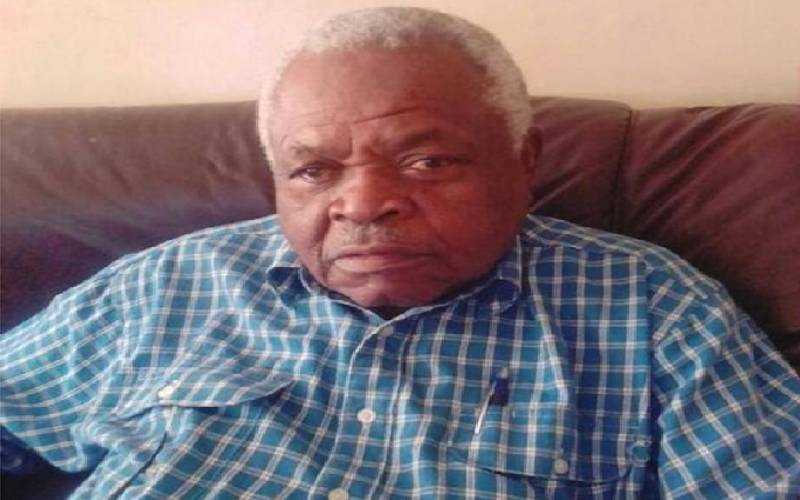 Having been blocked from returning to Kenya to attend the burial of his father-in-law, fiery lawyer Miguna Miguna penned an emotional eulogy to the late Mzee Omolo Awange
(pictured)
. The lawyer's planned January 7 return aborted after the government issued red alerts to all airlines not to fly him to Nairobi or any other African capital. "I intended to attend the funeral of my father-in-law who is being buried tomorrow, January 22, 2020, in Migori, however, President Uhuru Kenyatta and Opposition chief Raila Odinga have prevented me from doing so," Miguna said on Twitter.
SEE ALSO: Kisumu medics defy return-to-work order
Miguna's hopes of attending the funeral were dashed after the government declined to revoke the red alerts against him prompting him to return to Canada. "Having waited for President Uhuru Kenyatta and his appointees at the ministries of Interior and Immigration to obey court orders and revoke their illegal "red alerts" to no avail, I've no option but to return to exile in Canada. I'll not surrender. The struggle continues. Viva!" he tweeted on Tuesday.
Eulogy
I humbly ask for permission to be allowed to address this solemn gathering and send off for my father-in-law Jaduong' Benson Omolo Awange in the written form.
I do so because I have been physically prevented from attending the final rites of passage by those who wield power in Kenya, those who believe that they have power to decide who is a Kenyan and who is not; and who can attend funerals of his loved ones and those who must be kept away with guns, truncheons and bayonets.
SEE ALSO: Reprieve for Migori County in Sh63m insurance battle with Amaco
I had planned to attend the funeral and pay my last respect.
I had booked a flight from Toronto to Nairobi, via Germany.
My flight was scheduled to land in Nairobi on January 7, 2020.
However, as nearly everyone in Kenya now knows, those abusing power in Nairobi issued something called "red alerts" to all airlines in the world and threatened them that if they fly me to Nairobi or anywhere in Africa, they would not be allowed to use Kenyan airspace or land in Kenya.
It was because of those illegal "red alerts" that both the German airline Lufthansa and French counterpart AIR France, could not fly me to Kenya.
SEE ALSO: Dying miller shuts factory until mid-July
It has never been done before, not just in Kenya, but everywhere else in the world.
No country has ever abducted one of its citizens by birth from his own home after destroying it, illegally seized and destroyed his valid passport, detained him incommunicado and forcefully sent him into exile in violation of numerous court orders without the right of return!
I apologise to Jaduong' na Omolo Awange for me not having the raw power to attend the funeral by force.
But I am here with you in spirit.
When I had announced my intention to fly to Kenya on December 15, 2019, Jaduong' Omolo Awange was still alive and healthy. Hours before the day of his passing, on January 1, 2020, Mzee Omolo Awange had informed us that he was feeling okay.
I apologise for him for not having spoken with him for an extended period of time. The day before he passed on, my lovely wife Jane had telephoned and spoken with him. My folly was to arrange to speak with him the next day, being January 2nd instead of January 1st.
Mzee Omolo Awange and I had a very good relationship. Like me, he loved reading. He read and analysed all the three national circulating newspapers in Kenya on a daily basis. He also closely scrutinized the weekend newspapers. He would frequently send me short text messages enquiring of my thoughts and opinion regarding various news reports and published commentaries.
He was a voracious reader of books too. Occasionally, he asked me to send him copies of rare books that mostly gone out of print in Kenya but were still available abroad, books about philosophy, politics and human relations.
Mzee Omolo Awange read all my published books, newspapers, commentaries and closely followed all my social media engagements. He was a political, social and economic connoisseur. An organic intellectual.
Unfortunately, he is part of the last, rare and quickly dying intellectual "breeds" in Kenya: Individuals who value knowledge, not because of how much money or wealth they can extract from it, but due to its intrinsic value.
When I published my position on what has become popularly known as "BBI" or the "Handshake" on March 22, 2018, Mzee Omolo Awange sent me a message asking me for the video and written copies of the same.
While it would be false to claim Mzee Omolo Awange fully supported all my political strategies and actions 100 per cent, I can say confidently that he respected my decision and understood the reasons why I had taken those decisions. Jaduong' Omol Awange was an honest, diligent and hardworking man.
Even in his relatively advanced age, he never slowed down on his visionary and long leadership of the Nyasare Water Company. Long after retirement, Mzee Omolo Awange would attend international water conference and training sessions in Austria, Israel and within Kenya.
I thank Jaduong' Omolo Awange for having agreed to allow me to marry his daughter 20 years ago. Even though I was a complete stranger, you listened to me and graciously granted my request.
Jaduong' Omolo Awange was more than a father-in-law to me. He was also the father I never had as my father died months before I was born. Many are aware that I was raised by my mother alone in a village called Magina in Kano plains, Kisumu County.
I am celebrating Jaduong' Omolo Awange for the guidance, love, affection, respect and intellectual brotherhood he shared with me and provided to me. I am honouring his legacy of wisdom, integrity, diligence and hard work.
My last apology is this: My wife is here but not my children. We could not all travel on short notice because of school and other circumstances beyond our human control.
I know that you have accepted my apology in your usual grace ad humility.
I remain strong and focused. I don't fear those with power and are currently abusing it. I know that no matter how long it takes or how painful the struggle for justice, liberty and equality for all Kenyans is, we shall win. Because no struggle against injustice has ever failed!
My condolence to my mother-in-law and all the family members and relatives of Mzee Omolo Awange
As the Luo say, no one can wrestle with death!
I take my flight to Toronto, Canada where I live in forced exile, allow me to pay you my last respect in absentia.
Rest in peace Wuon Awuor kod Gwayo gi Judy, Ochieng', Nyangi, Jane kod Eunice.
Until we see each other in the other world.
Your son Miguna
Collapsed and died
Mzee Omolo Awange collapsed and died on January 2 in Migori County as he was being taken to the hospital. He is reported to have developed difficulty in breathing before passing on. Family members had pleaded with the government to allow Miguna to attend the burial in vain. He will be buried at their Migori home today.