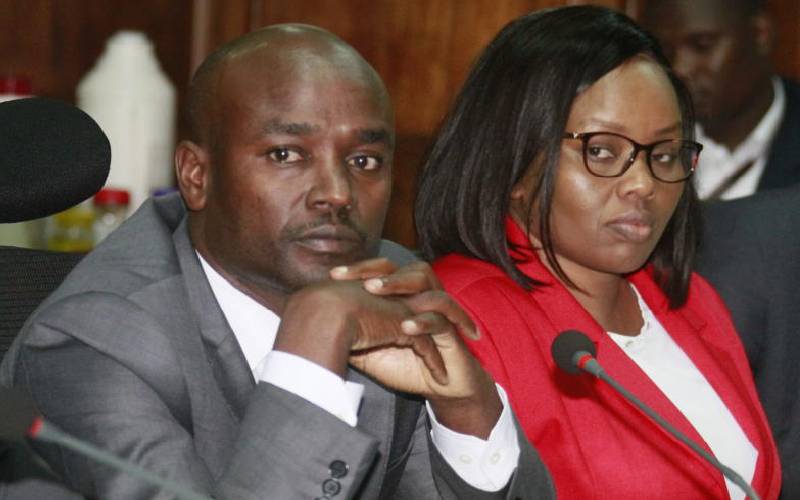 Bomet Governor Hillary Barchok has disputed the pending bills figures from the National Treasury, saying they (figures) are erroneous and are meant to paint Bomet in bad light. Speaking during an exclusive interview with KTN News, Barchok said the actual figure is Sh400 million which is above the 50 per cent threshold put by Treasury and not the Sh850 million in the recently released report. He said Bomet and four other counties have been removed from the blacklisted counties after Treasury realised their figures are not adding up. "Baringo, Bomet, Migori, Nandi and Tharaka Nithi were removed from the list of blacklisted counties," he said.
SEE ALSO: Treasury to try re-introducing betting tax by December
He urged the office of the Auditor General and Treasury to go to the ground and compile their audit reports from the counties to ensure that what is fed in the Integrated Financial Management Information (IFMIS) tally with the reality on the ground. "Debt stock audit through IFMIS are misleading, they should come to the ground and verify the information they have," he said. Barchok said that despite doing everything to ensure there is accountability, there are other forces out to turn Bomet into a punching bag. When it comes to graft, they claim Bomet ranks number one, on pending bills, we rank the worst, I think this is mischievous," said the county chief. He said there is a special auditing by office of the Auditor General to help the county deal with some complaints since 2015 due to numerous complaints.
SEE ALSO: Treasury to fight for reintroduction of duty on betting
"Once the audit is done we will implement its recommendations to ensure everyone is accountable." He said he was perplexed when Bomet was named among the notorious counties yet to make any commitment to pay pending bill based on analysis of what was paid between 30
th
June and October this year According Barchok, Bomet had paid over Sh720 millions of pending bills as at June 2019 and the audit report indicated it had Sh1.19 billion pending bills. "The difference is around Sh400 million yet they talk of 850 million which is in correct." The National Treasury issued a ten-day notice to 15 counties which had failed to clear pending bills in line with a presidential directive.