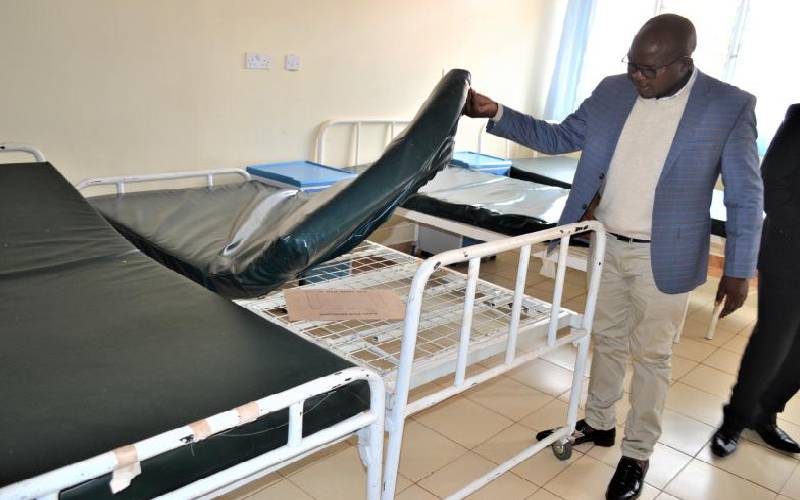 Outrage has greeted revelations that a major hospital recently bought 50 steel beds at a cost of Sh50,000 each. Members of the County Assembly who were on a fact-finding tour of the Embu Level Five Hospital expressed shock that the facility plans to spend an additional Sh3.5 million to buy 70 more beds. There was speculation by members of the health committee that the cost was inflated and amounted to misuse of taxpayers' money because similar beds in other hospitals cost less. During a tour of the newly constructed Badea ward, committee chairman Muturi Mwombo said he had bought similar beds, complete with a mattress and mackintosh protector, at a lower price.
SEE ALSO: Coffee farmers reap big as new factory adds value to harvest
Deputy Speaker Steve Simba said that Kyeni Mission Hospital had imported modern rust-proof beds for Sh30,000. "This is corruption and we will not tolerate it. It is embarrassment of the highest level and painful to see how public money is spent," said Mr Simba. The hospital's medical engineer Paschal Njoka was at pains to explain to the MCAs that the beds were designed to accommodate more than one patient during a crisis thus justifying their fabrication from steel bars.
Public hospitals
"In public hospitals we advise to get these types of beds because they can accommodate two patients whereas any other bed would fall apart," Mr Njoka said. But Simba observed that the material used to fabricate the beds was similar to what was used by jua kali welders to make beds for school dormitories. The ward reps vowed to investigate the matter and draft a report for tabling and deliberation in the county assembly. "I want to tell MCAs that it would be irresponsible of them to tolerate the misuse of public funds," Mr Muturi said. The hospital has been operating without basic drugs and non-pharmaceutical supplies, occasioning an outcry by patients and medics. On Monday, Minority Leader Lenny Mwaniki sought a statement from the health committee on the acute shortage that has hit public hospitals in the county yet funds have been budgeted to purchase the crucial supplies. The crisis worsened after clinical officers in the county went on strike from November 3. Mr Mwaniki also requested an explanation on the issues that led to the industrial action and the steps taken by the county government to amicably address the matter and ensure that the health workers resume duty. Kenya National Union of Nurses Embu branch secretary general Joseph Ngwasi told The Standard that most health facilities do not even have painkillers. Despite efforts to contact the newly appointed Health Executive Patrick Waganagwa for comment, he did not pick our calls.