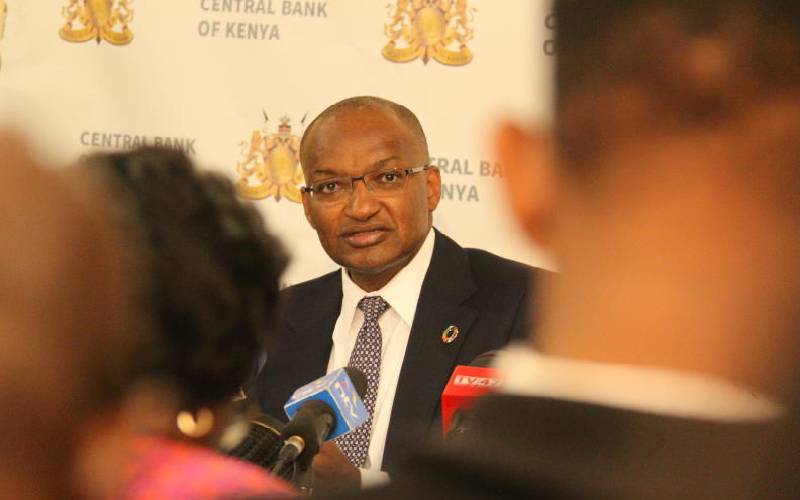 Opus Dei, an organisation run by the Roman Catholic Church under which the Central Bank of Kenya (CBK) Governor Patrick Njoroge belongs, means "Work of God" in Latin. Going by his prelate's teachings, Dr Njoroge, 58, must believe that in the last four and half years that he has been at the helm of the apex bank, he has been doing nothing but God's work - serving the people of Kenya. He rarely mentions the name of Christ in his official duties, but Christ's philosophy is all over his workmanship. But policing a sector that has been reviled throughout history for its penchant for profiteering has been a tall order for the soft-spoken celibate governor.
SEE ALSO: CBK forex reserves up to 11-month high
Yet, in the next few months following the repeal of the interest rate cap, his crusade will largely involve converting banks into believers of public interest rather than self-interest. "They (banks) should stay away from short-term gains….They should not be asking: what will be the return to the shareholder? ROE (Return on equity), ROI (Return on investment)… all those jargon that you (members of the press) are much more familiar with," said Njoroge in his post-Monetary Policy Committee meeting press briefing last week. "No, they should be looking at things in the more medium term, and therefore working to serve Kenyans. Banks exist to serve Kenyans, not for other things." Even before Parliament passed the rate cap in September 2016, Njoroge had on several occasions pleaded with lenders to tame their high interest charges to no avail. It was only after the controlled regime that banks yielded to growing public outrage and promised a more friendly rate if the interest cap was lifted.
SEE ALSO: Laikipia saccos to access loans at 5pc
For Njoroge, easy credit access to all Kenyans, including mama mbogas, was critical to jumpstarting a slowdown in the economy. But several scholars, such as historian Yuval Noah Harari and John Rapley, an international relations scholar, have in the past noted that capitalism, the belief in a free market, is a religion on its own. Njoroge knows just too well that bankers are in a system which offers them a comprehensive "doctrine with a moral code promising (them) salvation in this world."Attainment of profit to bankers and many other believers in a free market is the Buddhists' equivalent of achieving "nirvana." For the bank of last resort boss, he does not expect lenders to go back to their banditry ways of charging prohibitive interest rates to every borrower, regardless of the individual's risk. He wants bank shareholders to reduce their appetite for fat profits, which he blames for the vicious race-to-the-bottom competition between lenders, manifested in higher interest rates. He had voiced similar sentiments earlier during the launch of the International Monetary Fund (IMF) regional outlook for sub-Saharan Africa in Nairobi. "Bank shareholders should be accepting more of lower returns. Return to equity needs to come down. It has already started going down," he said. A high ROE or profitability might signal lack of competition in the banking sector, though a recent report by the IMF ruled out lack of competition among the country's lenders.