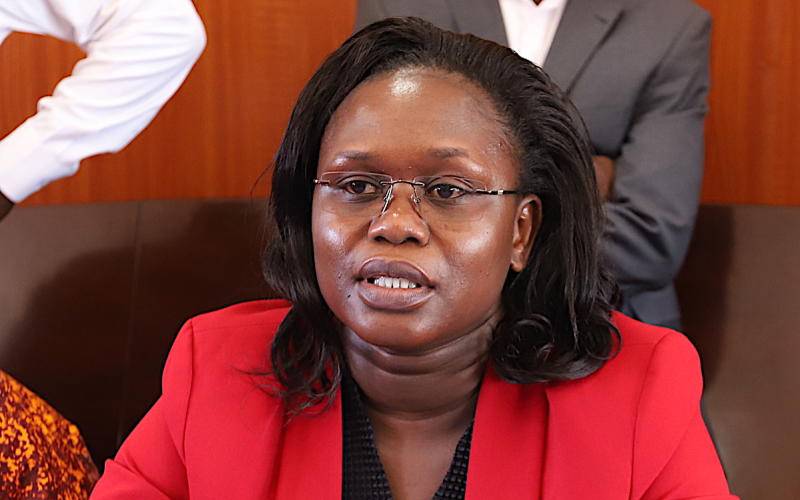 Embattled County Assembly Speaker Elizabeth Ayoo (pictured) returned to work on Tuesday nearly a year after she was impeached. Accompanied by a group of MCAs, Ms Ayoo stormed the plenary hall about midday ready to chair the day's session. But a majority of the Ward reps opposed to her leadership boycotted the session and only returned at 6.30 pm, two hours after she left. There was drama as the two groups played hide-and-seek, with those opposed to the speaker trying to ensure she did not preside over the assembly functions while her supporters nudged her to take full control of the House.
SEE ALSO: Homa Bay women to benefit from Sh11m cage fish farming project
The county assembly programme indicated that the proceedings should have begun at 2.30 pm, but this failed as the MCAs avoided Ayoo. Ayoo was impeached on November 1, last year but later secured a court order allowing her to continue with her work. The MCAs have denied her entry to her office whenever she tries to return. At one time early this year, they vandalised her office and carted away all the furniture and equipment. Last month, Homa Bay Woman Rep Gladys Wanga told Ayoo to force her way back into her office the way her Nairobi counterpart Beatrice Elachi did after she was impeached, but later reinstated by the court. "You are the official speaker of the county assembly. The court had allowed you to work. Go back to the assembly and work," Wanga told the speaker during a funeral in Karachuonyo.